VIRONIA QUARRY – RIVER STRUMA – MANDRAKI JETTY
The banner picture above was taken by Jeanne Vitkovskis
WEATHER: cloudy and rain for most of the morning, broken sunshine and windy in the afternoon
Our early morning walk around the gardens of the hotel was abandoned because of heavy rain, what a shocker it was after yesterday's lovely sunshine. So our first outing was after breakfast as we left the hotel around 8am. The rain eased off and had all but stopped by the time we reached our first destination, which was a disused quarry situated up in the mountains above the village of Vironia.
We walked through open scrub and viewed the valley below us from several vantage points before walking along a track up to the quarry face. Bird song was prolific, it came from all directions with Common Nightingale being the loudest. Some of our first sightings included: Hawfinch, Golden Oriole, Eurasian Hoopoe, Levant's Sparrowhawk and lots of common species.
a pair of these delightful Redrumped Swallows are breeding at the hotel
Walking along the track to the quarry we found a good variety of species, Subalpine Warblers showed well, so did Common Whitethroat, we had brief views of Olivaceous Warbler but saw Long-tailed Tit well. At the quarry we found Blue Rock Thrush, Black-eared Wheatear, Crag Martin, Cirl Bunting and we heard a Black Redstart.
a view of the Belles Mountains which are behind our hotel
Other interesting encounters were made of a Marsh Warbler (that sang but failed to show), Common Raven and a second Levants Sparrowhawk. As the morning wore on so the light improved and the clouds began to clear, it got warmer too. Birds of prey began to appear on the thermals along the ridge above us. We saw Marsh Harrier, Common and Honey Buzzards and then the big boys came out to play. Several sightings of Lesser Spotted Eagle were made and a single Golden Eagle joined them at one stage, we then found a Golden Eagle perched high on the mountainside.
Dalmatian Pelicans circling on the thermals
After stopping in the village of Vironia for a coffee and to buy lunch we drove the short distance to the river Strymonas, where we spent a good deal of time watching water birds in the channels beside the river and passerines in the surrounding scrub. After eating our lunch in a nice picnic site we began our walk along a long marshy channel than ran parallel to the river.
hard core birding - some of the group at lunchtime today
n the channel we found a lot of birds, Little Bittern (5), plenty of Squacco Herons, Dalmatian Pelicans, Grey and Purple Herons, Great and Pygmy Cormorants and lots of grebes, coots and moorhens.
There were plenty of other birds in the scrub to keep us on our toes, Red-backed, Lesser Grey and Woodchat Shrikes, European Bee-eaters, Common Cuckoos, Olivaceous Warbler and we saw our first Short-toed Eagle, Hobby and many more Lesser Spotted Eagle sightings were made.
Pygmy Cormorants in the channel
We tried a couple more areas where reedbeds filled the channel and the scrub was a little more dense around the edges. There we searched for 'crakes'without success, but we did find Syrian Woodpecker, Penduline Tit, Olivaceous Warbler, Levants Sparrowhawk and more Bee-eaters.
a very smart looking Grey Heron
For our final birding session of the day we drove to the Jetty at Mandraki where we had our first encounter with the shores of Lake Kerkini. It was very windy down there but we had an enjoyable time watching the thousands of birds going about their daily chore of keeping alive and breeding.
looking from the Jetty back to the snow-capped Belles Mountains, it is beautiful here
There were literally thousands of birds out there, the number of Great Crested Grebes was astronomical, the same goes for Great Cormorants, Sand Martins, Grey Herons, Little Egrets and a host of other species, it was teaming with life. We found a single Garganey out on the lake feeding amongst the grebes, also a single Slender-billed Gull with the Black-headed Gulls and dozens of Common Terns.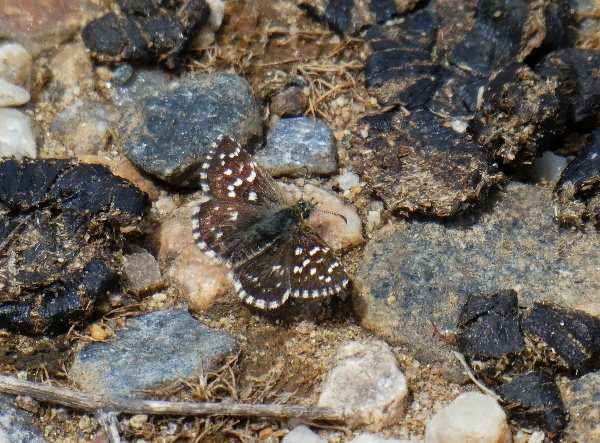 one of the fe biutterflies seen today - Grizzled Skipper
In the reedbed we found a male Golden Oriole, an odd place for an Oriole to be but there it was, we also saw Great Reed Warbler and another Little Bittern. It was a wonderful experience and the sun came out too! We left the Jetty at 5:30pm and set off for the hotel which was just 5 minutes away, it was almost the end of another day – but some of the group assembled on the terrace for a beer as soon as we got back and they found our first Black-headed Bunting of the trip.