TSIKNIAS RIVER – LARDIA VALLEY – IPSILOU MONASTERY – SIGRI – SIGRI FIELDS – MELADIA TRACK FROM SIGRI TO ERESOS – KALLONI SALT PANS – TSIKNIAS RIVER Our final full day had arrived and boy did we go out with a bang! It was by far the most enjoyable day with some fantastic sightings and nice weather - sunny but still a cold northerly wind.
We set off for our usual early morning sortie, this time we went round to the Tsiknias river to look for the Great Snipe that had been seen there last night. Of course we missed but what a beautiful morning, it was perfectly still and the light was just fantastic.
Despite missing the Snipe we thoroughly enjoyed watching plenty of Little Bitterns, Squacco Herons, Purple Herons, Night Herons, Little Egrets and a plethora of warblers. Common Nightingales sang from hidden song-posts and occasionally sat out in the open, the same applied to Cetti's, Reed, Great Reed, Sedge and Olivaceous.
LITTLE BITTERN - taking in some morning sun
After breakfast we set off for Sigri in the far west, we planned a few stops along the way, the first of which was just outside of Kalloni Town to look for Scop's Owl, we had seen several before but we hoped to find one sitting in better photographable position. We were successful, one Owl sat nicely for us.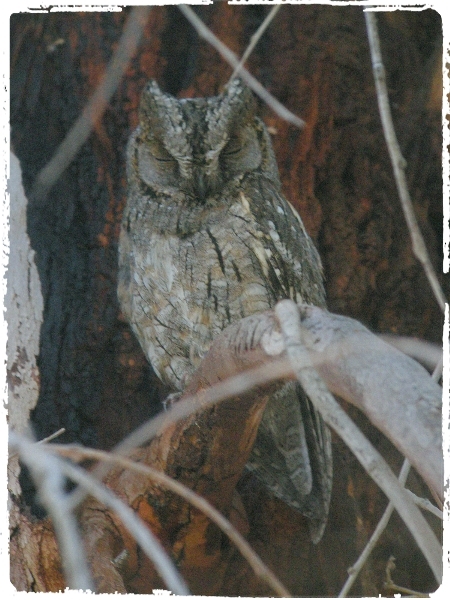 SCOP'S OWL
PURPLE HERON
Next we stopped in the steep sided gorge called Lardia, our target species the Rock Sparrow was waiting patiently for us and sat out during our entire visit. We also recorded Cirl Bunting, Crag Martin, Black-eared Wheatear and Long-legged Buzzard.
A brief stop at Pervoli Monastery produced only one bird and that was a male Golden Oriole, not bad, it showed really well.
COMMON NIGHTINGALE
At the Eresos cross-roads we looked for Isabelline Wheatear but only one brief sighting was made, however we did see Cretzschmar's Bunting, Northern Wheatear, Common Kestrel and many Crested Larks.
We spent the rest of the morning at Ipsilou Monastery which sits on a strategic pinnacle and commands outstanding views for miles around. At the base of the access drive we spent a while watching both Cretzschmar's and Cinereous Buntings and three species of Wheatear, Black-eared, Northern and Isabelline. Despite perfect weather comditions there were not many migrant species to be found, we did find four singing, male Cinereous Buntings as we walked to the monastery at the top.
CINEREOUS BUNTING
The downward journey along an old track was much more productive, we saw Lesser Whitethroat, Blackcap and perhaps a Red-breasted Flycatcher, the latter was not a confirmed sighting due to the brevity and speed that the bird showed. Raven, Woodlark and more Wheatears completed our sightings list.
Next we drove down to Sigri for lunch, as we arrived at the harbour wall se noticed a tern feeding over the water, it was our first Whiskered Tern of the trip, amazing really as this is usually one of the most common terns on the island during this time. After our excellent and generous portion of Moussaka followed by a White Magnum we set off to view the fields near the Faneromeni River, along the way we got news of a Cattle Egret being present near the river.
RED BREASTED FLYCATCHER - female, hence no red breast
This species is quite a Lesvos rarity and one missing from my list! So we sped passed the Sigri Fields, stopping only to view a Tawny Pipit, another addition to our trip list, before arriving at the Egret's location. It was still there, phew! Too far off to photograph but it was only a Cattle Egret after all, it's amazing how the significance of this species changes throughout Europe.
Further news of other 'goodies' changed our plans somewhat, we ditched the Sigri Fields for a drive to the Meladia Valley found along a dirt track, which is the coastal road between Sigri and Eresos. A tiny chapel in this valley was sheltered below a dozen mature pine trees, they are the only significant trees in the area and attract many migrants, flycatchers and warblers in particular. Today the copse held several Spotted Flycatcher, Willow Warbler, Icterine Warbler and two star birds; Red-breasted and Collared Flycatchers, unfortunately they were both females, so less colour, but great birds nonetheless. A Pallid Swift was another new bird for us and again not a common sighting on Lesvos.
We went on over the Meladia Ford and found both Barred Warbler and Orphean Warbler in the same bush before re-locating a real gem of a bird which had been seen earlier but not for a while. It was a Great Spotted Cuckoo, the bird was feeding on the ground and often hidden from view but it occasionally hopped up into a bush and showed well, Nigel, one of the group was over-the-moon with joy and threatened to buy me a beer for this species!
record shot of the GREAT SPOTTED CUCKOO
It was now quite late so had to press on along this 12km dirt road, we stopped to photograph Cretzschmar's Bunting but nothing else stopped us.
Back in Kalloni just after 6pm se went straight round to the pans hoping for new arrivals, we found two Mediterranean Gulls in full summer garb, stunning birds and we re-located the Red-necked Phalarope. Many waders were milling about including good numbers of Little Stints which we searched in case of the presence of a Broad-billed Sandpiper, one had been seen today.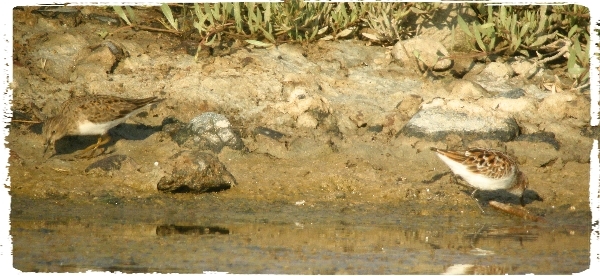 The 'stints' - TEMMINCK'S STINT (left) and LITTLE STINT
Lastly se drove round to the Tsiknias River for a second search for Great Snipe, luckily for us it was still present, hardly showing but identifiable, wow, another Island 'goodie' on the list. We got back to the hotel at 7:30pm, a very long day, but we all agreed a memorable and enjoyable experience. A cold beer went down very well, thanks to Nigel!