KALLONI POOL - METOCHI LAKE – ACHLADERI PINE WOODS – MESA & KALAMI MARSH – KALLONI SALT PANS – ALYKES WETLANDS – TSIKNIAS RIVER (UPPER & LOWER).
WEATHER: Sunshine all day, light wind, top temp 27C
What a wonderful day, Lesvos is a brilliant birding destination! This is my 17th consecutive year here and I love it all, the weather, the scenery, the people and the wildlife. We hardly travelled today and yet we saw near 100 species including some real goodies such as Baillon's Crake, Kruper's Nuthatch, Temminck's Stint and quite a few 'good' island birds, Ferruginous Duck, Eurasian Spoonbill, Gull-billed Tern, Collared Pratincole and many more.
Metochi Lake
It's not just the number of the sightings but the number of birds, everywhere you look you will find not just one of each species but dozens.
We set off at dawn for a pre-breakfast visit to Metochi Lake, a small pool really, which has a great record for producing Crakes and Warblers. We found 4 Little Crakes, a single Baillon's Crake, Little Bittern and lots of Reed, Great Reed, Cetti's & Olivaceous Warblers.
Cetti's Warbler
After Breakfast we climbed up to the raised hide in the garden of the hotel, from there we had a commanding view of the Kalloni Pool, I haven't seen it looking this good for years, open pools of water held a number of species. We found 4 Purple Herons, 6 Squacco Herons, a Black Stork, 3 Glossy Ibis, lots of Black-winged Stilts, a Shoveler and innumerable Wood Sandpipers. Just as we were leaving two Ferruginous Ducks flew over the pool, they circled once and disappeared.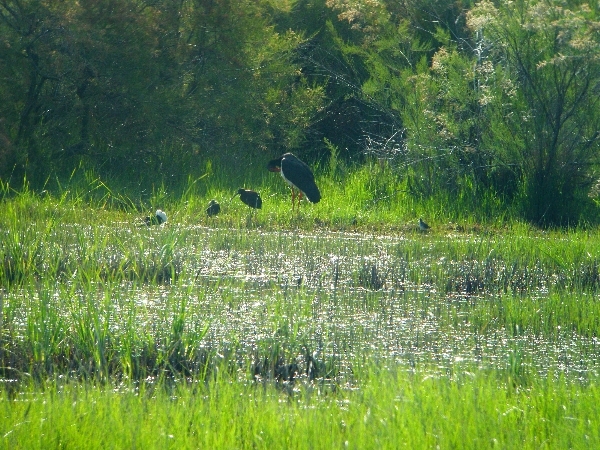 Kalloni Pool and Marsh looking from the hotel with Black Stork, Glossy Ibis,
Having been told that chicks were about to fledge at a well-watched Kruper's Nuthatch nest site we decided to visit there first. Achladeri Pine Woods are about a 20 minute drive and a short walk away. The birds were still there performing well, we also found Cirl Bunting, Short-toed Treecreeper, Serin, Woodchat Shrike and a Long-legged Buzzard circled over the woods.
Kruper's Nuthatch - taken by Kevin Jones
For the rest of the morning we visited the Kalloni Salt Pans it was fantastic birds and birders were everywhere. Greater Flamingos, Pied Avocets, Black-winged Stilts, Ruff, Wood Sandpipers and Little Stints were the most abundant species but we had good sightings of several Temminck's Stints, Gull-billed Terns, two Eurasian Spoonbills, 3 Collared Pratincoles and a host of other species.
Whiskered Tern - taken by Kevin Jones
A flooded field behind the pans was the best place for getting closer views of birds such as Spotted Redshank and Whiskered Tern, we also added Curlew Sandpiper, Greater Ringed Plover, a leucistic Eurasian Curlew (it was almost all white), Red-throated Pipit, Western Yellow Wagtails (Feldegg),and hundreds of Ruff and Wood Sandpipers.
Afer eating our picnic lunch on the shore of the Gulf of Kalloni we walked in the 'sheep fields' nearby which actually held horses and donkeys. We found lots more Red-throated Pipits, a couple of Short-toed Larks, European Bee-eaters, Crested Larks and both Common and Little Terns flew over us.
Temminck's Stint
For the rest of the afternoon we patrolled the banks of the Tsiknias River searching for Citrine Wagtails. We found many more new species but not the wagtail, a Masked Shrike sighting was brief but 4 Black Storks circled above us, lots of Little Egrets, Common Nightingales, Eastern Olivaceous Warblers, Cetti's Warblers and Common Snipe kept us entertained.
another of Kevin's pictures - Spotted Redshank
Back at the hotel we watched the pool for a while in the evening light it was just lovely, 4 Purple Herons, 3 Glossy Ibis, a Black Stork and half a dozen Squacco Herons were our best sightings.
One last piece of excitement came just as we sat down to dinner, another birder came rushing into the hotel saying that she had fiund an owl in the trees, we all dashed out and sure enough a Long-eared Owl sat in pine tree not 20 meters from our rooms!