FILIA RADIO MASTS – LARDIA VALLEY – PERIVOLI MONASTERY – IPSILOU MONASTERY – SIGRI FIELDS – FANEROMENI FORDS
WEATHER: all day sunshine, light winds, top temp 30C
We managed to persuade the hotel staff to make ready an early breakfast, so we ate at 6:30am and set off around 7:15am. We drove up through the middle of the island along what I call the 'village run', passing through Dafia we stopped at Liminos Monastery to look for Middle Spotted Woodpecker at a regular nest site in the car park. The 'peckers' must had fledged but we did see a Little Owl.
Along the track to the Radio Masts above Filia we had great views of Eastern Bonelli's Warbler, this little fellow performed well. We also saw Cirl Bunting, Turtle Dove and not much else.
In the Lardia Valley we made two stops both of which were successful in terms of finding target species. This valley has large rocky pinnacles and steep sided cliffs where we found Rock Sparrow and Blue Rock Thrush our two main target species, we also saw a perched Short-toed Eagle, Crag Martin, Black-eared Wheatear and Red-rumped Swallows.
A Glass Lizard - a legleess lizard looking like a snake - found underneath a car on the road to Ipsilou - Kevin Jones
Ipsilou Monastery sits high up on a rocky pinnacle it looks like a setting out of 'Lord of the Rings' with craggy pinnacles and the building perched precariously on the top. The slopes are covered in oak woodland and can be full of migrating warblers and flycatchers. We walked on the eastern slope find Cinereous Bunting, Isabelline and Black-eared Wheatears, our first Golden Orioles and likewise Wood Warblers.
We heard Chukar but never found them but we did see 3 Eleonora Falcons feeding above us, they were catching flying insects and one showed particularly well. Whilst watching the falcons we found Common and Alpine Swifts!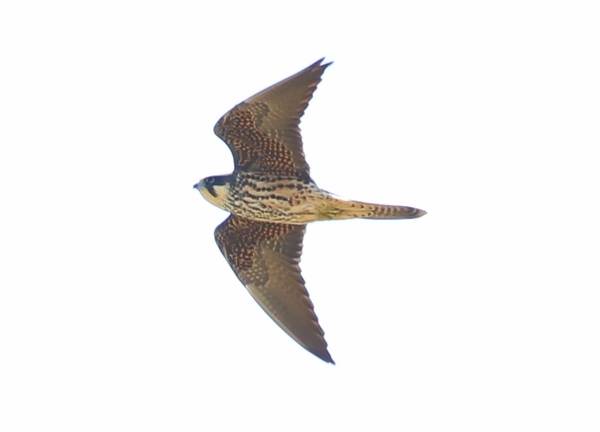 Eleonora's Falcon - taken by Kevin Jones
The road leading to the Petrified Forest can be good to see Chukar, we drove along it searching the rocky hillsides without success. We ate our picnic lunch beside a small pool where Linnets, Goldfinches and a Cretzschmar's Bunting came to drink, we also saw Isabelline Wheatear, Black-headed Buntings, Spotted Flycatchers and lots of Black-eared Wheatears.
looking down over Sigri Fields and islands
Sigri Fields were a disappointment as far as migrating birds was concerned, it was hard work finding any. We managed to see our first Blackcaps, we also saw several Pied Flycatchers but not much elses. We visited the Upper and Lower Fords at Faneromeni where we enjoyed prolonged views of an obliging Little Bittern, we also saw Little Egrets, Night Heron, Moorhen, Little Ringed Plover, more Blackcaps and Pied Flycatchers.
Little Bittern
A long walk along a track on the northern side of the Upper Ford produced Turtle Dove, some distant Lesser Kestrels, a small flock of 5 Blue-headed Yellow Wagtails and more flycatchers.
We left the area at 4pm and drove straight back to our hotel where, after a 10-minute break most of us set off for our usually evening visit to the salt pans. The light was superb as usual as we drove along the western edge looking eastward into the pans. We saw a flock of White-winged Terns and a single Black Tern they looked stunning.
Little Tern - Kevin Jones
The number of Ruff, Little Stints, Curlew Sandpipers and Wood Sandpipers seemed to have increased by a large amount, we counted 80 Little Stint and over 100 Ruff in just two of the pans! The water level in the flooded field behind the pans in Alykes Wetland was dramatically reducing so that the birds feeding there were more concentrated in a smaller area. Again, the numbers of Stints and Ruffs was higher, the three Spotted Redshanks were still there as was the lone Whiskered Tern. Luckily for us a flock of 17 White-winged Terns came in to bathe what a wonderful sight I do love seeing this delightful species.
White-winged Tern taken by Richard Pettett
We added 10 new species to our list today so we are on target for 160+, tomorrow we are off to the southern shore at Vatera.