KALLONI SALT PANS – MAKARA BEACH CAFÉ – AGIASOS – VATERA – AGIOS FOKAS – ALYKES WETLAND - TSIKNIAS RIVER
WEATHER: Sunshine all day, light wind, top temp 31C
After another early breakfast we set off southward towards Mytiline making our first stop on the east side of the salt pans where a raised hide gives great views right across the pans. As usual, the morning light was superb, the nearest 'pan' was full of birds. Apart from the usual Greater Flamingos, Pied Avocets, Ruff, Wood Sandpipers and Black-winged Stilts, we noted 20+ Curlew Sandpipers, 12 Grey Plover, 40+ Little Stints and 2 Greenshanks. Most of the usual terns were in far off locations except perhaps Little Terns.
Great Flamingos - taken from the raised hide
A short walk along the feeder-channel track produced sightings of Great Reed Warbler, a Eurasian Hoopoe in flight and not much else. Our next stop was a little further south at a deserted beach Café we had good views of a sand-bar from there. On the sand-bar we saw 20 Mediterranean Gulls, 2 Great Cormorants, numerous Yellow-legged Gulls and in the sea just behind them was a single Black-necked Grebe and a single Great Crested Grebe.
Grey-headed Yellow Wagtail - taken near the beach cafe by Kevin Jones
We drove then to Agiasos, a picturesque village that lies in the mountains just east of Mount Olympus. A unique Sweet Chestnut Woodland covers many hectares on the surrounding mountainside creating a diverse habitat with a completely different suite of birds. We spent a couple of hours walking several trails both above and below the village listing several new species for the tour including Wood Pigeon, Song Thrush, Wren, Robin (heard) and Serin. We also saw Common and Alpine Swifts, Crag Martin, Long-legged Buzzard, Short-toed Eagles and a family party of Kruper's Nuthatches!
Serin
We wandered into the wonderful village where tiny narrow streets are littered with cafés, tourist shops and a huge metal trellis covers the main streets which itself is covered by the biggest Wisteria you are ever likely to see, unfortunately the Wisteria had just gone over. We sat at a café for coffee and slice of baklava, yummy!
the streets of Agiasos
After buying picnic supplies we drove out of town and ate it by the side of a babbling brook where we watched Grey Wagtails, Crag Martins and more Long-legged Buzzard.
We drove down to the south coast at Vatera where a huge bay has a narrow headland called Agios Fokas and that was our destination. First we stopped at a bridge over a small reed-choked river where we found Common Sandpiper, Temminck's Stint, Squacco Heron and lots of Stripe-necked Terrapins. A short walk from the bridge produced our first Sardinian Warbler, lots of Black-headed Buntings, Olivaceous Warbler and another Short-toed Eagle.
-
Ottoman Viper seen on the road to Agios Fokas - its bite can be lethal! Taken from inside the bus I hasten to add.
At the headland we spent an hour sea-watching getting really good views of both Yelkouan and Scopoli's Shearwaters and also Great Cormorant and two Ruddy Turnstone looking exquisite in their summer plumage.
Ruddy Turnstone on the rocks at Agios Fokas - taken by Kevin Jones
At 4pm we set off back to Kalloni arriving back at the hotel by 5pm. We were out again at 5:15 heading off to the Salt Pans for our regular evening scan. We noticed a huge reduction in the number of waders and water in the Alykes Wetland was almost gone. A handful of White-winged Terns were still present to entertain us. We then heard news of a sighting of two Great-spotted Cuckoos nearby so we dashed off towards the Tsiknias River to the last sighting location. After 15 minutes of searching we heard the birds call in the distance, I drove the bus ahead of the group and saw the two birds in flight, unfortunately the rest of the group did not and we couldn't relocate them!
Mervyn, Jeanne and Kevin with the very picturesque marina at Agios Fokas headland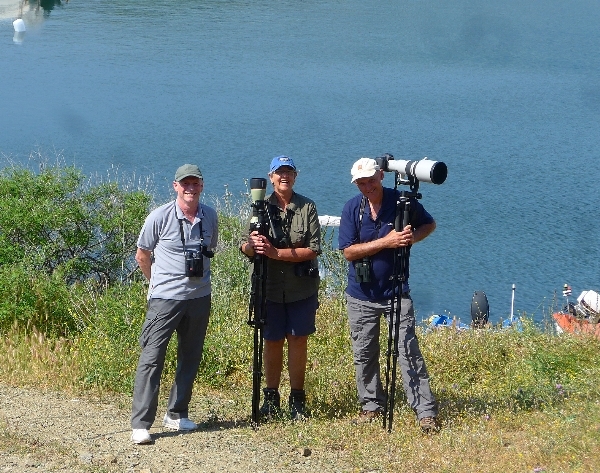 Another 10 species went on the list today, we had surpassed our 160 expectation with one full day to go!