POTOMIA SMALL RESERVOIR – METOCHI LAKE – AGIASOS WOODLANDS – DIPI LARISOS REED BED - KALLONI SALT PANS AND ALYKES WETLANDS
WEATHER: dry, sunny warm. Cloudy later with thunder. Temp 25C
This was our last full day and it was a relaxed affair! We had already seen all of the island's specialities and most of the 'rare' visitors so we had nothing to chase or track down. One or two of the group had missed Black-crowned Night Heron so our first venue this morning was the small reservoir at Potomia.
A pre-breakfast visit saw us all in the van at 6:15 and fifteen minutes later we were watching Black-crowned Night Herons and as we were not far from the small lake at Metochi we decided to pay our second visit to this wonderful little spot.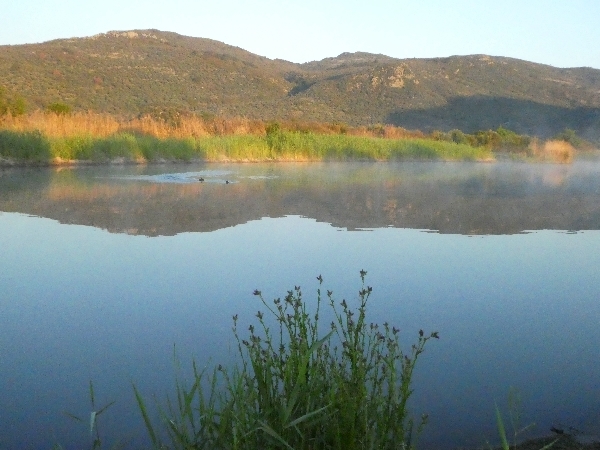 like the proverbial mill-pond - Metochi Lake this morning
The air was still, a shroud of thin mist covered the water adding a wonderful atmospheric ambiance to the lake. We quickly found 3 Little Crakes, 2 Little Bitterns, several Reed Warblers and a couple of very loud Great Reed Warblers. It was magical just watching an array of activity and some species that are generally hard to see in other parts of Europe.
Little Bittern - below showing the typical neck-stretching feeding method
We also logged Eastern Olivaceous Warbler, Swifts and Swallows, Martins and a lovely Golden Oriole sat out in the sun preening.
After breakfast we made our way to Agiasos stopping at Dimitrios and other places in the mature pinewoods along the main road. We walked downhill alongside the babbling brook that flows down to Dimitrios Chapel, there we noted our first Wren, we also saw Common Chiffchaff but not the Grey Wagtail we expected to see.
Next we drove up through the pituresque village of Agiasos and stopped a few times before making a final stop at Agiasos Sanitorium. One of our stops gave us excellent views of Goshawk, it was very close as it drifted over us before soaring on the thermals, reaching a great height.
Amamda's Blue - one of the many butterflies seen today - taken by Richard Pettett
We ate our picnic lunch at the side of the quiet road before setting off on a Orchid search. After half an hour we had 3 species of Orchid in the bag and off we went for a walk in the pine forest which led us down to the Sweet Chestnut woods. We noted European Robin and Song Thrush, we heard more Common Chiffchaffs but generally the bird life was quite spartan.
Violet Limadore
One incident sticks out in my mind, we heard a series of tapping noises, it sound like a very slow Woodpecker, I thought it might be a Woodpecker making a hole and pausing to spit out the extracted wood. Then Jo called us over to see two Tortoises battling head-to-head, they were bashing each other and the tapping noise was in fact the tortoise shells banging together! How amazing was that?
Spur-thighed Tortoise - picture taken yesterday by Richard Pettett at the 'Race Track' near the Kalloni Salt Pans - below, some of the group watching it
Another orchid search near the back of the Santiorium produced two more species, Violet Limadore & a Serapias (Tongue Orchid), we also had good views of European Serin but not much else.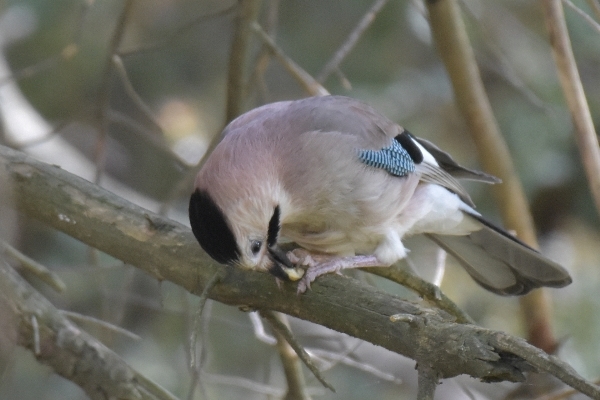 The black capped sub-species of Eurasian Jay 'Garrulus glandarius atricapillus' another Richard Pettett photo.
We visited the huge reedbed at Dipi Larisos, where we saw a few species including a very colourful Little Egret, this individual was covered in a brown resin stain and looked quite peculiar. We also saw a single Curlew Sandpiper, Turtle Doves and a few pairs of Little Ringed Plovers. We nearly trod on a nest of four eggs of the Plovers so we quickly vacated the area. At the beach we note dozens of Yellow-legged Gulls and nothing else.
the view from the Dipi Larisos reed beds
Our final port of call was the obligatory look at the Salt Pans and Alykes Wetlands, there had been reports of Spur-winged Plover and a couple of the group had not yet seen this species. Our search of the 'Sheep Field' produced a good number of species but not the Lapwing, a single Broad-billed Sandpiper was still there.
Orchis Laxiflora - found in the Sheep Field
We called it a day at 5pm we were all tired and we needed time to pack our things in preparation for our departure tomorrow. For this last night we ate our dinner in a restaurant in the village, it was lovely and a bonus was the local Barn Owl, this bird breeds in a chimney near the main square and showed also immediately we got there. Another excursion before bedtime saw us wandering around the hotel grounds looking for Eastern Hedgehog, we found one after about fifteen minutes, our last mammal of the trip.