KALLONI SALT PANS – KALAMI COASTAL POOL AND BEACH – ACHLADERI BEACH POOL – KALLONI RAPTOR LOOKOUT – PETRA – PETRA RESERVOIR – SCOPS COPSE
WEATHER; broken sunshine all day, moderate wind making it feel cold. Top temp 20C
Our day started much better than yesterday's!! We set off at 6:30am to the Kalloni Salt Pans to look for the Great Spotted Cuckoo amongst other things, however things did not pan out as planned. We stopped at the north east entrance track to view the channel and the first salt pan, we were hoping for a sighting of Marsh Sandpiper which so far has eluded us.
Within minutes, Mike was up to his old tricks of finding good birds, he called out a Spur-winged Lapwing (Plover). How cool was that, today was already shaping up to be another great day on Lesvos. We watched White-winged Terns at close quarters and listed many other species around the first salt pan. Then we got amessage that two Dalmatian Pelicans were showing from the east side of the pans about 3 kilometers away. The search for the Cuckoo went out of the window as we set off for the Pelicans, much more exciting to see, I think?
a record shot of the Spur-winged Plover
Sure enough there was two Pelicans, very distant but unmistakable, very nice thank you. We had nice views of about 20 Curlew Sandpipers in summer plumage and we saw Stone Curlew, Grey Plover, Squacco Heron and many other species. More Terns were flying close to us including our first Whiskered Terns of the trip, bringing our 'tern' total to six species so far.
As we were close to the pool where the Spotted Crake was found we had a quick look for it and after a short while it came out to play. We also saw Red-throated Pipit, Temminck's Stint, Blue-headed and Black-headed Yellow Wagtails and a nice pair of Kentish Plovers. All this before breakfast, such fun!
the Spotted Crake
News of a Great Snipe sighting came through during breakfast and my crew wanted to go and look for it, so that is what we did. Quite a few other birders had the same idea and when we got there we had just missed the bird! We waited a round for an hour and it did come out to play so we decided to leave. A very cold wind was blowing in our backs but we enjoyed some great birding whilst waiting for the Snipe, we saw lots of Wood Sandpipers and Little Stints, but also Ruff and Black-headed Yellow Wagtails.
Temminck's Stint
It became apparent that massive movement of hirundines was taking place above us, the sky was full of Barn Swallows, Red-rumped Swallows, House martins and Common Swifts, there was thousands of them passing through.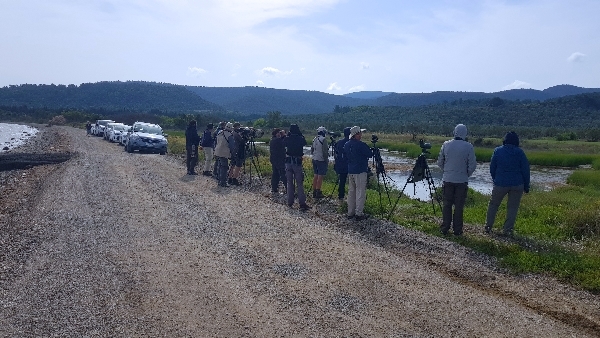 a twitch for the Great Snipe
We decided to continue along the beach track towards Polichnitou and after just a short drive we stopped to look at a Tawny Pipit that we spotted from the bus, in the same filed a flock of sheep had attracted a good number of Yellow Wagtails too.
Tawny Pipit
It was almost 12noon when got onto the road to Polichnitou which passes through many fields of mature olive trees. We pulled over to see if we could hear an Olive Tree Warbler and sure enough one was singing. We tracked it down to a small section of olive trees and waited for it to move, which it did and gave us flight views on a number of occasions. We had it in view perched for a very short time.
Whiskered Tern taken by Sue Hayes at the Snipe Pool
It was a nice end to the morning, we ate our picnic lunch around the bus enjoying the sunshine and the shelter from the cold wind. A couple of Olivaceous Warblers were also singing and the clouds of hirundines continues to pass over us.
On our return to the coast track we stopped at the 'Snipe' pool once again and yes you guessed we had missed the bird once again. So, we decided to stick it this time not matter what! However, our wait was not prolonged, we saw the bird very well, it came right out in the open to feed, what a fantastic species it is. In the meantime a Whiskered Tern was quartering the pool giving incredibly close views.
Great views of a Great Snipe
The day sort of slid down hill in terms of quality birding as time went by. We drove from the snipe sighting to Kalloni Raptor watch-point and saw a few Black Storks, Common Buzzards, Ravens and a single Peregrine Falcon. Mike was at his best, instead of raptor watching he was calling out birds on the hillside behind us, it was non-stop. Subalpine Warbler singing, Sardinian Warbler, Stonechat, Black-eared Wheatear and Orphean Warbler.
Eastern Dappled White taken by Sue Hayes
We then drove to Petra and after a quick look for a Middle Spotted Woodpecker in a traditional site (without luck) we drove to the hillside called Kavaki. This was also a traditional site, but for Ruppell's Warblers not woodpeckers. However, we had heard that none had seen this year at Kavaki except for one solitary female.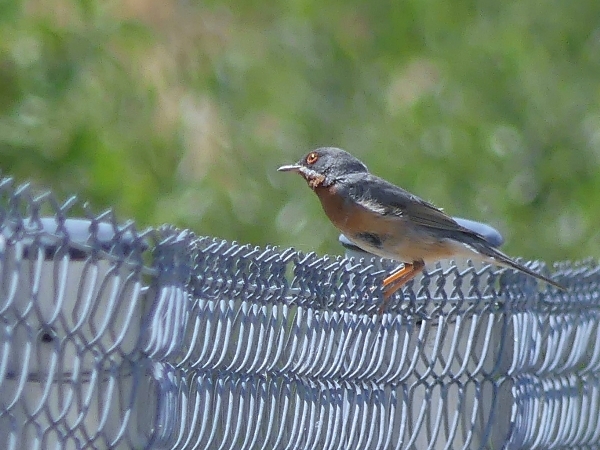 Eastern Subalpine Warbler taken by Sue Hayes
Three of the group got the female bird within minutes, the others, including me missed it. We walked up and down roadside pathway looking over the hillside for the next hour and still did not see one properly.
A short visit to Petra Reservoir produced Greenshank, Temminck's Stint, Common Sandpiper, hundreds of Yellow-legged Gulls and a few Ruddy Shelduck.
some Little Stints, a couple of Wood Sandpipers and a Black-headed Yellow Wagtail taken this mornming at the Snipe Pool
We tried a couple of other places nearby to try to locate a Ruppell's Warbler without any joy, we see more Subalpine Warblers, Short-toed Eagle, a black and white (and black throated) Black-eared Wheatear and a few other common species.
Our third and final visit to the Scops Copse on the way home proved fruitless once again, I think I will give up on that site for this year. We got back to the hotel a little earlier than usual but it was most welcomed by me at least, I was done in!!