Local walk from Bradford Abbas to Sherborne and a trip to the coast to look for Buntings
WEATHER: dull and overcast and very cold with a light breeze. Temp 5C
These last two days have really felt like wintertime, both days were dull, grey with a thick blanket of cloud high above us. A high pressure continues, giving us very still conditions, but very cold days.
On Sunday 23rd Dawn and I went for a mid-morning walk from Bradford Abbas heading towards Sherborne, we parked the car near the railway bridge. To be honest it was so quiet out there that we hardly saw a bird, I had three target species, Red Kite, Yellowhammer & Grey Partridge. I saw none of those!!
a nice surprise was seeing a small flock of Golden Plover
We walked two miles to the edge of Sherborne before we turned around. A few Redwings, Blackbirds, Robins, Dunnocks and Chaffinches were seen on the way out and a few more species on the way back.
a barren landscape devoid of birds
At a farm we saw a mixed flock of finches, Chaffinches and Goldfinches and also House Sparrows, in a stubble field next to the farm I picked out a few Golden Plover, in fact I counted 28 of them. Two Fieldfares flew along the hedge and a Buzzard sat forlornly in a dead tree.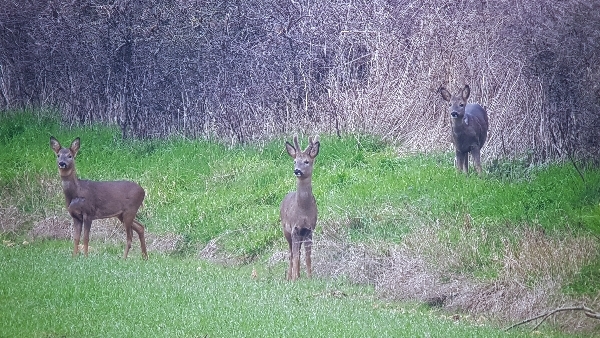 a group of 5 Roe Deer fed along a hedgerow, they walked into the middle of a field when they saw us coming
We got home just in time for lunch and decided against an afternoon walk, it was too cold for us!
Monday 24th was just the same as far as the weather was concerned, dull, cold, grey and a light breeze which was also cold.
Guy Campbell picked me up at 9:30am for a non-early birding trip to the coast. Our plan was to drive to West Bexington to locate a flock of Yellowhammers, a pair of Cirl Buntings had been associating with them. Cirl Bunting is a great addition to our year lists and to our Dorset lists.
the 'bunting' field near the beach at West Bexington
Guy, living up to his usual guiding reputation, took us to the wrong place to start with, we scanned an area near the village where a pin on a map from Guy's mobile produced nothing but a couple of Song Thrushes and the usual common garden species.
Next we drove back out of the village where I thought the buntings might be, a stubble field next to the road. A local guy told us that we could walk into the field and so we did. We walked around the field and down the steep slope towards the beach, we covered a couple of other fields and trampled along a very muddy track and saw very little. More Song Thrushes, Redwings, a Green Woodpecker and a few ducks in the small pool below us.
record shot of Reed Bunting
Guy finally got the correct location off a friend via a WhatsApp group and found that we were at least a mile away from the correct location. So we drove back up the lane and parked in the village of Swyre on the main road. Two tracks led away from the village down the hill towards the coast, one was the correct track and the other……….. was the track we took!!! Doh!
We walked nearly a mile down through sheep meadows, all the time veering away from our intended destination. Down by the beach we realised our mistake and headed in the correct direction, we met up with two other birders who were in the same boat, totally lost!
No long afterwards we found the correct field, a stubble field with a large flock of birds lighting up a hedgerow. A Common Snipe flew up from the grass as we walked along towaards the field. We quickly found a dozen Yellowhammers, a single Reed Bunting, Dunnocks, Robins, Blue & Great Tits and quite a few Chaffinches. They were dropping down into the stubble, foraging for seeds etc.
male Yellowhammer, a first for the year for me
a pair of Yellowhammers
We noticed more birds were further along the hedge and after 10 minutes of scanning we got sight of a male CIRL BUNTING. Wow, success at last! We walked along the edge of the field and got slightly closer to the bird, but all photographs are just record shots.
more hammers
The Cirl Bunting, a record shot
On the way back home we stopped off at some disused Watercress Beds at Winterbourne Abbas. In recent times a Jack Snipe or two had been seen there. We saw Moorhens and a had a very brief sighting of a snipe species but noting conclusive.
Guy got me home 6 hours after we left, we told Dawn that we would be a couple of ours, oopps!!