Today I took my first walk in my local patch since last March! It's not because I've been lazy it's because I've been away all that time working hard..........................
STOFORD RIVERSIDE WALK
My local walk consists of a track which starts near Yeovil Junction Railway Station and follows the course of a tributary of the River Yeo in both directions. This small river winds its way through flood meadows and pastures, a nice 'ribbon' of mature Alder Trees traces its meandering course through the fields. These trees are excellent for 'tit' flocks, woodpeckers, treecreepers and siskin, they also provide perches for hundreds of Redwings and Fieldfares that feed in the pastures during the winter.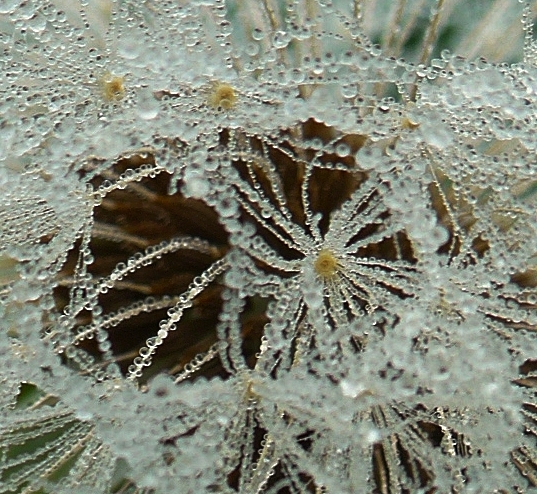 a close-up of the foggy-dew on a dandelion seed-head
It was foggy most of the day and it cleared mid-afternoon, I walked around 10am for an hour or so. The first bird I encountered was a Green Woodpecker that flew up from a grassy bank and quickly disappeared. I then watched a Wren for a while before looking higher up and seeing a flock of Long-tailed Tits. Two Redwings flew over, a couple of Jays appeared and numerous Jackdaws darted about.
not it's not frog-spawn! Just dew on a leaf
A small mixed flock of Siskins and Goldfinches were joined by Blue Tit, Great Tit and Coal Tit as they fed on the Alder seeds. I added more common birds as I made my back up river having walked for a mile downstream. Robins, Blackbirds, Dunnocks, Carrion Crow, Wood Pigeon, Magpie and Grey Wagtail were all added to the sightings list.
The light was very poor all day so I couldn't take any pictures of birdies, a few plants were still in flower with White Dead Nettle being the most interesting.
Lamium album (white dead-nettle)