YEO VALLEY AND LODMOOR SIGHTINGS
WEATHER: a superb sunny day, light winds, top temp 20C
I was encouraged by my dear wife to go out for walk this morning rather than sit at my desk working on tours, trip reports, bookings etc. So I went for a stroll around my local patch which I haven't seen for several months!!
FEZ Mk 2 comes to my garden every day for a handful of sunflower hearts
As I walked along the lane towards the station I stopped on the bridge which crosses the stream, I saw a Grey Wagtail and a Grey Squirrel and then a Grey Heron flew over me, what a grey day so far! Two Goldcrests soon brightened the day, I saw them, high up in pine trees as I entered the track into the valley.
Meadow No 2 - looking back from the bottom of the valley from the River Yeo
The meadows along the side of the stream which extend the length and breadth of Yeo Valley was overgrown and wet with dew, I couldn't see much of the stream because the3 trees and shrubs were also out of control, an electric fence lined the bank of the stream so I couldn't get near the water anyway. How things have changed since I was there last.
It took a while but I found some birds to look at, the first 'tit flock' consisted of Long-tailed, Blue and Great Tits as well as two or three Chiffchaffs. A small group of four Goldfinches fed on the Alder Carr and many corvids such as Crows, Rooks Jackdaws and Magpies were dashing about.
I heard a Raven and looked over my shoulder to the top of the hill and sitting in a dead tree was two Ravens. I also heard a Buzzard calling and saw one circling in the valley and another sitting on top of tall pine, a Crow was doing its best to dislodge the Buzzards by diving at it, the Buzzard took no notice whatsoever and Crow gave up.
the silhouete of Ravens sitting on top of the dead tree on the hill
Two fairly uncommon birds in the valley were seen next, first a couple of Meadow Pipits flew over me and landed in a bush for a very brief time and then a Sparrowhawk dashed along the row of Alder trees in search of breakfast.
The air temperature had risen significantly and a few butterflies were now on the wing, I saw Speckled Wood, Red Admiral, Large and Small Whites and several very fresh-looking Small Coppers.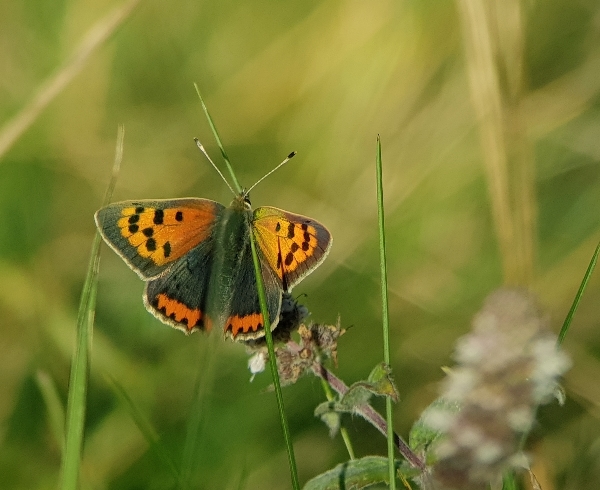 I saw several Small Copper butterflies this morning
Another 'tit flock' worked its way along the ribbon of trees that follows the path of the meandering stream until it reaches the River Yeo at the bottom of the valley. I saw little else until I turned around and started walking back.
I searched for dragonflies too and found just two female Common Darters, lots of honey bees fed on the vibrant-pink flower heads of the invasive Himalayan Balsam.
Common Buzzard being mobbed by a Crow
As I stood watching butterflies a Green Woodpecker flew out of the tree I was standing under, it flew silently across the stream and landed in an alder tree. When Green Woodpeckers do this they always land on the far side of the trunk and perch in such a way that they peer around the trunk and watch you. When they do this they are extremely hard to find, But I had my scope and I picked up its white eye as it peered at me! Ha, gotcha, click, click in the can.
if you look carefully you can just make out the white eye of the Green Woodpecker
Other species seen during my two hour walk included erring Gulls, Cormorants, Jay (heard), Robin, Blackbird and Dunncok.
a better view of the Green Woodpecker
This afternoon Dawn and I drove down to Weymouth for an afternoon stroll and a Fish n Chips reward at the end of it. We parked in the usual place at the north end of Lodmoor.
We then walked the entire length of the west track, stopping a few time to look at birds and butterflies. A dozen or so of Yellow Wagtails fed in the exposed mud banks with many Pied Wagtails but there was no sign of the recently reported Citrine Wagtail.
Peacock Buterfly on the track to Lodmoor
I saw a couple of Ruff, also two Dunlin, a few Black-tailed Godwits, a single Little Stint and a distant Curlew Sandpiper. None of these went into the can as I didn't have my scope with me. The usual fare of gulls, egrets, geese and wildfowl were also seen.
Lodmoor from the west track at 7pm tonight
I added two butterflies to my day list: Peacock and a late Wall Brown, dozens of Migrant Hawker dragonflies were dashing about too!
We had a very pleasant walk into town all along the sea-front to the harbour, where we sat and drank tea and coffee before indulging into a box of fish n chips. We did share just one large portion.
Our walk back to Lodmoor was a little slower than our outward journey, It was getting a little chilly as the sun went down in a blaze of colour. It was nearly 7pm when we reached the west track, I noted a Eurasian Spoonbill standing fast asleep and at 7pm I walked up the slope to the old tip 'hump, where a Red-backed Shrike had been frequenting for the last two days.
I forgot to mention the Kestrel seen in Yeo Valley this morning - not a common bird in the valley
I must have been the last person to see the Shrike today because I was alone up there, and it was getting cold and dull. The bird flew down out of sight and never came back up so I left. Dawn was waiting in the car so I couldn't stay too long. So endeth another good day