RISSANI – OUED GHERIS – ALNIF ROAD
WEATHER: unbroken sunshine all day, cooling breeze. Top temp 25C
We repeated our early morning walk of yesterday around the dry lake outside the hotel and because the wind had dropped there was a lot more bird activity in the tamarisk trees. Plenty of Bonelli's and Subalpine Warblers also a few more Sardinian Warblers and a couple of Common Redstarts, some of group saw Eurasian Hoopoe and most of us watched two Ruddy Shelducks fly over.
It was 'sandgrouse' day today we intended to put a lot of effort into finding some, so our destination was the wide open stony plains northwest of Rissani. Along the way to Rissani a beautiful male Montagu's Harrier drifted across the road in front of us, smashing bird.
Woodchat Shrike - a common passage migrant
Our first stop however was at Oued Gheris to look for more migrant species. The oued, or river, was virtually dry but a series of small isolated pools remained and this where we concentrated our efforts.
Little Ringed and Kentish Plover were first on the list followed by Moroccan Wagtail and then we were treated a wonderful and colourful bird fest. First, we found a couple of Blue-cheeked Bee-eaters, their vibrant colours were enhanced by the excellent morning light. One perched next to a bright Yellow Wagtail (iberiae) and behind them was a Woodchat Shrike!
a pool - part of the Oued Gheris
Other sightings included Maghreb Lark, Red-rumped Swallow, White-crowned & Northern Wheatears, Willow Warbler, Eurasian Chiffchaff, Sardinian Warbler and lots of both Subalpine & Bonelli's Warblers. A huge rubbish tip not far away attracted a large number of Brown-necked Ravens and a few Black Kites, the inevitable sighting of a Booted Eagle also occurred.
Blue-cheeked Bee-eater
Further down river on the other side of a bridge we found another larger, pool. A number of bird species were coming down to drink which included Fulvous Babbler, Common Bulbul, Serin, Willow Warbler and lots of House Sparrows. We also found another 'new' bird for a list when an Orphean Warbler appeared in the tamarisk bushes near the pool.
Desert Fritillary
For the next hour or so we drove onto the plains and scoured the sparse scrub for sandgrouse. Alas we dipped on the sandgrouse but saw a good variety of other species including three or four Spectacled Warblers, also some colourful Black-eared Wheatears.
the flat landscape of Sandgrouse country
We drove a little further and parked up to eat our picnic lunch and from there we walked for another couple of hours through a wide plateau of scrubland. As we were approaching the end of the plateau Patrick heard and then saw a flock of 10 Spotted Sandgrouse in flight but unfortunately the rest of us were spread too far and wide to share this tumultuous event! A Sandgrouse sighting at last! Patrick saw where they landed, some 800 meters away but when we got there we saw nothing.
It was around 3pm when we gave up and headed for the bus, we made one last effort to see sandgrouse at the 'drinking pool' we had watched earlier. We enjoyed our time spent there sitting on a sandy bank in the later afternoon sunshine, we added Western Olivaceous Warbler, Green Sandpiper and Common Moorhen to our list and we had some superb sightings of Fulvous Babbler.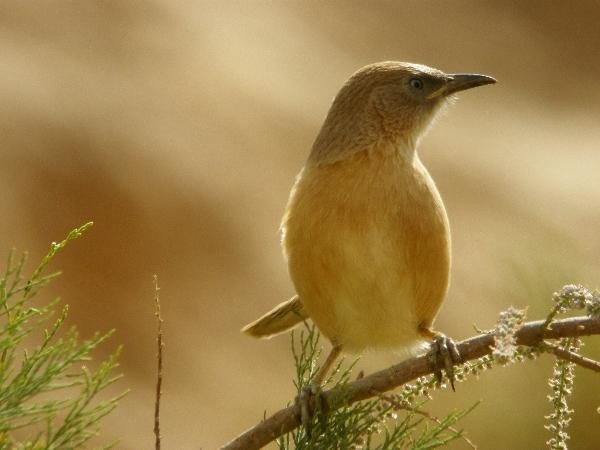 Fulvous Babbler
There are two types of birders in this world, Arsers and Leggers, this group generally are Leggers, but sometimes it pays off just being an Arser, we had the best views ever of the Babblers by just sitting still! Mind you we didn't take too much persuading after our epic walking sessions of earlier!
Common Bulbul
We arrived back at kasbah at 5:30pm and yet still Patrick and Fiona went for another walk bringing back tales of Hoopoe sightings, at least they never saw a Kookaburra as one Australian non-birding woman had suggested at dinner.