TRANSFER FROM MERZOUGA TO TALIOUINE
WEATHER: All day sunshine, top temp 23C. A stiff cold, breeze all day
As the clocks went forward last night it was still dark at 7am this morning so we went straight into breakfast. We had the luggage loaded up and were all on board the bus by 8am. We had to travel some 500km today so we hadn't planned any scheduled birding stops this morning.
We saw many species from the bus, mainly Wheatears and shrikes but also Hoopoe Lark, Laughing Dove, Marsh Harrier, Long-legged Buzzard, Common Kestrel and various hirundines. Our first toilet stop produced Common Redstart, Trumpeter Finch, Subalpine Warbler and Crested Lark. We stopped in Agnz to pick up picnic supplies and 10 minutes later we pulled over to eat it. Lunch-break birds included a Turtle Dove, found by Fiona, several Bonelli's Warblers and not much else.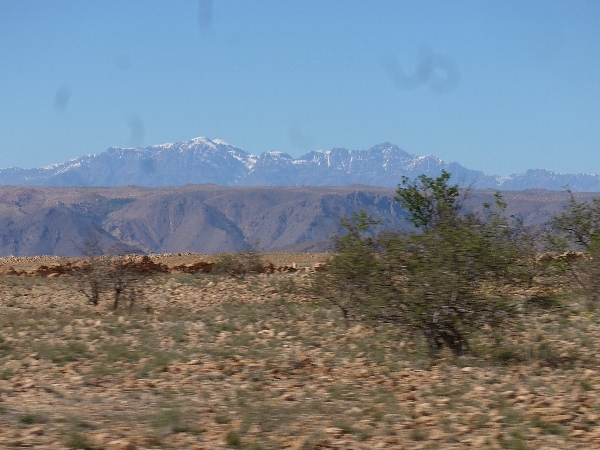 Subsequent, short birding episodes, produced more Woodchat Shrikes, Yellow Wagtail, Willow Warbler, Eurasian Hoopoe but generally birds were keeping their heads down in windy conditions. It was 23C at 2pm but it felt like 15C. We walked for a kilometer or so on huge stony plains just outside of Taznakt in a last attempt to see more Sandgrouse, again it was windy which reduced our chances somewhat. We found Desert Wheatear, Short-toed Larks, Thekla Lark and a little group of Cream-coloured Coursers.
Our arrival at our hotel, which is found just outside of Taliouine, was at 5pm. We had covered 500km passing through some stunning landscapes and some lifeless moonscapes, but generally the countryside and surrounding were very beautiful.
Trumpeter Finch
Most of us went for a walk at 5:30pm into some almond orchards and small cultivated areas. The windy conditions persisted, bird sightings were few. Greenfinch, African Chaffinch, Great Tit, Sardinian Warbler, Eurasian Hoopoe, Laughing Dove, Serin, Woodchat Shrike and Thekla Lark were all seen during our one-hour excursion.
Eurasian Serin
Dinner was a lovely tajine, one table had beef and the other had chicken, we were all in bed by 9pm.