TRANSFER FROM AGADIR TO ESSAOUIRA WITH STOPS AT CAPE RHIR, TAMRI AND OUED KSOB
WEATHER: raining, dull and overcast until about 11am then broken sunshine.
Our last full day had arrived, it was bit anticlimatic because we had seen nearly all our target birds and usually we were looking forward to today to see Blad Ibis and Plain Martin but both were already in the bag. Nevertheless we had a good day with plenty of birding stops as we travelled 170 kilometers along the coastal road to Essaouira.
It was raining as we left the hotel but nor windy and it was light rain, the traffic was heavy as we past through Agadir but once we got onto the coastal road it was pretty clear. We stopped two or three times to view roosting gulls on the beaches, the first produced good views of Audouin's Gulls, with Lesser Black-backed and Yellow-legged Gulls. We also notched up our first Whimbrel of the trip and a Common Sandpiper was also present.
A second beach stop produced more of the same with addition of about 40 Sandwich Terns, we also saw A Black-eared Wheatear near the beach area. Our first Gannet of the trip was a chocolate-brown first year individual.
The rain continued as we progressed along the winding coastal road but the sky brighten as w approached Cape Rhir. It had stopped by the time we got to the track that took us down to the headland point. Thekla Larks sang and scurried around us as we walked down the rock slope.
Our sea-watching session was somewhat a waste of time, we did see dozens of Gannets, Sandwich Terns and Yellow-legged Gulls but nothing of real significance flew past whilst we were there. We did see Ruddy Turnstone, our first specimens of the trip of this species. A Little Egret and four Whimbrels was the sum total of our list.
The rocky slopes held Black-eared Wheatear and during the drive to get there three other species had been noted by the group: Northern, Black and Desert Wheatear were called out. Common Kestrel, House Bunting, Spotless Starling, Magreb Magpie and Raven were also seen.
Tamri always invokes great memories of showing my groups their first Bald Ibis, I have seen flocks with up to 90 individuals in previous visits, but this group had already had an 'Ibis fest' yesterday, so the pressure was off to find one, and a good thing too! As soon as we got out of the bus we found a pair of Ruddy Shelducks high up on the rocky hillside above the road.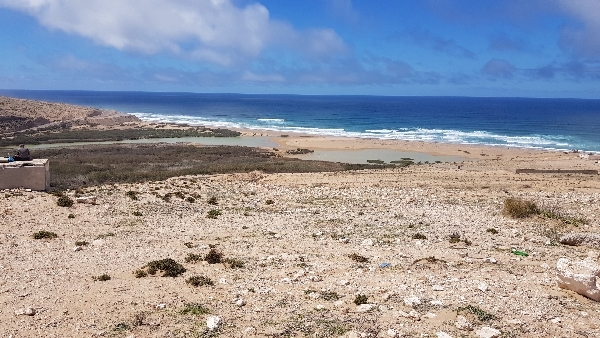 the view down to Tamri Bay from the northern hilltops
The large lagoon was pretty bird-less you could see that the sand-bar protecting it from the ocean had been breached and the lagoon was now more saline than brackish. A consequence of this was that much of the vegetation was dead or dying being salt intolerant plants. We found a single Eurasian Spoonbill feeding wildly in the shallows, Little Egret, Grey Heron, eight Eurasian Coots, a few Mallards and as we approached the lagoon we kicked up two Meadow Pipits.
The large gull roost was not visible from where we were but we decided not to troll across the sand dunes to look at it. A walk through the tamarisk scrub gave us a few Willow Warblers and Chiffchaffs sp. and a pair Black-eared Wheatears flitted about on the rocky cliffs above the road. Just as were about to board the bus a single, token Bald Ibis, flew over us, ha! In previous years that would have been enthusiastically cheered!!
Lunch was bought in Tamri town centre and we drove to the top of the hill overlooking the bay to eat it. Nothing much was seen during our repast but we did see a Barbary Partridge run along the track ahead of us as we left.
The landscape changed the further north we got, sandy open desert type scrub turned into lush green valleys with miles of cultivated Argan Tree forests on either side of the road. Gently rolling hills replaced steep cliffs and rocky outcrops and it was in the Argan 'forest' that we stopped next.
Tree climbimg Goats
At first it seemed desolate and many of the trees seemed appeared dead or dying. They were not dying of course but had been ravaged by the tree-climbing goats of the region. The process of harvesting the argan fruit after it had passed through the goat is an ancient tradition and now a lucrative one. We saw the goats in the trees eating everything that they could reach.
We saw more Spur-thighed Tortoises that birds to start with!! But soon we were watching Thekla Larks,Woodchat and Great Grey Shrikes (algeriensis), Corn Buntings, Subalpine Warblers and some distant Common Kestrels.
Spur-thighed Tortoise
An impromptu stop a few miles further north gave us a nice surprise and an unexpected species. After stopping next to a much more dense area of Argan Trees we started seeing African Chaffinches, Great Tits, a Moussier's Redstart and for only the second time ever on this March trip to Morocco, a SPOTTED FLYCATCHER! In fact we found two of them! That bird was a surprise and a lifer for Allan, the guy who found it.
Great Grey Shrike (algeriensis)
We put some miles on the clock and arrived on the outskirts of Essaouira around 5pm. We had one more stop to make before the birding aspect of the tour came to an end. A visit to the Oued Ksob usually produces a number species as we walk along the shale banks towards the sea. We usually walk from one bridge to the next, a distance of about 1 mile. Most years the water is very low and passage is easy but this year after late rains the water was flowing freely and prevented us from making much progress at all.
Our target species was Plain Martin (formerly Brown-throated Martin) and although most of us had seen at Sous Massa yesterday some of the group wanted a better look. Oued Ksob is the place to be, within minutes of leaving the bus we saw a few of them hawking over the river. We saw several individuals perched overhanging branches above the river, we enjoyed great views of a great bird.
European Pond Terrapin
A count of fourteen Moorhens was impressive and a small group of Little Grebes was nice to see, the American contingent of the group was amazed to see a Little Grebe standing on the bank and walking around, they had never seen that before. Other species seen during a one hour vigil were: European Bee-eater, Common Bubul, Willow Warbler, Black-winged Stilts, Grey Heron, lots of Yellow-legged Gulls, House Martin, Barn Swallow and not much else.
We enjoyed the last of the day's sunshine and the tranquil setting of the river with it's wildlife before we left to check-in to our last hotel.
The fabulous, quirky and traditional riad in the centre of Essaouira was a delight to finish the trip with. The evening meal was one of the best we had had during the whole trip and the group were in a good humoured mood.
We took turns to nominate our bird of the trip, various species were suggested: Thick-billed Lark, Brown-necked Raven (changed to Red-billed Chough after a little bit of thought), Pin-tailed Sandgrouse, Black-crowned Tchagra and Desert Sparrow.
I enjoyed the whole trip except for two very windy days which limited our sightings, lessened our enjoyment and almost blew me over!