ALL DAY IN BOUMALNE DU DADES – WTH VISITS TO TAGDILT TRACK – ROAD TO IZOUMGANE – DADES GORGE
WEATHER: all day sunshine, light breeze. Top temp 25C
We spent most of the morning walking on the stoney plains, called 'regs' – it is a semi-desert, sparsely vegetated, dry and dusty habitat which looks lifeless at first glance. Our breakfast was ready for us at 6:30am and within the hour we were outside the hotel (Riad) looking at White-crowned Wheatear, House Bunting and African Blue Tit. Our walk began at the hotel, we ventured onto the stoney plains and found it hard to find anything at first. But, over the next 30 minutes we found a couple of well ked Trumpeter Finches, several Thekla and Greater Short-toed Larks and a pair of Desert Wheatears, a slow but good start.
Red-rumped Wheatear
Our driver then collected us and drove us to the Tagdilt Track where we began searching for more species. The first mile of the track encompasses the town's rubbish tip where anything and everything is dumped into disused, shallow quarries. The plastic bags from the tip get blown all over the area and litters the site far and wide. Despite all of this there were many birds to look at especially larks and Wheatears. We saw more Short-toed and Thekla Larks as well as Crested Larks and we ad good views of several Thick-billed Larks.
Thick-billed Lark carrying food for chicks
Wheatears were very common especially Red-rumped and Desert, we also found Northern and White-crowned Wheatears and White Wagtails. In the sky we saw a single Marsh Harrier, a single Black Kite and then a small 'kettle' of Black Kites (25+). Beatrice found a Little Owl and photgraphed the Wheatears.
Back on the bus for a drive away from the rubbish area found us on the 'proper' Tagdilt Track we stopped by a small wadi and found Great Grey Shrike 'elegans' and more Wheatears. Further stops produced Temminck's Lark and Cream-coloured Courser, we heard a Hoopoe Lark singing but it was distant and out of sight. A Lanner Falcon perched on a pile of stones was also a nice sighting.
Cream-coloured Courser
crouching down
In a farm compound where olive trees had been planted we found more Thick-billed Larks, Short-toed Larks we added Linnet, Greenfinch, Blackcap and Spectacled Warbler to the day list. A Common Kestrel flew over and many Barn Swallows dashed about the olive trees.
another shot of Red-rumped Wheatear
Before we took a break for lunch we visited a place along the road to Izoumgane, where a natural spring is used to grow crops and various fruit trees, a little oasis in the middle of nowhere. To our great delight we found a small group of six Blue-cheeked Bee-eaters, wow, what a smashing bird, so colourful. The group loved those.
five of the six Blue-cheeked Wheatears seen today
In the bushes and scrub we saw little else: Common Chiffchaff, Common Redstart, Common Bulbul and a House Bunting.
For lunch we drove back to Boumalne Dades to buy picnic supplies and we drove round to the Dades Valley to eat it. We sat amongst the trees near the river and watched Serins, Red-rumped Swallows, Hoopoe, Woodchat Shrike and Greenfinches. A short walk produced Grey and Moroccan Wagtails, Cattle Egret, Grey Heron, White Stork and lots of Bulbuls.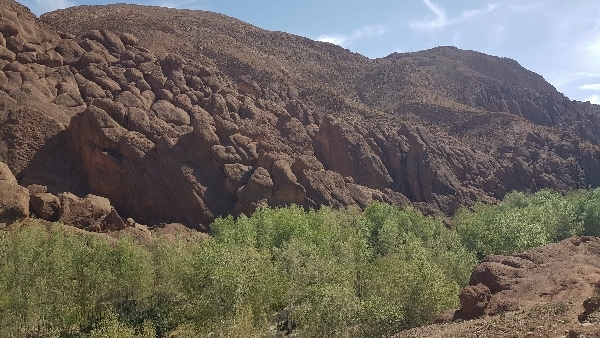 strange rock formation in the Dades Gorge
We continued into the Gorge and drove right up to the head of the valley, along the way we stopped to look at a Laughing Dove that disappeared before we got off the bus, doh! We parked the bus and walked along the main road. The habitat had changed from riparian woodland to scattered scrub on dry, steep sided valley walls, the perfect habitat for Tristram's Warbler. We spent an hour trying to nail down a good sighting of this elusive little blighter. Eventually we all got to see one really well, thank goodness for that!
Poor record shot of the Tristram's Warbler (where's Richard Pettett when you need him??)
Other species noted were House Martins, Blue Rock Thrush, House Bunting, Black Wheatear and lots of Rock Doves (Feral Pigeons). It was 4pm when we all sat down for a coffee break, the views from the terrace of the restaurant were stunning in both directions.
We reached our hotel at 5:30pm, we had enough time to relax, shower and get changed for dinner which was delicious once again.