SOUSS MASSA NATIONAL PARK ALL DAY
WEATHER: a misty start, sunny all day with a cooling breeze. Temp 30+C
The Souss Massa national park is one of my favourite places in Morocco and the walk along the approach road is always full of birds. We made another early start after a good night's sleep in central Agadir, Common Swifts were zooming all around the hotel, we saw Magreb Magpies, Common Bulbuls, Collared Doves and Wood Pigeon everywhere we looked along the way.
It took an hour to get to Sidi Rabat and onto the Reserve approach-road where we got off the bus. From our position we had a panoramic view of the wide flat valley, the River was 50 meters below us, birds and bird song filled the air.
The approach road to Souss Massa National Park
Crested and Thekla Larks, Stonechats, Moussier's Redstarts, Laughing Doves, European Bee-eaters, Sardinian Warblers, Subalpine Warblers, Zitting Cisticolas, Cetti's Warbler (heard), Eurasian Hoopoe and Common Bulbuls kept us occupied as we set up our scopes and put binoculars to our eyes.
A surprisingly good number of migrant species were in view too, we saw many Common Redstarts, Tree Pipits, Western Olivaceous Warblers, Common Nightingale, lots of Chiffchaffs and Willow Warblers, Blackcaps and Bee-eaters.
The river itself was also adorned with a nice selection of species, Little Egrets, Grey Herons, Common & Green Sandpipers, Dunlin, Common Snipe and Curlew Sandpipers were seen in the first section. It got better as we progressed onto the Reserve.
Tree Pipit
Distant white species down the river turned into Little Egrets, Eurasian Spoonbills and Greater Flamingos as we got nearer to them, a small flock of Glossy Ibis Joined them and three Black-crowned Night Herons flew over us. More waders appeared as we got nearer to the beach area, Black-winged Stilts, Common Ringed Plover, Redshank and Greenshank and Ruff.
Sardinian Warbler with a Woodchat Shrike
A group of 9 BALD IBIS circled above the river and eventually dropped down, they were quite distant but unmistakable, we got better views a little later. We spotted North African Buzzard, Common Kestrel and Marsh Harrier but not the expected Osprey.

Bald Ibis in flight
Back along the track we added Spotted Flycatcher, Serin, Linnet, Northern and Black-eared Wheatears and one of the star birds was the BLACK-CROWNED TCHAGRA. This beauty entertained us with its song and song-flight on several occasions. We searched for Turtle Dove and only one was seen, a disappointment as there are usually quite a few on this reserve, perhaps they are late this year?
two Ground Squirrels with an Agama Lizard
More birds appeared on the river as we got nearer to the Atlantic ocean, Common and Ruddy Shelducks, Northern Shoveler, Eurasian Teal, both Great and White-breasted Cormorants and lots more waders. Dunlins, Common Ringed Plovers, Kentish Plovers, Sanderling, a single Little Stint we all feeding feverishly on the exposed muddy shoreline.
Lang's Short-tailed Blue
The flowers and butterflies along this part of the track were amazing too! All colours and types of flowers were in bloom and we noted dozens of butterflies, mainly Brimstones and Whites, Moroccan Orange-tip, with Plain Tiger, Cleopatra, Painted Lady, Lang's Short-tailed Blue and False Mallow Skipper (seen Later).
the ubiquitous Moussier's Redstart
We turned around before we reached the beach, so far it had been misty with a nice cooling breeze but now the sky cleared and it got very warm which influenced our decision to turn around. More of the same species were enjoyed as we walked back to the bus, we had better views of Bald Ibis as about 20 of them circled right over us.
nest prospecting - European Bee-eater
After driving into town to buy lunch we drove down to a bridge over the river to eat it. The cooling breeze was a joy as we sat and ate. A few dragonflies were noted as we sat near the water and more species of birds went on the list. Moorhen, Common Coot, Little Grebe, Red-rumped Swallow and four raptors circled above us, African Common Buzzard (2), Montagu's Harrier and a Common Kestrel flew up to annoy them.
It was very hot by now and a mid-afternoon walk produced many sightings, we walked along a track that ran parallel to the river and along it we saw dozens of birds. The small cultivated fields on either side of us were covered in alfalfa, those fields where the crop had been recently harvested were the most attractive to birds.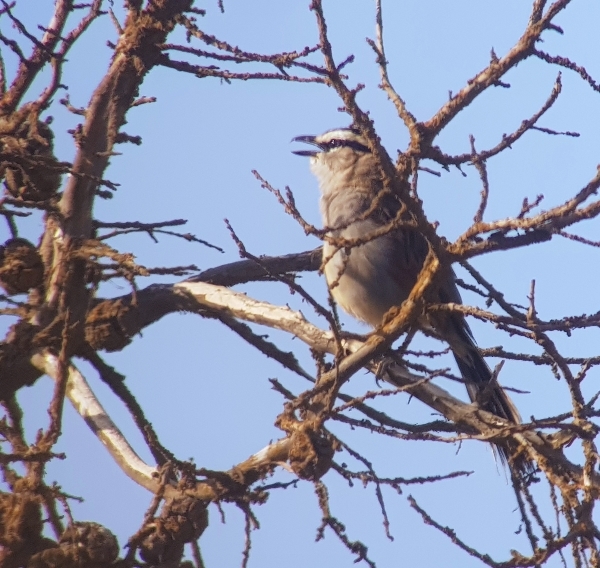 The Black-crowned Tchagra performed very well throughout the day
In this small patch of cleared alfalfa I saw 3 Willow Warblers, a Moussier's Redstart, Zitting Cisticola and a couple of House Sparrows
Yellow Wagtails, Zitting Cisticolas, Willow Warblers, House Sparrows, Redstarts (Common and Moussier's), Stonechats, Cirl & Corn Buntings, Tree Pipits, Barn and Red-rumped Swallows were all seen in those fields. We searched for Tawny Pipit without success but we did flush, by accident, two Common Quail and a couple of us saw an Ortolan Bunting.
Ortolan Bunting
Western Yellow Wagtail - iberiea subspecies
the very common Zitting Cisticola
We stayed until 5pm, it had been a long day in the field, 86 species we seen in the national park!! Our drive home was uneventful, to tell you the truth most of us slept most of the way. A lovely dinner was taken at 8pm and afterwards we all retired to bed.