LOCAL SITE FOR WAXWING – DAVA MOOR – NAIRN – FINDHORN VALLEY – LOCH GARTEN & ABERNETHY FOREST
WEATHER: a bright clear start, some cloud and very windy later, light showers. Temp 0C – 7C
With the news that 3 Waxwings had been seen just two minutes from the hotel it was a no brainer that we would try for those first thing after our delicious Scottish breakfast. So at 8am just as it was getting light we jumped onto the bus and drove ½ mile down the road. The Waxwings were last seen in a suburban garden on the edge of town, we staked out the chosen bushes which were laden with red berries and we waited.
Lots of Siskins were flying around and visiting garden feeders, we also saw a single Redpoll and many common garden species. As for the Waxwings, well, they forgot to read the script and never turned up at all! Our highlight of the vigil was the sighting of a beautiful Red Squirrel in a garden next to us, what a garden tick that is for someone!
Our next target birds were Grouse, a good place to look for them is Dava Moor a few miles north of Granton-on-Spey, luckily for us I drove past the place recommended by my on-board team and instead pulled over where 3 birders were scoping something across the moor.
The birders turned out to be Iolo Williams and two clients, they were watching three male Black Grouse that were squaring up to one another and performing a mini-lek. How exciting was that? We then scoured around for Red Grouse without any luck.
there are three Black Grouse in this picture, they have their white tails cocked and fanned out and wings dropped in preparation for a 'lek'
Lochindorb, is usually a productive body of water, it lies not too far away but our path to the loch was barred by 'snow gates', you cannot pass these gates when they are close by the powers that be. So we headed off to Nairn on the coast about 15 miles away.
Driving through a couple of showers and windy conditions we arrived at Nairn in bright sunshine, our plan was to scope the bay in search of Scoters and Eiders. A King Eider Duck had been present for a while and that was our main target species. It took about ten minutes to locate the bird, but boy was it distant! Some of the group could not even see it through the scope.
Purple Sandpipers seen on a rocky outcrop on the beach at Nairn
Over the next 30 minutes or so the bird drifted closer along with three Common Eiders and it was much better to see and easily compared it to its companions. Other birds out in the bay were Cormorants, Great Black-backed Gulls, Goldeneye, Long-tailed Ducks and Red-throated Divers. Along the sandy beach and the rocky outcrops we saw Oystercatchers, Purple Sandpipers, Knot, Dunlin and a huge amount of distant gulls. A Sparrowhawk flew over us as we stood sea-watching from behind the beach.
sea-watching at Nairn
Happy with our visit we headed off to the Findhorn Valley and once again we drove through very wet and windy conditions but by the time we reached the head of the valley the sky had cleared, however the wind had increased and forced us to stand in the lea of the bus in order to maintain an upright position!
After 30 minutes we had seen very little, a couple of small passerines flew by, they looked like Linnets but could have quite easily been Twite. At 1pm we gave ourselves a 30 minute deadline to see a Golden Eagle, or any bird of prey come to think of it! After about 15 minutes Mervyn called out a bird of prey!! It was so hard to see it as it flew away from us below the skyline along the mountainside. I got onto it and could see white in the rump and wings and declared that it was a Golden Eagle!! I directed other members of the group to the bird before it disappeared round the edge of the mountain.
our view of the mountainside where the Golden Eagle was seen
Guy Campbell was taking a comfort stop over a ridge at the time and so he missed the bird entirely, dipstick!! Other birders in the car park did see it and concurred that it was a GE.
looking down the Findhorn Valley from the car park at the head of the valley
The afternoon went downhill a little bit as the windy conditions increased and the light began to fade. We drove out of the valley and saw a Red Kite along the way, we stopped to look for Dipper in the streams without luck and we ended up at RSPB Abernethy Forest Reserve around 2pm.
Around the visitor's centre there are a number of feeding stations where we hoped to see Crested Tit. The feeders were not so busy but Mike and Lorna had brought their own supply of bird seed with them and proceeded to scatter it around on a bench. Within minutes we had 20+ Coal Tits and even more Chaffinches all around us. Mervyn and Guy had a brief glimpse of a Crested Tit but it disappeared and never returned.
Coal Tits
We spent an hour watching various feeders as well as our own pop-up feeding station and we were delighted when a female Brambling dropped down to feed. We then searched another place nearer to Loch Garten but failed to find the elusive Crested Tit. We met a local bird guide who was using a thermal imaging camera to look for Woodcock, he let one or two of us have a peek through the lens, oh my god, it was fantastic, it even showed the thermal warmth from the cars in the distant car park.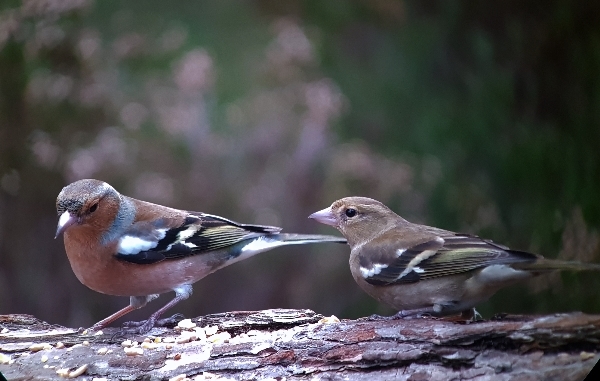 a pair of Chaffinches
Whilst talking to this guide he spotted a Crossbill flying in and he located it perched at the very top of a pine tree, the bird was calling constantly and he said from his experience that it was a Scottish Crossbill! It was a bright red male and sat at the top of one of the pines 'chipping', most of us saw it before it flew off.
Loch Garten from Abernethy Forest with the snow-less Cairngorms in the distance.
That concluded our birding for the day except for a two minute stop at the Waxwing site, drawing an expected blank for a second time today. We got back to hotel around 5pm just as it got dark.