VRONDOUS MOUNTAINS - VALLEY ABOVE SIDIROKASTRO
WEATHER; Dull to start but bright later.
We made another very early start and why not? It was our last so we intended to make the most of it. As most of the group had missed the Rock Partridge a few days ago we decided to give it another go in the same place. We set off at 5:30am in the dark, it took an hour to get there so it was nice and light on our arrival.
It was chilly the sun hadn't come up yet and we were standing by the roadside at over 2000 meters, the light breeze had a cold bite to it. Lots of bird song could be heard coming from all directions, from our position we had a commanding view down over the mountainside to the town below us. The landscape was beautiful, low juniper bushes were scattered all over the hillside which also had rocks of varying sizes lying over grass that had been grazed by horses for a long time. This habitat was ideal for the Rock Partridge which began to call after we had been there about 30 minutes.
Red-backed Shrikes were everywhere, Northern Wheatears perched on rocks and bushes alike, whilst Corn Buntings, Cirl Buntings, Linnets and Greenfinches could be seen regularly. A Woodlark sang from a telephone wire whilst in the distance we could here the call of Common Cuckoo, Ortolan Bunting and a Hoopoe. But it was the Partridge that we were after, it tantalised us for a long time before Dancho finally found one. It was distant nad only its head and shoulders could be seen but we all saw it this time, after a short while it disappeared from sight, so we changed our position and searched again, this time we had prolonged views of at least three of them, fantastic! A lifer for all of us.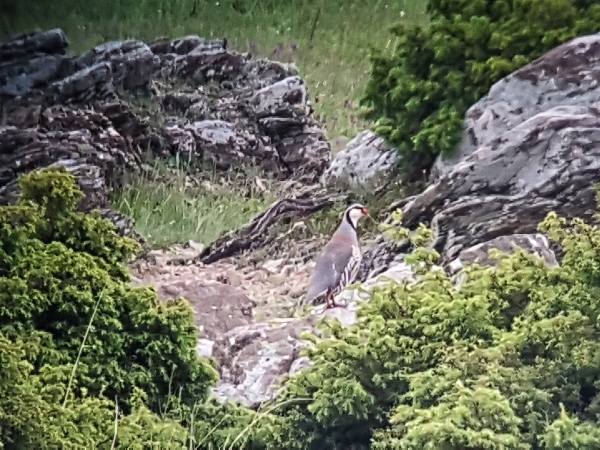 ROCK PARTRIDGE
Our breakfast was brought with us in a bag and whilst we ate we drank instant coffee using hot water supplied in flasks by the hotel staff and just after that we left the area, it was 10am. For the rest of the day we made our way to the town of Sidirokastro and then after a coffee stop in the town square we drove up into the hills to visit the gorges and open scrub.
Our search for Golden Eagles was successful if you count two brief views of two birds flying across a distant gorge, those that picked them up in their binoculars had good views but not everyone did that. The Alpine Swifts kept us entertained as did regular sightings of Honey Buzzard and a Subalpine Warbler teased us with fleeting views. We added a few new butterflies to our growing list and a couple of orchids were also found as we staked out a look-out point.
THE GORGE WHERE WE SAW THE GOLDEN EAGLES
For the last couple of hours we ventured a few kilometers further into the hills where huge tracks of juniper scrub covered the mountainside, with larger patches of open grassland. We climbed the mountainside on an old quarry track stopping several time to look at roadside birds. Woodchat and Masked Shrikes showed really well, as well as Subalpine Warbler, Cirl Bunting, Red-rumped Swallows and more Woodlarks.
The Juniper scrub landscape
From a prominent position along the track we parked and scanned the scrub below us, it had clouded over and spots of rain were in the air so we knew our time there was limited. Mnay Crested Larks sang out but we also found Short-toed Larks, they flew up high into the air singing just like Skylarks do, this turned out to be our very last new bird for the tour. A few day flying moths were chased by those interested, the Nine Spotted Moth looked interesting and the Laced Ribbon was almost impossible to see as it was perfectly camouflaged sitting on lichen.
We left the area at 3pm and drove back to hotel for early day, we needed to pack and get ready for our departure early tomorrow, the birding tour was over.
our last birding of the trip
It had been a truly lovely experience, a trip that vastly exceeded all of our expectations, I have fallen in love with this area. There can't many places left in Europe where vast areas are devoid of human activity, the tranquillity, the lack of traffic, endless tracts of superb, wild habitat are abundant and very rare elsewhere in Europe. It is a treasure trove full of gems to be discovered, I can't wait to return next year.