MÉRTOLA GORGE - ALENTEJO – ENTRADAS – CASTRO VERDE
Weather: a cloudy, misty start then broken sunshine until 4pm then rain showers. Top temp 28C
We had a superb first day it was cloudy and a little misty to start with but it soon cleared. We drove the short distance to the Gorge on the edge of the town, it was only 500 meters away but it involved a lot of steps so driving was the quickest option. As we got out of the bus we heard a Eurasian Hoopoe calling, we located the bird which was sat on the highest point of the Castle, some 300 meters away, the call carried a long way.
The lovely old bridge spanning the gorge had ledges on each of the arched support columns and on each ledge the local conservation group had attached 4 nest boxes most of which had been taken over by Lesser Kestrels.We watched these lovely birds flying around or perched on wires it was inspiring to see such a successful conservation scheme working.
We then walked along a track leading further into the gorge stopping where we had panoramic views of the river some 100 meters below us. The sky cleared and the light improved dramatically just as we found our first Golden Oriole! Over the next 45 minutes we found Blue Rock Thrush, a very obliging Rock Bunting, Common Kingfisher, lots of Spotless Starlings, Iberian Magpies and the sky was always full of hirundines.
Rock Bunting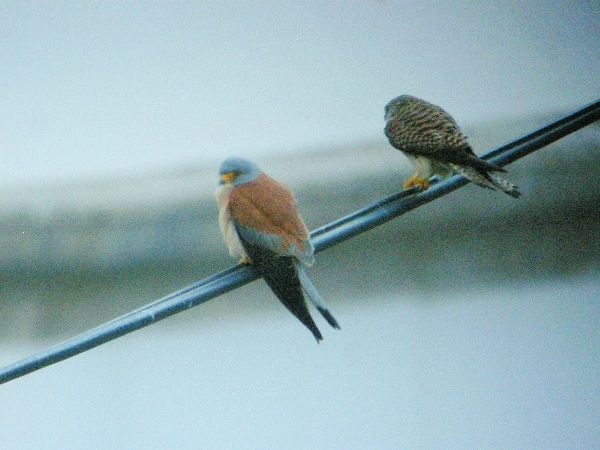 Lesser Kestrel - record shot
After breakfast we made our way towards Castro Verde the epicentre of 'Bustard' country, the landscape consisted of eucalyptus woodland, cork-oak Dehesa, open grassland covering gently sloping hills. We turn off the main road onto to a lane leading to Entradas, we stopped several times to scan the rolling hills for new species.
looking at the reservoir near Entradas
One of our first stops was near a small lake where one of our main target birds, the Black Winged Kite was seen by all of us. It was a little distant but it showed well and whilst watching it we found a number of Griffon Vultures too.
Small Skipper
The next stop produced our first Calandra Larks and some very distant Great Bustards we also noted several pairs of Stonechats, dozens of Crested Larks and thousands of my favourite bird, the Corn Bunting!
Red-legged Partridge
As we approached the village of Entradas we pulled over to view some raptors that were drifting over a roadside lake, we had great views of 3 Booted Eagles and a single Black Kite. On the lake we found both Great Crested and Little Grebes, Mallard, Gadwall, Common Coot, Cattle Egret and Great Cormorant.
It was 11am and getting hot by the time we reached the Ligue de Protecion de Nature, LPN, regional head-quarters located between Entradas and Castro Verde. A strong breeze lashed across the open grass plains as we walked a 3km circuit, it took nearly two hours but it was worth as we had much better views of Great Bustard at least 6 of them, including in-flight views. We also watched European Rollers, dozens of Lesser Kestrels, Carrion Crows, Eurasian Jackdaws, Common Ravens, Calandra Larks and several butterfly species.
We ate our picnic lunch in the LPN car park sitting at the tables provided and during lunch we saw many more Griffon Vultures, also Common Buzzard, Black Kite and a Short-toed Eagle.
The cloud cover began to increase and instead of fluffy balls of cotton wool they turned a little darker! We drove into Castro Verde stopping to watch Bee-eaters and our first Montagu's Harrier, in town found the road to Casteval where, after a couple of kilometers, we pulled over to view another lake. Much the same species occurred there with exception of White Wagtail and a Great Crested Grebe sitting on eggs! As we pulled away we saw our first Western Marsh Harrier and another Montagu's Harrier.
For the last hour we drove along quiet lanes watching more Harriers, a White Stork's colony held many pairs of storks and supported many pairs of Spanish Sparrows that built their nests within the stork's nest. We stopped for afternoon coffee and we were leaving it began to rain, good timing on our part as it rained most of the way back but it stopped by the time we reached our hotel.