GABARDITO – UPPER HECHO VALLEY -
WEATHER: wall to wall sunshine, nice afternoon breeze, top temp 35C
Our pre-breakfast walk from the hotel was both enjoyable and productive, the weather was just dandy, clear sky, no wind but a little chilly. We set off down the drive towards the river Subordan, both Blackcap and Garden Warbler were singing, it was good to point out the differences of these two very similar songs.
The v​iew from my window
Also in the garden we saw Chaffinch, Eurasian Treecreeper, European Robin and we could hear Song Thrush – it made us think that we were home in the UK!
We bumped into a tit-flock that were feeding in the pines along the land, we saw Crested Tit, Blue Tit and Great Tit. At the river we found Grey Wagtail and some of the group saw White-throated Dipper. A low flying Egyptian Vulture came over as we walked back up the hill, we then found both Red-backed Shrike and Cirl Bunting sitting on a telephone wire.
Egyptian Vulture- - taken by Bob Longhorn
Back in the hotel grounds we saw a second Red-backed Shrike, two Brown Hares and we had great views of a Firecrest. High up on the mountains the Griffon Vultures were beginning to stir and one or two unidentified 'chough' drifted around.
A visit to the well-known Wallcreeper site at the Refugio de Garbadito filled the rest of the morning, we had a great time up there. A narrow, winding lane leads you to a car park next to the Refugio, we noted Mistle Thrush, Blackbird, Chaffinch, Robin, Blackcap and Serin on the way up. In the open alpine meadow at the Refugio we found at least three Citril Finches, also Serins and a family party of Black Redstarts. Butterflies were now on the wing, we saw plenty of Black-veined Whites, Southern Speckled Wood, Wood White and Mountain Clouded Yellow.
Burnt Orchid above Greater Butterfly below
We spent almost an hour walking the short distance to the famous Wallcreeper rock-face noting several bird species along the way such as Eurasian Nuthatch, Eurasian Treecreeper, Dunnock, Garden Warbler, Black Woodpecker (heard) and lots of common birds. We also found dozens of Burnt Orchids and we also saw the tiny Duke of Burgundy Fritillary.
Black Redstart - Bob Longhorn
We made ourselves comfortable at the Wallcreeper site and whilst we waited we were entertained by the dozens of Crag Martins, House Martins, Alpine Swifts, Red-billed Choughs and Griffon Vultures all filling the sky above us. On the rock-face we noted Black Redstart and after about an hour's wait we finally found a Wallcreeper, fantastic.
Over the next 30 minutes we saw the bird a few more times but it did not give prolonged views and some of the group did not get a satisfactory and positive sighting. The bird never showed again! We did see Bonelli's Warbler, Black Redstart, Wren, Alpine Chough, Common Kestrel and we heard Green Woodpecker many times and Common Crossbill.
On the way back to the Refugio we added Coal Tit and we had superb views of a LAMMERGEIER, luckily for us we picked the bird up when it was distant and we watched it drift right over the top of us, it never moved a muscle as it drifted effortlessly over, a fantastic bird.
Record shot of the Lammergeier from Bob Longhorn
Back at the car park we found a couple of picnic tables where we ate out lunch, what a lovely setting, the scenery is just outstanding with many birds, flowers and butterflies thrown it.
For the remainder of the afternoon we drove through the very scenic Boca del Infierno (gorge), we passed the camping grounds of Selva de Oza and made our way towards the border with France passing theough areas of outstanding natural beauty as we headed along the Upper Hecho Valley. A series of short walks and birding stops produced several nice sightings of Yellowhammer, Grey Wagtail, White Wagtail, Red-backed Shrike, Egyptian Vulture and Red Kite.
The Rio Agaragon Subordan - looking for Dipper
We drove as far we could and parked up, outstanding scenery surrounded us, small patches of snow lay in the shadows but not very much. We saw Chamois, several Orchid species, lots of butterflies and we had good close views of Egyptian Vultures. A 'raptor-watch' produced Griffon Vulture, Red Kite, Booted Eagle, Eurasian Sparrowhawk and two GOLDEN EAGLES, wow! I love watching these majestic beasts, one of the eagles put on a display making a series of dives and climbs, fantastic.
Upper Hecho Valley - look carefully for the snow patch, on which we saw a Chamois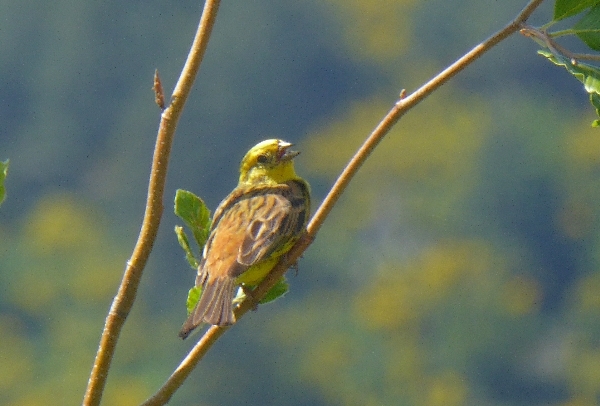 Yellowhamme
We made a couple of short stops along the river on the way back looking for Dipper without success and returned to the hotel by 5pm for some R & R before dinner at 8pm.