ARRÉS ROAD – MONESTERIO SAN JUAN DE LA PEÑA - RIO GALLEGO – EMBALSE DE LA SOTOÑERO - MALLOS DE RIGLOS
WEATHER: very hot and sunny all day, light winds. Top temp 36C
We spent all day visiting just 3 sites but it was so hot in the afternoon that we achieved very little, walking in the heat was impossible and consequently we saw fewer birds than on previous days this week.
It was around 9am and 27C when we arrived at our first destination, the road to Arrés. This area is well known for its breeding Ortolan Buntings, it has a north facing escarpment covered in low scrub on one side of the road and wide open cereal fields leading down to the River Aragón on the other.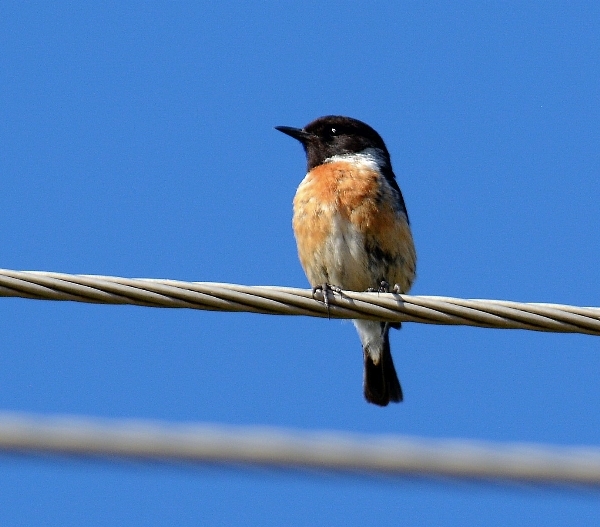 Common Stonechat taken by Bob Longhorn
Corn Buntings were sitting on bushes and wires, I'm sure that they were only there to torment me, but we sifted through them and eventually found our prize, the Ortolan Bunting. We also saw Common Stonechat, Red-backed Shrike, Turtle Dove (heard), Serin and Chaffinch. A second stop near a bridge produced sightings of Cirl Bunting, Common Whitethroat, Eurasian Chiffchaff, Bonelli's Warbler and several Black Kites.
juvenile Black Kite - Bob Longhorn
Our drive up to the Monastery took us through picturesque landscapes and a climb through woodland where miradors gave us fantastic views of the surrounding area. From the car park at the 'new' Monastery we walked through mature pine woodland looking for the elusive Black Woodpecker. We found the woodland very productive despite there being a lot of tourists around, Eurasian Nuthatch, Coal Tit, Goldcrest, Jay and lots of common birds were present.
view from the mirador or Balcon de Pireneo
From the mirador or Balcón de Pireneo we had superb views of the Pyrenees stretching out in front of us. Then we had a sighting of our most wanted bird. First we heard it drumming, then it called a couple of times and eventually we had three or four sightings of it in flight, Nigel saw it perched and tried to photograph it. Finally we had our Black Woodpecker!
Many butterflies and interesting insects could be seen on the flowers and grass banks around the monastery;
Black-veined White
Marbled White
Hummingbird Hawk-Moth and Pale bordered Bee-Fly - Bob Longhorn
Following that we drove all the way down the Gallego Valley heading towards Huesca stopping for lunch at the valley bottom near a large reed-bed. It was very hot by this time with very little breeze. We saw a Common Nightingale and not much else. We moved on after eating our picnic passing even more picturesque landscapes as we passed Riglos and its famous 'fingers' of pudding-stone.
The Mallos (fingers) of Riglos - look top right of the main block for the fingers
At the huge Embalse (reservoir) at Sotoñero we spent a couple of hours stopping in various locations around the shoreline, including the dam, to look for more species, but the heat was too much! As a result we had travelled quite a distance for very little. Grey & Purple Herons, Great, Little and Cattle Egrets, Mallard, Great Crested Grebe, Yellow-legged and Lesser Black-backed Gulls and Little Ringed Plover was the total of the water birds seen. A few passerine sightings included Great Reed Warbler, Zitting Cisticola, Woodlark, Golden Oriole, Serins and lots of common finches. Birds of prey were practically absent, a single Black Kite and a Common Buzzard.
Little Egret - Bob Longhorn
It was now 4:30pm and 36C we jumped into the bus and set off for the hotel, we made a couple of stops for coffee and ice-cream and to photograph the Mallos de Riglos. We arrived back at the hotel at 6:30pm in readiness for dinner.