FUENTE DÉ  - PEMBES – RIO DEVA
reet
WEATHER: Beautiful sunny morning, thunderstorms later with lengthy periods of hail & rain. Temp 23C
We had a fabulous morning with the best weather I have ever had in the Picos, however, the afternoon was a complete wash out!
We took an early breakfast and headed for the cable car (teleférico) at Fuente Dé just a few kilometers away. Some of the group had walked across the road to the river and watched Grey Wagtail, Dipper and several other species before breakfast.
We arrived at the cable car at 9am and had to wait an hour for the first ride of the day, during our wait we watched Red-billed Chough, Red Kite, Eurasian Nuthatch, Coal Tit and we had superb views of a Firecrest.
The teleferico takes you up over 800 meters in less than 4 minutes, you really are up in the peaks when you step out of the car. As soon as we emerged from the restaurant area we started listing birds, a Black Redstart was first then we had very brief views of Alpine Accentor.
The scenery that greets you as you emerge from the cable car building
The scenery up there is breath-taking, it was hot and sunny with barely a cooling breeze, too hot perhaps for the birds! Bird song and movement was minimal, we heard one Black Redstart and one Water Pipit in song and sightings were few and far between. Alpine Choughs seemed to be ever present and one or two more Alpine Accentors put in an appearance, we also saw Northern Wheatear and Eurasian Linnet. Before long we had our first sighting of a Snowfinch, it was a male collecting food some 60 meters below us, but it flew off before everyone had scope views.
At the main col about 1km from the cable car we started seeing several Snowfinches displaying high above us around the rock face, they looked like black and white butterflies tumbling down out of the sky, it was fascinating to watch them. Alpine Chough landed very close to us but all this time we were scanning the rock faces for Wallcreeper without a sighting, it was a good job that we saw this little gem back in the Pyrenees!
Much closer views were had of Alpine Accentor and whilst we were having lunch back at the cable car restaurant a cheeky Accentor landed at our feet and began picking up crumbs.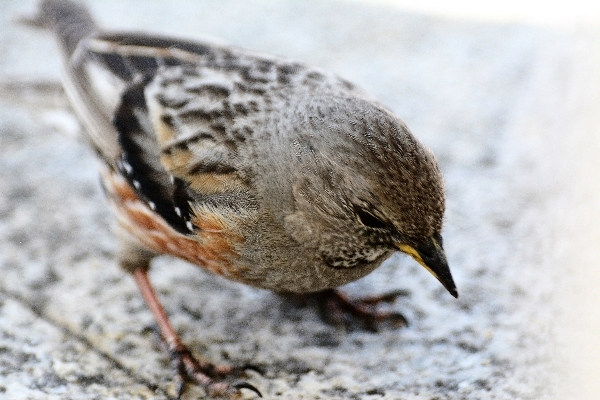 Alpine Accentor taken by Bob Longhorn
Trumpet Gentian
Alpine Chough - taken by Fred Fouracre
There wasn't a hint of a thunderstorm as we boarded the cable car to descend, but when we emerged at ground level a few spots of rain fell. By the time we reached Pembes which is a few kilometers back down the valley it had clouded over and thunder and lightning had begun. We chanced our luck and began a walk up through the village, noting Spotted Flycatcher, White Wagtail and three of us saw a Common Redstart before it started to rain heavily.
our black bus getting a wash!
What followed was a torrential rain-storm with hail stones thrown in, had could that be when the air temperature was around 28C? We got a soaking and managed to get back to the bus when it eased off a little. The rain then became heavier and unrelenting so we jumped back into the bus and drove straight back to the hotel.
By about 5pm the rain stopped but it was too late for any further birding excursions, one or two of the group ventured out and watched Dipper on the river and Common Redstart in the garden of the house next door.
Common Redstart - Bob Longhorn
We all dried out by dinner time and another lovely meal was enjoyed by all.