PRE-BREAKFAST WALK AROUND THE HOTEL – RIO ARAGON AT THE PUENTE LA REINA – BIRDING THE ALASTUEY ROAD - CANDANCHU & ASTUN SKI RESORTS – FRANCE AT SOMPORT
WEATHER: Clear sky for most of the day, light winds, warm temperature….hooray
OMG we had good weather today, I actually felt warm for some of the time, whoopee! Our pre-breakfast walk found us walking along the lane outside the hotel to the small road-tunnel about 500 meters down the lane. We found many common species including: Cirl Bunting, Garden Warbler, Blackcap, Great, Coal, Blue and Crested Tits, Robin, Dunnock, Song thrush (h) and lots of Chaffinches.
Crag Martin at the Tunnel
At the tunnel several Crag Martins nested we saw them at close range and beyond we searched for Rock Bunting without success. Egyptian Vultures were prevelent in our sightings with eight of them seen feeding in one field and others drifting down the valley with Griffons and Black Kites.
waliking back to breakfast
After our breakfast we drove down the valley the main road at Puente la Reina and turned off the main road to Jaca to another smaller bridge over the Rio Aragon. We spent an hour or so watching some nice species and finding one or two interesting butterflies. We tracked down a Eurasian hoopoe from its call and saw Garden Warbler, Melodious Warbler, White Wagtail, Eurasian Nuthatch, a perched Black Kite and we also heard Golden Oriole, Cetti's Warbler and Common Nightingale.
the view from the hotel
A little further along the main road to Jaca we turned onto a side road to Alastuey and pulled over into a scrub area with mature oaks and open glades. The sun was well up by now and it felt rather warm, at last! Butterflies were on the wing we noted Spanish Chalk-hill Blue, Black-veined White, Ilex Hairstreak, Painted Lady and few others we have yet to identify.
Spanish Gatekeeper
The birds we found were few but of good quality, a Honey Buzzard circled over us very low at first just as we got off the bus, then a Subalpine Warbler showed very well in the young oak trees and likewise a Western Bonelli's Warbler. We watched a Eurasian Nuthatch taking a bath in a puddle and a young Greenfinch joined it.
Pyrammidal Orchid
Further along the lane we stopped in a more open scrub area where Common Nightingales were common, we spent a good 30 minutes trying to see an Orphean Warbler, we had brief flight views and that was all. So we ate our lunch and watched the numerous butterflies on the wing, the beautiful Southern White Admiral caused a stir, but we also found more blues and gatekeepers.
The rest of the afternoon was spent visiting the Ski Resorts of Candanchu and Astun near the French border above Jaca. It took 30 minutes to get there from where we were. At Candanchu the scenery it absolutely stunning you can't take your eyes off the snow-capped mountains they are so beautiful.
Views taken from Candanchu Ski Centre
We quickly found several Northern Wheatears, Black Redstarts, Citril Finches, Grey Wagtail, Linnets, Black Redstarts and Red-billed Chough. We searched for Rock Thrush without success but we did find one or two Water Pipits and our first Alpine Marmot.
Provence Orchid with Early Purple Orchids in the background
After a quick Coffee stop we nipped over the border into France because…..we could! A quick stop to find at least one species resulted in finding a Short-toed Snake Eagle carrying a snake and a Lammergeier. How cool was that!
Back in Spain we visited Astun, another deserted Ski Restort, where we spent an hour so searching for the elusive Rock Thrush. We enjoyed the afternoon sunshine watching another two pairs of Lammergeiers, two of the birds were landing just over a ridge and coming up after a while looking wet and dirty. They were 'bathing' in soil stained with iron oxide, this gives the bird their red, fiery appearance. Lammergeiers apply the dirt with their claws and then preen for about an hour to ensure a bright orange glow.
The view from Astun Ski Centre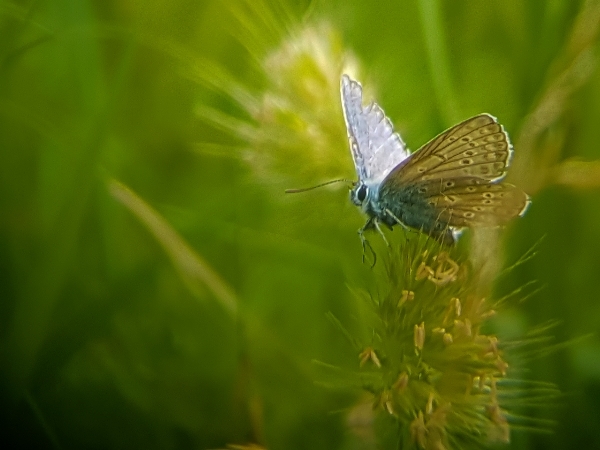 Spanish Chalk-hill Blue
We had much better views of the Water Pipit, we saw another Short-toed Eagle, much closer too. We also found Grey Wagtail and had two or three Dipper sightings, but we never found the Common Rock Thrush.
We set off for the hotel with one more planned stop in the centre of Jaca, the 16th Century Citadel, which was built during the reign of King Philip II and restored in 1968. We were looking for sparrows! Both Rock and Tree Sparrows breed in good numbers on the and around the walls, what we did find was just one or two Tree Sparrows, hundreds of Common Swifts and a herd of Red Deer in the dry moat area!
Back at the hotel early, for a tour of the hotel's Micro Brewery and then an early dinner before watching World Cup Football, Spain versus Portugal.