A LONG WEEKEND IN KENT - VISIT TO MAIDEN CASTLE & SUTTON BINGHAM RESERVOIR - SOMERSET LEVELS, SHAPWICK HEATH & NOAHS LAKE.
KENT - 20TH - 23RD JANUARY
Our visit to see the grandchildren in West Malling was prompted by our eldest, Florrie, who was among 8,600 other children performing in a single choir at the O2 Arena on Friday night, It was a fantastic experience for all of us, I never thought that being in the same room as 8000 screaming kids would be such a thrill, it was fantastic and so well organised. The YOUNG VOICES CHOIR - google it and see what I mean.
the O2 Arena, all those white specks are members of the YV Choir
A word of warning, DO NOT PARK AT THE O2 ARENA CAR PARK - IT COSTS A LOT OF MONEY - £37!!!! OUCH!!
Although this was not a birding trip we managed to see some birds during the journey and I did get out for a couple of walks with my bins. We saw several Red Kites as we travelled in lovely sunshine on Friday 20th. Also Buzzards, Kestrels and a Sparrowhawk.
On Saturday 21st I managed to get out to visit Leybourne Lakes, I listed about 25 species but the wildfowl number was way down from those recorded during previous January visits. I saw all the common ducks in low numbers and nothing else, not even a Pintail or a Goldeneye. I heard both Great Spotted and Green Woodpeckers without seeing them and a few Fieldfares and Redwings joined Song Thrush and Blackbird on my list. A Goldcrest was nice to see along with a couple of large groups of Long-tailed Tits.
Leybourne Lakes view
Sunday Afternoon, after lunch we all went for a family walk in the afternoon sunshine, it was very cold, but at times it really felt like spring. Bird song was amazing, we could hear Blackbird, Robin, Dunncok, Song & Mistle Thrushes all singing during our walk.
Song Thrush taken at Leybourne Lakes
We also visited the centre of Rochester which sits above the River Medway. The cathedral and the castle area of the town are really nice.
Rochester Cathedral
Rochester Castle
We drove home on Monday 23rd and I managed to get out for an hour during the late afternoon to visit Sutton Bingham Reservoir. I saw a Kittiwake, some Wigeon, a Little Egret and all the usual birds. A Black Redstart had been reported earlier but I couldn't find it.
Yesterday, Tuesday 24th - I watched the feeders in the garden and added a Blackcap to my Stoford year list, I also watched the usal visitors: Nuthatch, Great Spotted Woodpecker, Common Pheasant (Fez 2), Blue, Great, Coal and Long-tailed Tits, Goldfinches & Chaffinches, Wren, Dunnock, Robin, Crow, Jackdaw and Magpie.
Long-tailed Tit in my garden
During the afternoon Dawn and I went to Dorchester for a walk around Maiden Castle. It was very cold and Dawn didn't enjoy the walk. I saw Lapwing, Linnets, hundreds of Rooks and Jackdaws, Wood Pigeons and a few Skylarks.
Somerset Levels: Today 25th January, 2023
foggy on the levels
A Lesser Scaup had been found on the levels and it is one of the American Ducks missing from my year list. Guy Campbell had seen it recently and so I went today to look for it myself ( I can't have Guy seeing a bird that I have yet to see!) . I chose the wrong day!! Apart from the freezing conditions it was very foggy with poor visibilty.
Egret on ice - standing on one foot to conserve heat
As I walked from Ham Wall car park along the main drain towards Noah's Lake a Merlin flew past me, very close, wow!! A nice omen perhaps. Meare Heath Pool was almost frozen over, a few ducks and Mute Swans fed in the small areas of open water. Great Egrets stood on the ice, looking perplexed, cold and hungry.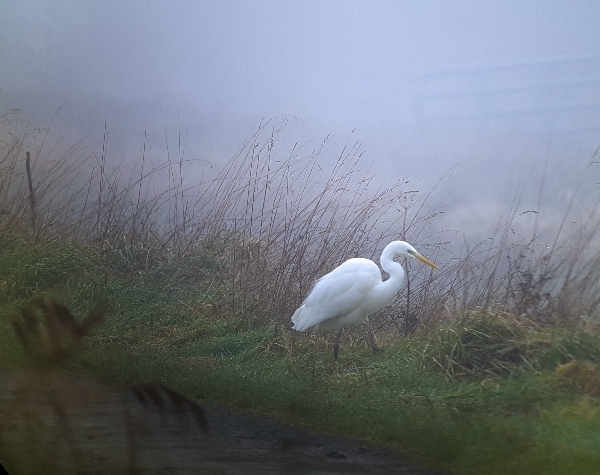 From Noah's Hide, which I had to myself for an hour, I scanned the very distant ducks feeding in the unfrozen part of the lake. I can't beleive that I found the bird, a female Lesser Scaup, Wow, my luck was in. It was exactly where Guy had seen it two days ago!! But it was way too far away for a photograph, I tried anyway, don't hold your breath. What a waste of film!
I watched the bird for a while and before I left I scanned for other species, a male Ring-necked Duck was supposed to be in the same area but I never saw it. Amongst other birds I did see was; Whooper Swan, Pintail, lots of Tufted Ducks, Common Pochard, thousand of Wigeon (the Amercian Wigeon was probably amongst them.
GARDEN AND LOCAL BIRDS
The feeders have been very busy during this cold spell and yesterday a Blackcap was my first garden tick of this species for 2023. At last, a large flock of Redwings and Fieldfares dropped into the meadow, this is the first time they have done so, this year. I love watching them hop and run across the grass looking for worms, popping out of the thawing soil.
Fieldfare taken from my garden