A WALK ALONG THE RIVER YEO NEAR ILCHESTER AND THE RODWELL TRAIL IN WEYMOUTH
FRIDAY 10TH FEBRUARY
A WALK ALONG THE RIVER YEO NEAR ILCHESTER
WEATHER; cloudy with sunny spells
Dawn and I went for a walk along the River Yeo at Ilchester, we both had things to do in the afternoon so we restricted the walk to just two hours. From Ilchester we set off for the Pill Bridge over the river Yeo, the fields all around us we full of birds, mainly thrushes and starlings! We saw dozens if not hundreds of Redwings and Fieldfares with quite a few Blackbirds and a couple of Song Thrushes.
the River Yeo taken from Pill Bridge
The hedges along the first ½ mile of the walk were full of Chaffinches, Dunnocks, Blue and Great Tits, Robins and we saw a couple of Reed Buntings. At the River we walked along the high embankment towards the village of Long Load. A couple of Little Egrets flew up from the river and a Grey Heron flew over.
and further down river where the Green Sandpipers were seen
In the fields to the east we saw hundreds of corvids, mainly Rooks and Jackdaws and one or two Buzzards sat on the fence post. In the distance, huge flocks of Lapwings flew up with thrushes and Starlings and I noticed a large flock of Golden Plover above them.
As we rounded a bend in the river four Green Sandpipers flushed and flew off down river, then another two and then another two. Wow! Eight Green Sands, I had only seen one this year up until now! We got closer to the Lapwings and Golden Plovers, now on the ground, I never had my scope with me so I have no pictures of them.
A Peregrine sat in the top most position of a dead oak tree, a dozen Mute Swans fed in the fields but I never got a sniff of a Common Crane, there are usually a few in this area, perhaps we never went far enough along the river? We turned back after an hour's walking and went back to the car.
SATURDAY 11TH FEBRUARY
RODWELL TRAIL, WEYMOUTH TO FERRYBRIDGE
WEATHER; overcast most of the day with sunshine later. Top temp 11C
It felt like spring today and it got quite warm in the early afternoon. Celia, my sister-in-law came over at 9am and all three of us drove down to Weymouth for one of favourites walks. We parked near the north end of RSPB Radipole Lake and took a track that takes you right across the reserve.
At a concrete bridge just after getting onto the reserve we saw a a few photographers taking pictures of something in the reedbed. As we got closer we saw and heard a small bunch of Bearded Tits, they were showing extremely well and very close, doh, I never had my scope so I couldn't take any digiscope pictures. I tried a few shot through my bins but as you can see they were not very good.
this a not very obliging male Bearded Tit
A male Goldeneye flew over us whilst we watched the beardies and some Tufted Duck fed just below us. Further along the track a women told us that she had just been watching a Firecrest along the 'Buddleia Loop' we were not going in that direction so we missed it.
a record shot of the less colourful, female Bearded Tit
Other sightings on the reserve around the visitor's centre include: Great Crested and Little Grebes, Shoveler, Teal, Gadwall, Cormorant, Grey Heron, Common Snipe and lots of Med Gulls.
The walk along the Rodwell trail fairly uneventful and quite quiet, the usual common species flitted about. We stopped at Sandsfoot Castle for a coffee, I scanned the Harbour with my bins and saw four Eider Ducks, lots of Mergansers, Great Crested Grebes, Cormorants and Shags and not much else.
Sandsfoot Castle with Portlkand Harbour and Portland in the background
At Ferrybridge the tide was on its way out, there wasn't a single wader out on the mud but about 300 Med Gulls sat out there, a lot of them we now in summer plumage, what a beautiful looking gull that is!
these are all Med Gulls if you can find them?
We ate lunc in the Café at Ferry Bridge and then the girls walked onto Chesil Bank, I had walk along the grass covered area of the 'bank' looking for an early Wheatear arrival. I thought I had one from the centre but couldn't relocate it. I found Stonechat and Linnets. I then joined the girls on top of the Chesil Bank, the sun came out and we enjoyed the wonderful views in all directions.
on the top of Chesil Bank looking towards Portland
Back at the visitors centre I could see that some waders had arrived, 50+ Dunlin and a few Oystercatchers was all I saw.
Weymouth and Ferrybridge taken form the top of Chesil Bank
Our walk back was very pleasant, we stopped for coffee again at Sandsfoot Castle and at Radipole we had good views of a pair of Goldeneye near the visitor's centre where we spent a little bit of time watching through the plate glass windows. A Marsh Harrier caused a bit of a commotion as it flew over the main lagoon. On the way back to the car and we walked the Buddleia Loop trail to look for the Firecrest without luck.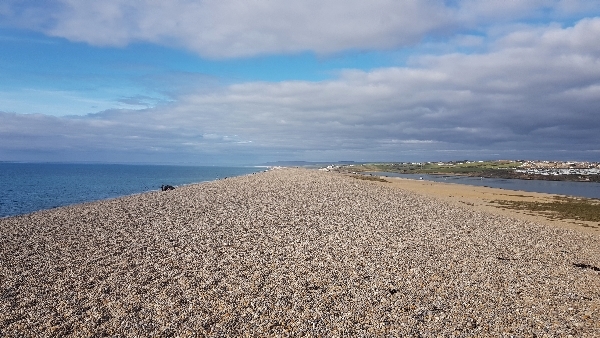 Lyme Bay and part of Ferrybridge taken from the top of Chesil Bank
We had been walking for 6 hours in all, we covered 19,600 steps, a very good walk deserves a sit down at home and nice glass of wine, and that is exactly what I did! Aahhhhhhh!!!
In the Garden yesterday Fez 2 had a near escape! He sat on the fence waiting for me to come and out and feed him when a large female Sparrowhawk landed on the fence about a meter away from him. Fez quickly pooped and then flew down into the garden and ran under a bush. The Sparrowhawk waited a while and then flew into a laurel bush chasing a Chaffinch.
this is FEZ 2, 'hiding' under one of my bushes, taken through my bedroom window.