TRANSFER DAY - SOMERSET TO DORSET WITH STOPS IN BOTH COUNTIES - TEALHAM MOOR - GREYLAKE - YEOVIL COUNTRY PARK - MAIDEN CASTLE, DORCHESTER - SILVERLAKE NEAR DORCHESTER - CROSSWAYS WATERCRESS BEDS - RSPB LODMOOR, WEYMOUTH
WEATHER: dull and overcast throughout the day becoming brighter after 3pm. Temp 12C strong south-westerly at times.
We transferred from our guest house in Westhay to our guest house in Weymouth but we spent nearly all the available daylight hours in the field. After saying goodbye to Anne, our host at Westhay, we set off for Tealham Moor hoping for a glimpse of a Hen Harrier or a Merlin, we saw neither. It was raining, it was windy, it was cold and dull, a normal weather pattern for January in the UK.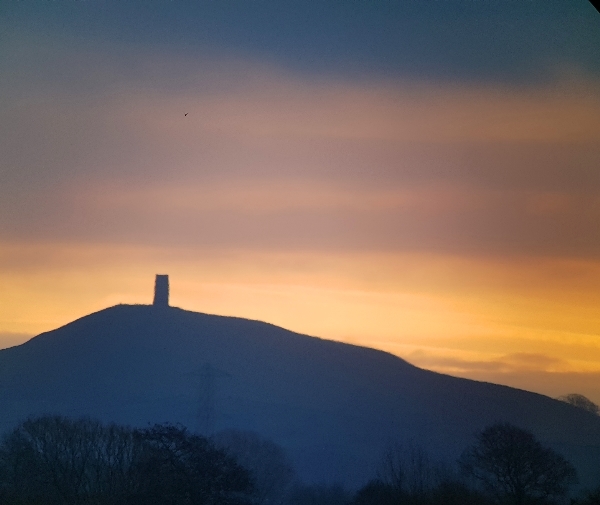 sunrise over Glastonbury Tor
We did see a few species, flocks of Starling came over us after leaving the roost at Ham Wall, we saw a dozen Fieldfares in the tall buses, and Mute Swans, Great & Little Egrets fed out in the marshy areas. The obligatory flock of Lapwings danced across the sky and a single Golden Plover came over issuing its forlorn cry, we finally saw our first Wren of the trip, hooray!
From Tealham we drove to Greylake where we parked in the car and scanned the meadows on the other side of the road, hoping for a sighting of Whooper Swans. Most of the area further west was flooded so we were hoping that the Whoopers had ventured up this far east, but they hadn't!
We stopped in Yeovil on the way down to Weymouth, we parked in Nine Springs Country Park and spent an hour or so looking for new species to add to our list. Mandarin Duck was our main target, but we were distracted by a mixed flock of Siskins and Goldfinches that were feeding in the tops of the Alder trees. We managed to get a quick look at a few Siskins in the scope but they were very flighty.
bathing in Nine Springs Pool, Water Rail
At the main lake we flushed a Water Rail from right below us, it flew and swam across to the island and promptly took a bath, showing really well for us. We then scoped a few Mandarin Ducks that were well hidden under the overhanging branches of the poolside shrubs.
the colourful Mandarin Drake
After a quick cup of coffee at the local cafe we strolled back to the bus searching for Redpolls without seeing any. Our next target was the Corn Bunting and we knew exactly where to look for them. The open fields and grass meadows surrounding the north side of Maiden castle are the place to look for Corn Buntings in Dorset and sure enough after 5 minutes we had a small flock of six in our sights.
record shot of Corn Bunting
This year the number of birds around the Castle are phenomenal, a huge field of sunflowers have been left to seed, specifically for the birds and thousands are taking advantage of the farmers generosity. Several Linnet flocks of 2-300 hundred were present with fewer Goldfinches, the number Rooks was staggering and Wood Pigeons formed large flocks too. A small number of Stock Doves joined them and we saw a dozen Skylarks before we left.
After picking up lunch supplies we headed off to Silverlake just a few miles out of Dorchester to the east. We ate our lunch sitting in the van in the sheltered parking area. During lunch we saw a pair of Egyptian Geese drop into the furthermost pool and out of sight.
the obligatory snap of a Mediterranean Gull, there is something that compels me to do this every time I see one
We then scanned all the lakes visible from the main pathway, it was rather windy there and quite cold. We couldn't relocate the geese but we saw a good number of ducks including four Pintail. On the opposite bank of the first pool we found a small group of Redwings with two Mistle Thrushes, our first for the trip.
oops! I did it again
Before we left the area, we drove along a quiet single-track lane nearby to view a couple of seasonal pools, at the side of the first pool we found two Egyptian Geese and that was all. We moved on to the Watercress Beds at Crossways, there we saw dozens of Pied Wagtails, with just as many Meadow Pipits and a single Grey Wagtail. Three Pheasants and a handful of Wood Pigeons made up the rest of our sightings.
Last but not least we made a quick visit to RSPB Lodmoor, it was also very windy there and we were losing the daylight even though the sun appeared through hazy clouds. We added a few species to the day list and Mediterranean Gull went onto the trip list, other sightings included Great Egret, Grey Heron, Common Shelduck, Shoveler, Gadwall, Teal, Wigeon, Black-tailed Godwit, Lapwing, Moorhen, Coot, Little Grebe and a Cetti's Warbler was heard.
Tomorrow we are spending the day at Portland, Portland Harbour and the Fleet, we hope to add 20+ species to the tour-tally to take us well over 100 mark.