HAM WALL - CATTCOTT LOWS AND GREY LAKE RSPB RESERVES - SUTTON BINGHAM RESERVOIR
WEATHER: dull and overcast all day, misty at times, visibility not too good all day. Temp around 13C
The day was supposed to start at 8am in the car park at Ham Wall, unfortunately it was only me that knew that!!! The others strolled in around 8:40am for an 8:30am start, different agendas. Whilst I waited for the rest of the 'gang' to arrive I birded around the car park.
A fly-over Great Egret was ncie to see even though I did expect to see this species, a couple of Bullfinches was another nice sighting. The rest of my sightings were common garden birds except for a Siskin with a flock of Goldfinches.
It was around 9am that we all finally assembled, my birding pals were Craig, Colin and Will from the Bristol area and Richard, who instigated this whole birding-meet, was visiting from Norfolk but formerly from Bradford-Upon -Avon.
MY COMPANIONS TODAY - L TO R COLIN, WILL, CRAIG and RICHARD
We walked a short distance along the main track noting a Common Kingfisher, Coal Tit and Craig heard a Yellow-browed Warbler before any of us. In fact whithin a few minutes he heard two of them and had located one just a few yards away. Then he wandered off along the track back towards the car park and a minute later called us all to see a Yellow-browed Warbler which we all did.
Common Stonechat seen along the main track and at Cattcott later
Whilst standing on a small bridge we began listing several small birds such as, Goldcrest, Siskin, Goldfinch, Lesser Redpoll and small flocks of Long-tailed Tit.
From the first viewing platform we watched a Great Egret fishing and a good variety of ducks, all the usual suspects were there, Mallard, Gadwall, Shoveler, Teal, Wigeon as well as Mute Swan, Coot, Moorhen, Little and Great-crested Grebe.
Great Egret, a common sight in Somerset these days
We had fleeting views of Cetti's Warbler and plenty more Lesser Redpoll sightings before we reached the 'Avalon Hide'. The much hoped for Great Bittern sighting did not happen, but Marsh Harriers were always present and another Great Egret joined the throngs of common ducks. We heard Water Rail at least 5 times during our walks and Cetti's Warblers burst into their loud song every 15 minutes or so.
Northern Lapwings - can you spot a couple of Dunlin in the flock?
It was 12 noon by the time we got back to the car park where we were teated to a nice hot coffee by Craig (we should have been buying his coffee for finding the Yellow-browed) before setting off to Cattcott in the search of Cattle Egrets. About half way there we stopped to watch a single Cattle Egret in a field with a Little Egret and several cows.
record shot of Cattle Egrets - they were both distant and in very poor light
Just the other side of a village called Burtle we stopped on a bridge to scope a large gathering of egrets feeding around another herd of cows. These were all CATTLE EGRETS. We had an amazing count of 33 (one bunch of 23 plus 10 sitting in a separate field), how fantastic was that. This bird was a mega rarity just ten years ago, even 5 years ago it was an uncommon sighting, now there are hundreds in the country and they breed like Cattle Egrets! So plenty more will be seen next year. We went on to see another 9 Cattle Egrets bringing our total seen today to over 40!!
Northern Lapwings over a very dull Cattcott Lows reserve
From the hide at Cattcott we enjoyed watching many species, a huge flock of Northern Lapwings entertained us with fantastic aerial displays as they took to the air everytime a crow flew over. We found several Common Snipe, 5 Dunlin and a single male Pintail.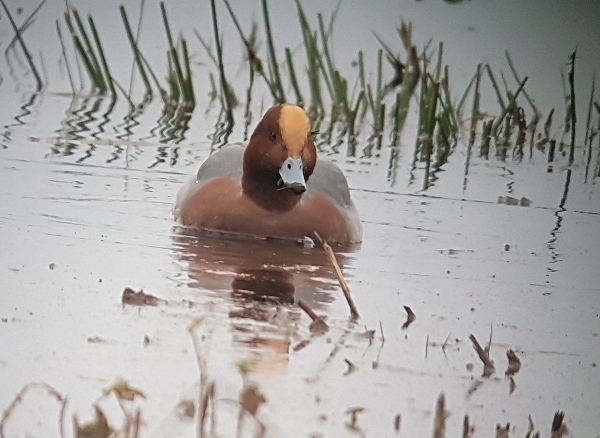 Eurasian Wigeon taken at RSPB Greylake
A Peregrine Falcon sat on a distant pylon and a Common Kestrel circled over some distance woods, we had good close views of Common Stonechat but not much else. It was now approaching 2pm, Colin, Will and Craig had to get back home for various other activities so Richard and I said farewell to them and we set off for the RSPB nature reserve at Greylake.
Blue Tit at the feeders in the car park at Greylake
At Greylake we had beter views of Common Snipe and there was large numbers of Teal and Wigeon in and around the pools. A Common Buzzard sat on a fence post and a couple of Marsh Harriers dirfted over. We saw our fourth Great Spotted Woodpecker of the day on the birder feeder in the car and we caught a brief glimpse of Reed Bunting there.
closer view of Northern Lapwing, taken at Cattcott
Richard and I then set off to visit my local reservoir at Sutton Bingham to scan the gull roost for unusual species. It was almost dark when we got there around 4pm, we had poor visibility looking out over the lake, not ideal. About 1500 Black-headed Gulls, a dozen Common Gulls and a couple of hundred Herring Gulls gathered for their evening roost. Not a single Mediterranean Gull, nor anything more exotic was found. We did see a single Dunlin which is a good record for this reservoir.
We arrived back at my home around 5pm in the dark, Richard stayed the night and we both enjoyed a delicious Chilli con Carne made by my lovely wife, Dawn.