HAM WALL – TEALHAM MOOR – CHEDDAR RESERVOIR – CHEW VALLEY LAKE (STRATFORD HIDE, HERON'S GREEN) – BARROW GURNEY TANKS – CHEW VALLEY LAKE – THE DAM – HERRIOT'S BRIDGE – WESTHAY MOOR
WEATHER: a very cold day but dry with fantastic afternoon sunshine. -4C at 7am
We had a great day out today in cold, but superb weather. For the first time this winter I had to scrape the ice off the bus windows, it was -4C as we left our warm beds to visit the Starling roost at Ham Wall. We watched the Starling decamp from the reeds in spectacular style, there seemed many more birds leaving than arrived last night.
We also saw 6 Great Egrets leaving their roost, a fly-by Sparrowhawk, also Marsh Harrier and most of the seven species of common ducks.
After a delicious breakfast we set off for Cheddar which is some 40 minutes away, we made a short detour to drive across Tealham Moor in the hope of finding Cattle Egrets and perhaps a Merlin. We found 4 Cattle Egrets as soon as we turned onto the Tealham Road and then later we found our first Stonechat of the trip.
The surface of Cheddar Reservoir was like a mirror and was covered in birds, we had to sift through about 1,000 Coots and hundreds of other common ducks to look for Goldeneye, Red-crested Pochard and a Great Northern Diver. It took about ten minutes to find all three, but as usual they were on the far side of the water from where we were.
Great Northern Diver
So we drove round to the Sailing Club car park and viewed from there. The diver was so much closer but spent a lot of time under water, the Goldeneye was slightly better and Pochard was much further away. We also added Grey and Pied Wagtails and Common Gull to our list so we left happy. I never let the group tick a Mandarin Duck that came close hoping for bread with the dodgey looking Mallards etc.
Next came the first of two visits to Chew Valley Lake, we drove straight to the Stratford Hide and quickly notched up quite a few species. Five Black-necked Grebes were very nice to see, more Goldeneye were also there, we watched Common Snipe, Reed Bunting and Common Chiffchaff in the reeds. We stopped at Heron's Green viewing area next but failed to add any new species and the road to Nunnery Point was gated and locked so our chances of seeing the Lesser Scaup were dashed.
Reed Bunting
From there we drove across country to the 'Tanks' at Barrow Guerney. These three small reservoirs were undergoing repair work so access was denied. We did however find the small car park that overlooks Tank No. 1 and that was exactly what we wanted because our target bird the Long-tailed Duck was there and showing well albeit distant.
Back at Chew Valley Lake we stopped at the Dam and visitor's centre where we found coffee and a Common Sandpiper in that order! Our last port of call was Herriot's Bridge viewing area, it was packed with birds and hundreds of gulls were dropping in for their pre-roost wash. We added Common Shelduck, Northern Pintail, Lesser Black-backed Gull and we found a single YELLOW-LEGGED GULL.
Common Sandpiper
A Kingfisher kept us happy for while as we watched it fishing, after its third attempt it caught a tiddler and disappeared. We scanned the main lake for Bewick's Swans, which had been seen this morning, but without luck.
The plan was to wait until dusk and look for a Barn Owl but my group were tired and getting cold so we decided to drive back to the levels, it was now 3pm.
The last place we visited was Westhay Moor just north of where we were staying, it consists of more reed-beds and open pools with some woodland, it is the best place on the levels to find Goosander. Sure enough we found two pairs of Goosander and also our first Greylag Goose. After spending some time sitting in a nice new hide we set off back to our guest house arriving just after 5pm.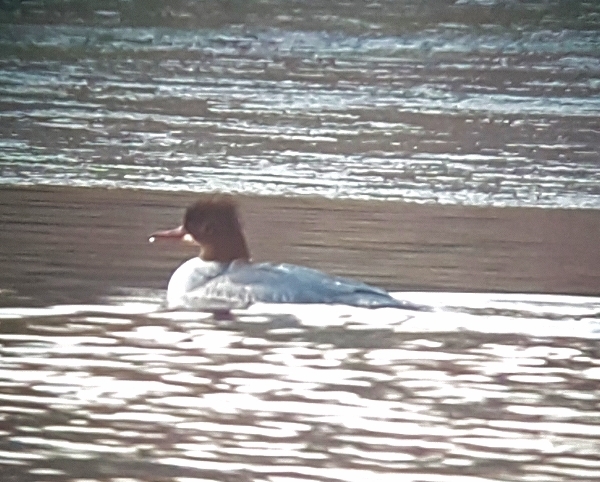 record shot of female Goosander
New birds for my Year List included:
89. Great Northern Diver 90. Red-crested Pochard 91. Goldeneye 92. Reed Bunting
93. Long-tailed Duck 94. Common Sandpiper 95. Yellow-legged Gull 96. Goosander