CATCOTT LOW – STEART MARSHES – STEART POINT
WEATHER: very cold, dull and overcast all day, no wind. Lowest temp. -4C
We had to scrape a layer of ice off all the windows of the bus this morning it was very cold. We then drove 2 miles to Catcott Low Nature Reserve and sat in the hide for a short while.
Most of the marsh at Catcott was frozen over with just small areas of unfrozen water where large numbers of wildfowl were gathered. Hundreds of Eurasian Wigeon were huddled together with Shoveler, Teal, Gadwall. and Mallard, whilst much fewer numbers of Pintail, Tufted Duck and Common Pochard were feeding in amongst the crowed Wigeon.
The frozen Marsh at Catcott Low 8am this morning
We also saw Canada Goose, Mute Swan, Grey Heron and not much else. The road from the reserve up to Catcott village takes you through open grass meadows where we saw a flock of Chaffinches with some Goldfinches, also many Fieldfares, a few Redwings, a couple of Song Thrushes and a single Great Spotted Woodpecker.
We then spent an hour driving to Steart Marshes passing through Bridgewater town centre where we stopped to buy our picnic supplies for lunch. As we drove towards Steart Village we found a Merlin on the fenceline, it flushed as we approached but perched some 30 meters away, we all had great views of it.
Fieldfare
Our first official stop was near the entrance to the marshes, we walked across some muddy rough ground to view Bridgewater Bay. Unfortunately, the tide was unexpectedly right out, mudflats stretched as far as the misty conditions let your eye go.
All the wading birds were far out too! We had distant, scope views, of Redshank, Eurasian Curlew, Knot, Ruddy Turnstone and Dunlin. Many Common Shelduck fed out on the mud but we couldn't even see the sea. A pair of Common Kestrels were new for the list.
Steart Marshes at low tide, no water and no birds
After parking in Steart Village we took the trail to Steart Point which followed the shoreline, we noted Stock Doves on power lines and dozens of Lapwings in the fields with large flocks of Common Starlings.
Our walk to the Point produced few sightings especially of waders. We added Common Stonechat, Wren, Meadow Pipit, Linnet, Marsh Harrier and another Merlin, also perched on a fencepost, to our list.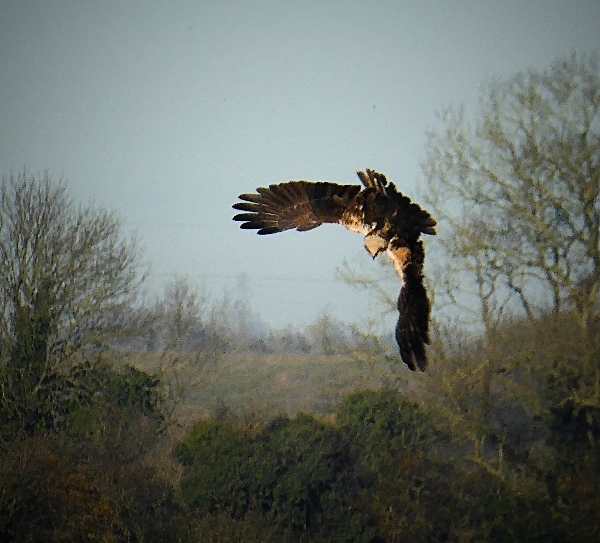 Marsh Harrier
The only piece of excitement that we had was that of a Peregrine Falcon chasing waders. The waders gathered in very tight groups as they climb up high above the mudflats, they flew so high that even in the bins they looked small. The Peregrine was relentless and pursued them, diving into the groups many times without success, we never saw the final outcome because they all disappeared from sight.
We visited the hides at Steart Point which also produced very distant sightings of waders, we added Grey Plover there. On the way back to the car park we found a flock of Greenfinches (my very first ones for 2019), we also saw Common Snipe, Eurasian Curlew and many Lapwings in the meadows.
Finally, we visited the 'new' Steart Marshes reserve where very smart hides overlook huge tidal, man-made scrapes. As the tide was still low the scrapes were empty of water and birds. From the 'Quantocks' Hide we did see a variety of ducks, a few Redshanks and to our great surprise two EURASIAN SPOONBILLS were present.
For the last hour we drove back towards the village and parked on a small hillock where we had commanding views over a number of grass meadows and some of the marsh. We were hoping for a sighting of a SHORT-EARED OWL, it was a cold wait, but worth it.
About 3:30pm an Owl was found on a fencepost, quite distant but the scope gave good views. The bird was flushed a couple times by over-enthusiastic photographers, but each time the bird was flushed we had great views of it in flight and it landed nearer to us.
At 3:50pm we were happy to get back onto the bus for a warm up, it took 40 minutes to drive back to our guest house, we added Roe Deer to our mammal list during the journey back.
NEW BIRDS FOR MY 2019 LIST
97. Merlin 98. Curlew 99. Redshank 100. Dunlin 101. Knot 102. Grey Plover 103. Ruddy Turnstone
104. Stock Dove 105. Greenfinch 106. Eurasian Spoonbill