PRE-BREAKFAST MORNING WALK ALONG THE RIVER TEIGN INTO HACKNEY MARSH - ALL MORNING VISIT TO YARNER WOODS - TRENDLEBERE DOWN - HAYTOR - RIVER BOVEY WALK IN BOVEY TRACEY
WEATHER: glorious sunshine all day, a chilly breeze once again.
The sun shone all day once again, how nice is that? It made the day so much better and we saw some great species on this magical mini-tour of South Devon.
We met at 6am for a walk along the banks of the river Teign which is situated right outside our hotel, the tide was low and muddy shorelines could be seen down river. We saw a few species from the bottom car park outside the hotel such as: Little Egret, Grey Heron, Cormorant, Canada Goose, Mute Swan, Moorhen and lots of gulls.
The track along which we walked to Hackney Marsh from our hotel, with the River Teign during low tide
As we walked inland with the river on our left we scanned the massive reedbed for species, such as Reed & Sedge Warblers, Reed Bunting and Cetti's Warbler. We heard some of those and only got glimpses of Sedge Warbler to start with. A Peregrine Falcon sat high up on a pylon devouring its breakfast and proved to be a distraction from our reedbed search.
Peregrine taking breakfast
As we neared Hackney Marsh we heard Blackcap, Wren, and Cetti's Warbler, we waited patiently and got good views of the Cetti's Warbler. During the return trip we finally got to see a Reed Warbler and we watched a apir of Reed Buntings visiting the same spot in the reeds, obviously feeding chicks. An Oystercatcher was added to the day list as we walked back to the hotel.
The rest of the morning was spent at Yarner Woods, a great place to look for Flycatchers and Woodpeckers as well as most of the common woodland species. We left the hotel after breakfast at 8:30pm, stopping to buy lunch supplies in Newton Abbot along the way we arrived at Yarner Woods at 9am.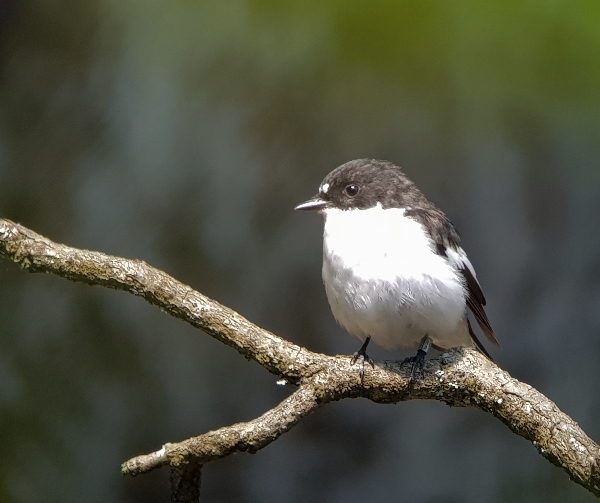 Pied Flycatcher
We had a magical time there seeing many species and it all started in the car park. A nest box adjacent to the car park was active with a pair of Pied Flycatchers, we watched visiting the box regularly with food for chicks, number one target in the bag. Whilst we stood there a Nuthatch appeared, a Green Woodpecker flew over and we saw several common species too.
Our walk along the main track was very slow we had so much to look at. A family party of Spotted Flycatchers appeared, we watched them for a while, then a Great Spotted Woodpecker turned up and more Pied Flycatchers came to see us.
Just before we turned off the main track Neil found a Marsh Tit and we watched a woodpecker hole for a while to see if any birds would turn up, but they didn't. We then bumped into the warden and another guy who was carrying a pole with a camera attached to it. He was on the regional team for monitoring Lesser Spotted Woodpeckers, he had just visited a nest site that we were heading for and told us that at least one chick was still in the nest, marvellous.
a male Lesser Spotted Woodpecker visiting the nest
We watched a pair of Goldcrests and even more Pied Flycatchers before we arrived at the lesser Spotted Woodpecker nest site. Standing well clear of the hole we watched the parent birds taking food to the chicks, I say chicks because a local photographer was there and she told us that she had photographed two chicks and not one as the guy had told us. Anyway, we all had excellent views, it took quite a while for everyone to see the birds in the scope, but they did.
Walking out onto the heath from the edge of the woods we watched Linnets, Stonechats, a Willow Warbler, some Common Buzzards, lots of Wood Pigeons flying over, Neil and one other had seen a Goshawk whilst we were watching the Pecker! Doh!!
Male Stonechat with a fledged chick
For lunch we drove up to the top car park at Trendlebere Down, it was windy up there but we managed to find shelter behind the large clumps of gorse, it was quite warm in sunshine as we ate our lunch.
two of the Dragonflies we saw today - Golden Ringed above and Black-tipped Chaser below
The next destination was Haytor on Dartmoor we took a route that passed Becky Falls and brought us onto a beautiful section of the moor. A stop along the way produced a sighting of a pair of Common Redstarts, they were very flighty but remained loyal to a small area and we saw them several times, the male looked particulary dashing in his spring attire. We also saw Common Kestrel, Common Buzzard, Raven and Linnets.
watching a Kestrel over the moor
We walked up to the car park and then took a track onto a hilltop which overlooked Haytor and the surrounding area, what a beautiful part of the country. We saw Skylarks, meadow Pipit and some of the group saw a Northern Wheatear. A few butteflies were noted, mainly Green Hairstreaks, but also Red Admiral and Small Heath, a brief glimpse of a 'probably' Small Pearl Bordered was ad by a few of us.
Green Hairstreak
a view of Haytor from where we walked
The last couple of hours of the day was spent down in Bovey Tracey where we bought and ice-cream before walking through the main park searching the River Bovey for Dippers and Grey Wagtails. We saw several of the latter but not a Dipper.
the River Bovey
We got back to the hotel around 5pm and met up again at 7pm to call the bird log and take dinner at 7:30pm. Just after 9pm I took 7 of the group for the second 'Nightjar' outing, we drove to the site near Bovey Tracey and walked out onto the heath. We had splendid views of up to four Nightjars, we heard them churring and calling in flight, but this time we never saw them perched.
Back by 10:30pm, it had been a long day, zzzzzzzzzzz!!!