JARAICEJO HEATHLAND – EMBALSE DE ALCORRÍN – ARROYO PIZARROSO – MADRIGALEJO RICE FIELDS
WEATHER; overcast for most of the day with some sunshine late afternoon, light cold breeze. Top temp 16C
It was quite dull when we set off from the hotel this morning, but the air was still and it didn't feel as cold as the previous two mornings. Nevertheless, we were all wrapped up in warm clothing for our visit to the open, exposed heath above Jaraicejo. It took just twenty minutes to get there, we drove through a few kilometers of dehesa, stopping to look at few species along the way.
Our first Jay of the trip flew across the road in front of us before we stopped to look at a magnificent Short-toed Eagle sitting on a pylon, we also noted Red-legged Partridge, Iberian Magpie, Woodchat Shrike and some Spanish Sparrows.
The heath was very quiet, a few birds were singing but not many at all. We saw Iberian Grey Shrike on the wires and several Thekla Larks were dashing about or singing. The Dartford Warbler was one of our target birds and we got to see many of them, a lot of male birds were song-flighting or sitting on the top of the broom singing.
The iconic bird of the heathland - Dartford Warbler
Spectacled Warbler was a different matter, we spent over an hour walking along the track looking and listening without a single sighting, I can only assume that they have not returned to their breeding sites just yet! In the meantime we enjoyed a stream of Vultures flying very low over the area, including a single Egyptian Vulture and Mike produced an Imperial Eagle once again, what a great bird!
After driving back into Trujillo to buy lunch supplies we set off for the rice fields at Madrigalejo, we stopped for coffee along the way in the village of Herguijuela, in a small park we noted Black Redstart, Serin and we found a Goldfinch sitting on a nest.
We then drove to the huge Reservoir next to the village of Alcorrín where we ate our picnic lunch, along the way we stopped at a small lake where we added Eurasian Spoonbill, Grey Heron, Great Cormorant, Gadwall, Shoveler, Mallard and Little Grebe to the day list. At the Reservoir we stopped along the approach road below the dam to admire a party of European Bee-eaters, they were using a fence close to the road as a 'base' for their aerial sorties.
a view of the embalse from our picnic site
At the reservoir we enjoyed some long distant birding! Great Crested and Little Grebes, Black-headed Gulls, Mallard, Shoveler, more Eurasian Spoonbills, Cattle and Little Egrets, Eurasian Coot, Common Moorhen and lots of Barn Swallows and House Martins. A Thekla Lark sat on a nearby bush calling with a mouth full of food, we realised that the bird was waiting for us to move on before it flew down to its nest, so we moved on quickly.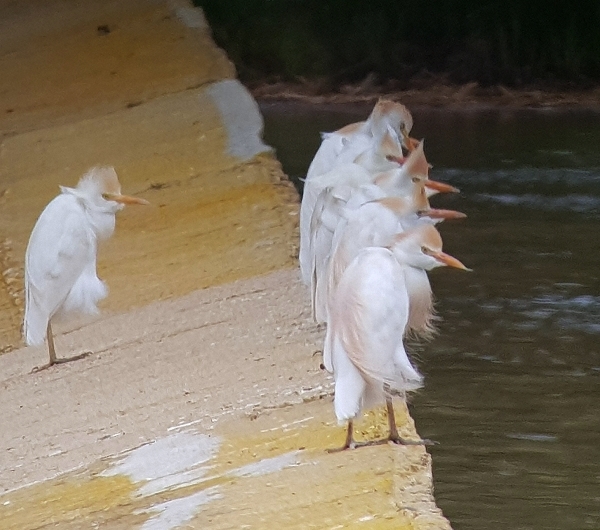 bad hair day on the wind-swept dam wall - Cattle Egrets
The wildlife part of the reservoir had more species of birds in it, we parked near a small second dam and scanned a much smaller pool. All the same ducks were there, we added Greenshank, Green Sandpiper, Cetti's Warbler and Black-crowned Night Heron to the list. Three of the latter species were inadvertently flushed as we disembarked from the vehicle. After 30 minutes of scanning we moved on, stopping once again to see the Bee-eaters near the main dam.
there must have been a good sighting behind us
this Thekla Lark caused us to abandon our picnic site
Many of the rice fields all around Madridgalejo appear to be abandoned or replaced by olive or fruit trees, it was very disappointing to see this new land use, hardly any water was standing in the fields.
The arroyo Pizarroso had been dredged and the trees and reeds cut right back (it was getting quite overgrown the last time I visited), so it was quite open. We saw Green Sandpiper, Cetti's Warbler, Common Nightingale, Common Kingfisher and we heard a Water Rail a few times.
The surrounding area seemed devoid of birdlife, we couldn't find Tree Sparrows, any warblers or Waxbills. A very dark looking Night Heron was all we found. A few butterflies were on the wing: Common Blue, Small Copper and Western Dappled White. We heard Stripeless Tree Frogs calling and a few Marsh Frogs but nothing else stirred on the stream.
female Red Avadavat
the male Red Avadavat losing breeding plumage
Our visit to more rice fields nearer to the village of Madrigalejo produced a few birds but not many: we caught up with several small flocks of Red Avadavats with a few Common Waxbills (both invasive, escapee species), we had great views of Iberian Shrike, Eurasian Hoopoe, a Cattle Egret flock of 50+ birds, Marsh Harriers, Black Kites and the usual vultures. Mike had ventured off on his own, we drove down atrack to collect him, he had heard Common Quail and seen a Gull-billed Tern and we all saw Serin and Yellow Wagtail, a nice male Iberiae subspecies.
never seen such a dark Night Heron such as this, melanistic I presume?
It was now 5pm and we had a long drive back to the hotel which took us an hour, it was our last day in the area, tomorrow we are driving down to Coto Doñana for the second phase of our tour, we shall travel via Mérida and Sevilla.