MONFRAGÚE NATIONAL PARK – ALMARAZ ORCHID SITE - ARROCAMPO RESERVE NATURAL – JARAICEJO HEATHLAND
WEATHER – wall to wall sunshine all day – a chilly breeze continued until late afternoon
We had a late start for a change, breakfast was served at 8am and we left the hotel at 9am!! The short distance into Monfragúe park from our hotel took us just a few minutes. We stopped at Salto del Gitano first and searched for a Rock Bunting. The vulture cluster above the limestone pinnacles was impressive, both Black & Griffon Vultures appeared, the latter in large numbers.
A Black Stork was found on the banks of the river Tagus below us, Crag Martins whizzed around us, we saw Blue Rock and Black Redstart and our first Wren of the entire trip!! It was long before we found a Rock Bunting and unexpectedly it was singing from a perch in a tree below us and not a rock above us!
finally we caught with this Rock Bunting
We moved further into the park passing through the small village of Villareal before turning towards the main dam. We stopped in a lay-by and listened for Woodlark. Two of them appeared ot long after we got out of the bus, we also saw Black-eared Wheatear a little further down the road.
Our next stop was at the Mirador de Tajadilla which looked over another series of rocky pinnacles. We saw Siskins in the car park, Black Kites and more Griffon Vultures before we found a pair of Egyptian Vultures.
Our final stop in the park was at the Mirador de la Portilla del Tietar, this very popular site is always very interesting with plenty to see. In the morning sunlight the birds looked magnificent, more of all three vultures were seen as well as Black kites, White Storks, Blue Rock Thrush and Black Redstart. We searched the sky for the Imperial Eagle and the rocky crags for Eurasian Eagle Owl but drew a blank on both species.
Black Vulture, nest in trees not on the cliff face with the Griffon Vulture
Our walk through the woodland towards the Hotel Puerta de Manfragúe was nice but produced very little. Another Woodlark was seen singing above us, we added Eurasian Nuthatch to our list, we saw a Chiffchaff sp. Long-tailed Tit, Blue & Great Tits, a Common Cuckoo called in the distance and that was about it.
It was lunchtime when we reached Almaraz, so we sat on a terrace, in lovely sunshine, in the middle of town and enjoyed our meal. The next stop was new place for me, I had always avoid visiting the place because it is referred to as an Orchid Garden, so I assumed it was a place of cultivated plants. So when we arrived on a large limestone slope and saw hundreds of wild orchids we were totally blown away!! The numbers of Naked- Man Orchids was incredible! We also saw lots of Mirror, Woodcock and Yellow Orchids plus a few unidentified species.
a Naked Man Orchid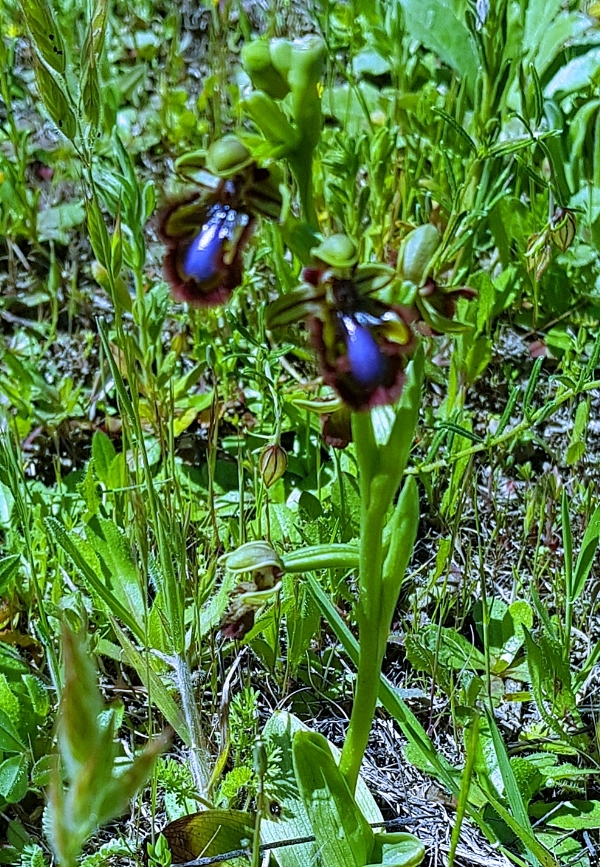 Mirror Orchid
Yellow Orchid
Champagne Orchid in the foreground with Naked Man Orchids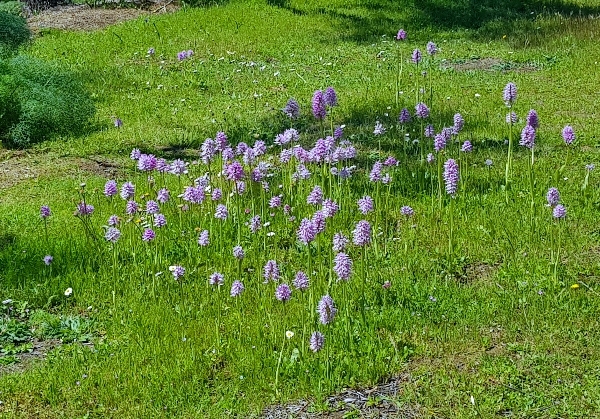 dozens of Naked Man Orchids
It was hard to drag my group away from the orchids and a young Dutch couple who were just as enthusiastic as we were. Eventually we got away and set off for the short tri p to Parque Ornitológical de Arrocampo. We spent a good couple of hours there visiting all the hides and look-out points.
Our search for Penduline Tit went unrewarded but we enjoyed a good deal of other species in windy conditions: Little Bittern, Purple Heron (10+), Grey Heron, Great, Little & Cattle Egrets, Eurasian Spoonbill, Great Cormorant, Gull-billed Tern, Purple Swamphen, Eurasian Coot, Common Moorhen, Eurasian Teal, Mallard, black-winged Stilt, Crested |lark, Woodchat and Iberian Shrikes, Zitting Cisticola and lots of Barn Swallows, Sand & House Martins.
record shot of Purple Heron
Our final point of observation was besides the busy main road, we finally managed to find a Savi's Warbler, its very distant at first but eventually it came much closer, we had fleeting views of it but it was reeling quite a lot.
We set off back to the hotel around 6pm and we made one final stop because one of the group wanted to see a Dartford Warbler. We stopped on the large area of tamarisk and broom heathland just above Jaraicejo and within minutes we saw a male Dartford Warbler singing and displaying. A bonus bird was a lovely male Spectacled Warbler, a great species to finish off the day with.
an enterprising White Stork seen at Arrocampo
We ate dinner once again with 200 noisy students, my god what a racket they made. Tomorrow we leave for our last full day's birding, we are heading for the snow covered mountains and the plains west of there, we have seen the weather forecast, almost freezing conditions with snow, how nice!