GAUCIN SWEET CHESTNUT WOODS - MARCHENILLA TRACK - RIO HOZGARGANTE - SAN ENRIQUE WOODS - SOTO GRANDE BREAKWATER -LAGUNA TORRE GUADIARO -RIO GUADIARO VALLEY (SECADERO TO CASARES)
WEATHER: clear blue sky all day, bright hot & sunny. Top temp 30C.
The warm weather returned after a cooler spell and we revelled in warm sunshine all day, marvellous! We drove up to the Chestnut woods and found the gate padlocked! A sign on the gate said no entry and it is strickly forbidden to pick the chestnuts! That didn't stop four intrepid birders from climbing the fence and enjoying a bit of birding.
We found Firecrest relatively easy but other species were few and far between, Blue Tit, Eurasian Nuthatch, European Robin, Great Spotted Woodpecker and a Eurasian Spartowhawk was all.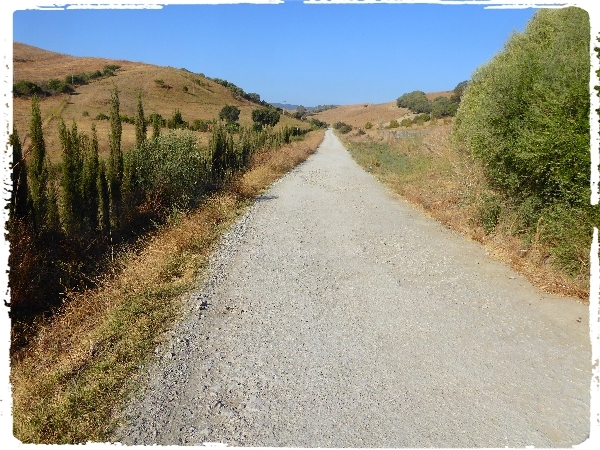 the first section of the Marchenilla Track
We next went down the valley to San Pablo and onto to the Marchenilla track which was covered in birds as usual. Hordes of Common and Spotless Starlings sat on the power lines with Collared Doves, Greenfinches and Corn Buntings, whilst flocks of House & Spanish Sparrows were joined by Goldfinches, Serins and Linnets in the hedgerows and scrub. We also noted Zitting Cisticola and Blackcaps in the bushes and open fields of alfalfa.
Willow Warbler
I've never seen so many Common Stonechats they were everywhere, we also noted a good number of Sardinian Warblers and Willow Warblers feeding on insects in the giant fennel. Many Barn & Red-rumped Swallows together with House Martins passed overhead and once the air temperature warmed up a few raptors appeared. We saw Common Buzzard and Common Kestrel on pylons and Short-toed Eagles & Griffon Vultures riding the thermals. Later another 10+ Short-toed Eagles passed over with 6 Booted Eagles.
As we made our way up to the top of the track and over the hill we added Southern Grey Shrike to the list and a Little Owl.
Little Owl
A short stop at the nearly-dry Rio Hozgargante produced a few sightings, Willow Warbler and Common Chiffchaff, Blackcap, Garden Warbler, Cetti's Warbler, Blue Tit, European Robin and Blackbird were all seen coming down to a pool of water to drink.
We ate our picnic lunch before taking a short walk to look for more water, when we found it we added Grey Heron and a possible Common Sandpiper to the list and two of us had great views of another Firecrest.
After a quick stop for coffee we went to San Enrique Woods which seemed very quiet. Monarch Butterflies proved more popular than birds and were definitely more abundant. We found Spotted & Pied Flycatchers, Jay, Willow Warbler and not much else.
Monarch Butterfly
Soto Grande marina and breakwater offered a nice cooling relief from the 30C in the woods, the sea breeze was much appreciated. We watched a large 'raft' of Cory's Shearwaters, a few Northern Gannets and the odd Yellow-legged Gull before we drove to the Laguna at Torreguadiaro.
A view of Gibraltar and Morocco from the breakwater at Soto Grande
The access to the laguna was no-existent as usual and an attempt to make a break in the giant pampas that blocked our view proved futile. We noted Common Coot, Common Moorhen, Little Grebe and Mallard.
We spent the last hour of the afternoon at the Ruo Guadiaro where many Spanish families were enjoying Sunday afternoon picnics so not many birds were present. We saw Little Egrets, Grey Herons, White Wagtail and a distant Green Sandpiper. We left pretty soon after we arrived and apart from a very quick stop at Sierra Crestellina, where we watched dozens of Griffon Vultures, that was it!
A cold beer on the top terrace before a delicous dinner of calallera (pig's cheeks), finished off our day.