SAN PABLO TRACKS – MARCHENILLA TRACK – CASTILLO DE CASTELLAR – SAN ENRIQUE WOODS Our first full day was a relaxed affair which is probably going to be the theme of the entire tour, we had excellent weather, sunshine with a lovely breeze all day.
We set out at 9am and headed down towards San Pablo turning off the main road onto a farm track about 8km from Gaucin. We stopped just passed a stream and got out for our first scan. Open meadows dominated the hilly landscape with scrub and bushes along the stream, ideal habitat for shrikes, finches, stonechats and the dreaded Corn Bunting. We saw all of those in a matter of minutes, several Blackcaps were singing too and a single Nightingale was very close but failed to show. Then a couple of Sardinian Warblers came in to view and two Turtle Doves 'turred' from the power lines, both Ann and Bob were very pleased to see them in the scope.
Adorable Stonechat
A few kilometers down the track we stopped to look at Cirl Bunting and at a bridge we searched for Olivaceous Warbler, after a little while we saw one flitting around in the eucalyptus trees. Good views of Spotted Flycatchers were also had and both Cetti's Warbler and Common Nightingale sang from deep in the scrub.
The Track to Marchenilla was as good as ever, Bee-eaters were everywhere as were Melodious Warblers, Sardinian Warblers, Common Whitethroat, Corn Buntings, Stonechats, Linnets and Goldfinches. The local speciality, RUFOUS BUSH ROBIN, was singing when we arrived but showed only briefly. We also logged Booted Eagle, Common Buzzard and Common Kestrel.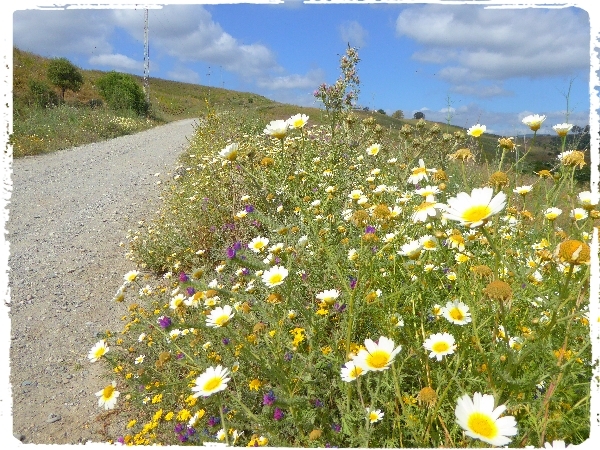 the beautiful flowers along the Marchenilla track
On another track that leads you to Jimena from Marchenilla we sat and ate our picnic lunch. Next to our picnic was a ford over a section of the Hozgargante River where we saw Grey Wagtail, Common Kingfisher and Golden Oriole.
Bob and Ann - hard core birding?
Next we drove to the Castillo de Castellar, along the way we stopped near the Presa de Guadarraque to watch both Monarch and Two-tailed Pasha butterflies, both of these magnificent beasts performed well for my guests. At the Castillo (castle) we sat for a while watching Lesser Kestrels visiting their nest-holes and Crag Martins feeding young. Overhead we noted Short-toed Eagle, Booted Eagle and Griffon Vulture whilst small flocks of Common Swifts zoomed around us.
Crag Martin chicks at Castillo de Castellar
Lastly we visited the White Poplar woods at San Enrique which failed to produce anything other than Wood Pigeon, Serin, Goldfinch and at the river we added Little Ringed Plover. More butterflies were added to our list, more Monarchs were recorded as well as Speckled Wood, Meadow Brown and Small Blue.
the awesome TWO-TAILED PASHA
We left the wood around 4pm and drove back to Gaucin, it had been a great first day, I think the show of wild flowers had impressed my guests more than the birds on show today, but both were superb to see.