RONDA ALL MORNING - CUEVA DE GATO AND ESTACION DE CORTES IN THE AFTERNOON Another brilliant sunny day a little hotter with an average temperature of 28C. Not much birding today we had a 'tourist's' morning in Ronda and a leisurely afternoon at the river............
My guests spent the morning in Ronda with Dawn, they walked the tourist trails whilst Dawn went spending my money! I dropped them off at 9:30am and went off birding, I took a track near Benaojan where I had never been before, it was wonderful, a quiet lane, no traffic and tons of birds.
Many Nightingales were singing with Cetti's Warbler, Golden Oriole, Blackcap, Turtle Dove and the first bird I encountered was a Wryneck.
I warched this bird for a while and it flew up to a nest hole and just sat there looking out at me!
The Wryneck was a great find and an enjoyable watch.
I walked further along the lane which followed the course of a babbling brook, I was hoping for a Dipper sighting but all I got was Grey Wagtail and a few signs of Dipper presence. A Southern Water Vole was a nice sighting, they are much bigger than the one found in the UK.
The 'Beautiful Demoiselle'
Sitting on the bank of a stream can be very rewarding, no traffic, no back-ground noise just birds and wildlife, perfect. I added Melodious Warbler, lots of common species such as Goldfinch, Serin, Greenfinch, Chaffinch, Wren, Blue and Great Tits, House Sparrow, Blackbirds etc.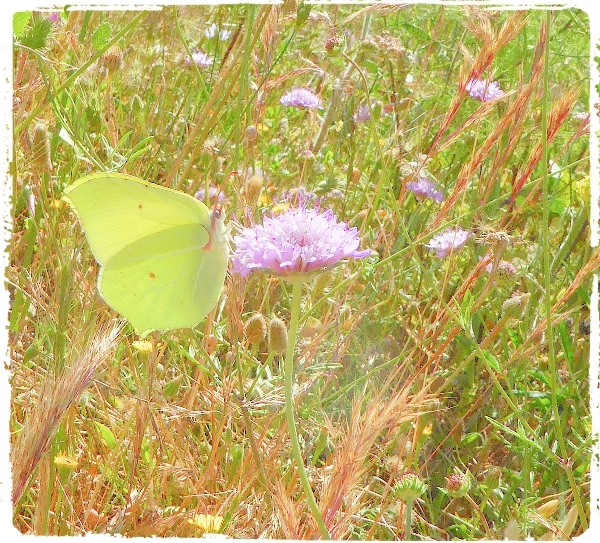 Brimstone Butterfly
At 1pm I collected my guests and Dawn, my wallet was safe she couldn't find any mew clothes to buy, phew! I took them back to the Wryneck nestvsitevandcwhilst we ate our picnic lunch we watched a pair of Wrynecks!
Watching Grey Wagtails and Alpine Swifts at Cueva de Gato
Then we drove the short distance to Cueva de Gato, a popular scenic site, where about fifty pairs of Alpine Swifts breed and a few pairs of Crag Martins. We watched the swirling mass of Alpine Swifts above us and Grey Wagtails on the river.
Spotted Flycatcher
Our last bit birding was along the Guadiaro river at Estacion Cortes where we got good views of Common Nightingake, it was one of about 6 that were singing in the 200 meters that we walked along. Woodchat Shrike, Stonechat, Red-rumped Swallow and Corn Bunting were added to the day last.
At 7:30pm we went out for dinner to a restaurant in Gaucin, a lovely warm eveningwe sat outside on the terrace andcenjoyedca lovely meal.