LLANOS DE LIBAR - MONTEJAQUE DAM, HUNDIDERO
WEATHER: Bright sunshine all morning, thunder and lightening with hail storms late afternoon, top temp 25C
My last day with Barbara had finally arrived, 21 days birding and nearly 200 species recorded, what a great place Southern Spain is during Autumn Migration.
After yesterday's birding extravaganza to the Bonanza Salt Pans we took a more sedate trip into the mountains near Montejaque, Barbara wanted to fill in a few gaps on her checklist. We set out at 9am from Gaucin, it was a lovely morning, bright sunshine with a light breeze, perfect birding weather.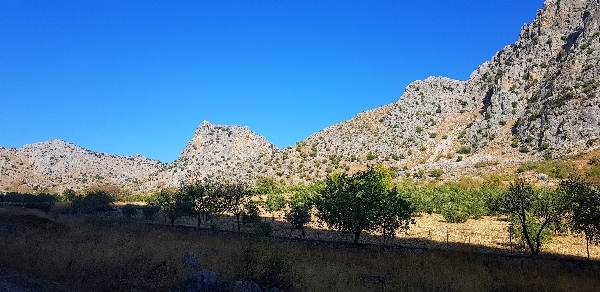 This is the view we had from our first stop in the Llanos de Libar
The Llanos de Libar is a vast valley surrounded by picturesque limestone mountains of the Sierra de Libar, the rock-strewn mountain slopes have hawthorne and bramble scrub and there are many open grass pastures where sheep and cattle graze. It is a beautiful place and full of montane species of birds and mammals.
We started birding just outside the village of Montejaque, surrounded by almond groves, with fig trees, olives and orange trees. Above us an ivy-clad rock face towered up and on it sat a Blue Rock Thrush, it was singing fropm time to time, this was my first sighting of one since Barbara had arrived although she had seen one.
This young male Blue Rock Thrush was excercising its vocal chords when we arrived
Dozens of Griffon Vultures circled the mountain ridges, rising effortlessly on unseen thermal up-drafts. a pair of Short-toed Eagles flew past, quite a lot higher. More birds aoppeared as we drove along the main track into the Llanos, a few puddles from recent rains attracted a number of species down to drink or bathe. We saw Chaffinch, Cirl Bunting and Goldfinches.
Further along the track we found Common Stonechat, Linnet, Common Redstart and dozens of Crag Martins, House Martins and Barn Swallows. It wasn't until near the head of the valley that we found one of Barbara's target species, the Rock Bunting, two were bathing in another puddle with Linnets and Goldfinches.
As we mounted a ridge at the head of the valley we stopped to watch a long line of Griffon Vultures drifting further up the valley, we got onto an Egyptian Vulture, two more Short-toed Eagles and a Booted Eagle, a gentle reminder thast migration was not yet over.
Looking back from the ridge where we stopped to watch raptors from.
The next valley was much wider where huge cultivated fields and pasture spread away to our left and an ancient farm dwelling sat on our right, this part of the Llanos was full of flocks of birds. Recent ploughing attarcted both Spotless and Common Starlings, with large flocks of finches and Linnets. A sizable herd of Retinto Cattle attarcted at least 100 Yellow Wagtails and more Starlings.
One of over 100 Yellow Wagtails of two races: Motacilla flava flavissima (shown) and Motacilla flava flava
We also found about 50 Rock Sparrows (another of Barbara's tragets) and a couple of Black Wheatears (one of them was also singing), two Black-eared Wheatears and a single Northern Wheatear were also seen. We never found a Whinchat or any Red-billed Choughs, both of which I had, sort of, promised Barbara that they would be there!
Rock Bunting
We watched the Rock Sparrows coming down to drink and as we did so a thunderstorm developed right above us. Frequent lightening flashes and loud thunder claps curtailed our birding, the rain at this stage was quite light.
We drove out of the valley through the village and out to a roadside venta where we ate lunch, we sat outside for a while but the weather sent us scrambling inside half way through.
Rock Sparrow
For a couple of hours after lunch we sat at the roadside where we had a tremedous view of a limestone gorge where a 'dam' had been constructed in the early 20th Century. We hoped for views of either Red-billed Chough or Bonelli's Eagle but we got niether. A nice helping of wild figs went down nice, we did see more Griffon Vultures, Common Kestrel, Eurasian Sparrowhawk and a flock of some 20+ Alpine Swifts.
our look-out point at the Hundidero
We were back home around 5pm with plenty of time to get ready for dinner which was taken at the hotel in the next village of Benarraba, Barabara's treat. It was was lovely a meal, nice wine, and just sitting on the terrace looking down the Genal Valley as the sunset was a fitting end to an epic birding visit by Barbara.