BELEN PLAIN – TRUJILLO POND (MONTANCHEZ ROAD) – SANTA MARTA DE MAGASCA – RIO MAGASCA – LLANOS DE CASERES – RIO ALMONTE
WEATHER: a fabulous day, wall to wall sunshine, a cooling breeze, temp. mid 20's.
An early start saw us all at breakfast at 6am in the dark!! By the time we had driven to Belen Plain the sun was up and the birds were singing. It was magical out there, still and calm, a lovely temperature and perfect morning light. The Eurasian Hoopoe was calling from all directions, Black Kites seemed to be on every fence post and larks were dashing about everywhere you looked. We made a couple of stops and scanned the huge expanse of grassland looking for Bustards and that is exactly what we found.
The ubiquitous Black Kite, we must have seen over 100 on Belen Plain
A dozen or so Great Bustard were seen first on a very distant sloping hillside, a scope job, but we could see them perfectly well. A couple of male Little Bustards were located next, they attracted our attention by delivering their short, rasping call, which sounded like someone 'blowing a raspberry'. Again they were distant but we were happy with our scope views in such good light. In the meantime, we had great views of Hoopoe, Calandra Lark, Black Kite and dozens of Crested Larks and Corn Buntings.
The Hoopoe is also very common in Extremadura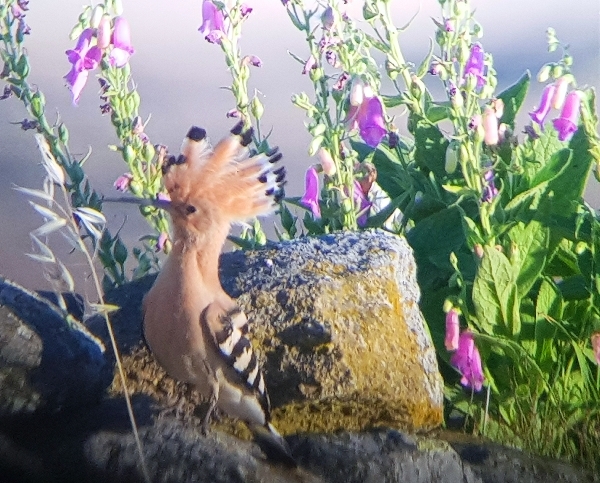 We drove along a side-track, stopping several times to look for other birds, we found Iberian Shrike, Griffon Vulture, Thekla Lark, Common Stonechat and had great views of a Great Bustard in flight. From another vantage point we added Common Cuckoo, Iberian Magpie, Red Kite and Spanish Sparrow to the day list. Another track led us to an area where we had a terrific panoramic view of the broom scrub, the oak dehesa and a distant lake.
looking across Belen Plain
It was there that we found a juvenile Great Spotted Cuckoo! It was very flighty but showed reasonably well, we also found Black-winged Stilt, Great Crested Grebe, mallard, Little Egret and a few European Bee-eaters. On the approach road to this area we stopped to watch our first Montagu's Harrier of the trip, a female performed well for us as it quartered the fields.
record shot of the juvenile Great Spotted Cuckoo
From Belen we drove into Trujillo where we stopped to buy lunch and then we made a brief visit to the large pond on the Montanchez Road just on the outskirts of Trujillo. We added Little Grebe and Gadwall to our trip list but apart from many Mallards and a couple fo Common Coots we saw nothing else.
We stopped to view the Rio Magasca from an ancient bridge just west of Trujillo where we saw a pair of Common Kingfishers, a Common Nightingale and we heard a Cetti's Warbler. A female Golden Oriole, found by Paul, landed in a nearby tree and gave great views when it flew out towards us and made a sharp turn away. A brief stop at a well-known spot for Sandgrouse was made next, however, the grass is now far too long for sandgrouse spotting so we moved on.
A couple of Gatekeeper butterflies
Our lunch break was taken on the side of the road under the shelter of an oak tree. During lunch we saw few birds but butterflies were everywhere, on one particular flowering broom there were a dozen Gatekeepers, several Brown Argus and a couple of Ilex Hairstreaks, the bush was covered in all manner of other flying insects too.
After a quick stop for coffee in Santa Marta we drove towards Caseres and after a few kilometers we stopped at a bridge over the River Magasca where we saw White Wagtails, Little ringed Plovers, Common Kingfisher, Corn Buntings and a couple of Viperine Snakes. As we drove onto the llanos de Caseres (the open plain) we found our first European Roller. A nest box scheme has proved very successful there and we saw several pairs of Rollers using the boxes.
Rock Bunting in a tree and not on a rock!
We spent the next couple of hours driving towards Caseres, stopping here and there along an unmade road, we saw many species, but the most exciting was a group of three Black-bellied Sandgrouse, they flew up from close to the road and dropped down not too far away, unfortunately not everyone saw them and we could not relocate them on the ground.
Our last birding session was beneath another bridge over the river Almonte and we had several target species to look for. It was now very warm and we were sheltered from the cooling breeze in a gully leading down to the river. We quickly found a pair of Blue Rock Thrushes along with Serin, Linnets, Goldfinches, Chaffinches and lots of Crag Martins. Searching the sky for swifts we saw Griffon Vulture, Black Stork (2), Red-rumped Swallows and finally one of our targets birds the huge Alpine Swift.
Down by the river we eventually found the Black Wheatear which was our final target species and as a bonus we added Rock Bunting to the list and a Melodious Warbler was singing but only gave brief fight views as it flew away. The butterflies were again prolific and we saw several Thread-winged Lacewings, what a beautiful creature that is.
We left the area at 5pm and returned the hotel via a supermarket in Trujillo. A wonderful dinner was consumed from 7:30pm, I must say the food at Finca Santa Marta is excellent again this year.