TRANSFER TO MADRID WITH STOPS AT BELEN PLAIN - JARAICEJO HEATH - ARROYOCAMPO NATURAL PARK
WEATHER: all day sunshine, a little windier today. Temp range 2C- 19C
Boy was it cold this morning! We left the hotel at 7am and with our luggage all packed into the bus we set off for Belen Plain. A quick along the way to listen for Red-necked Nightjar succeeded in getting us very cold, all we heard was Nightingales and a Hoopoe, which was lovely.
Having warmed up in the bus we ventured onto to Belen Plain hoping to get better views of Bustards. The whole area has completly changed sine I was there last, intense grazing has taken over, herds of cows everywhere. No habitat for Busdtartds any longer, what a disappointment! Hardly any larks were seen or heard, a few Crested and/or Thekla Larks, a couple of Zitting Cisticolas and plenty of Corn Buntings. We also saw sevral Hoopoes and a Little Owl. Some Storks fed in the distance but nowhere near the numbers tat used to feed there.
We left disappointed and set off for the 20 minute drive to Jaraicejo where we hoped things hadn't changed there too! Unfortunately things had changed. Oncer again half the area had been cleared for grazing cows, the heath had more or less disappeared.
a Spotless Starling with an Iberian Shrike
We found a small patch of untouched broom-heath and that is where we found our targets birds the Dartford Warbler and the Spectacled Warbler.
a Spectacled Warbler
We had good views of both species, males were up singing in the morning sunsine.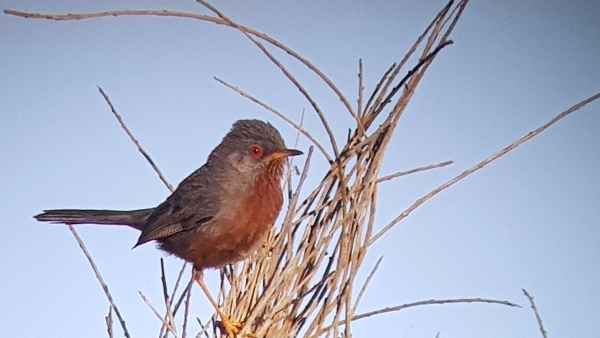 Dartford Warbler
Also on view were a couple of pairs of Iberian Shrikes, lots of Spotless Starling and a couple of Griffon Vultures sat on a pylon.
As we drove off the heath we aspt through a small area of oak trees, we heard anOrphean singing from there. We stopped to watch the Orphean and a Subalpine Warbler flew up onto the wire and quickly back into the trees. love the song of the Oprheran Warbler but we had to move on.
now two Shrikes are with the Starling
Driving onwards towards Madrid we turned off at Almaraz to visit Arroyocamp natural park for a second time. We had hoped to get good views of Savi's Warbler but once again it was far too windy for them to sit up in the reedbeds. We heard them and we saw once quite close flitting from on place to another but we couldn't count that as a siting.
Other birds seen were, all the three white Egrets, Purple & Grey Herons, Night Herons, Purple Swamphen, Kingfisher, Gull-billed Terns, Cormorants and a few birds of prey. Marsh Harrier, Black Kite, Black Vulture, Common Kestrel and many Swallows.
White Stork nesting on the roof of the hide
At another section of the reserve we looked for Black-winged Kite without success, but it was less windy round there and we enjoyed the warmth of the sunshine watching Storks on the roof of the hide.
We saw Short-toed Eagle, Egyptain Vulture, Lesser kestrel and all the coomon rapots before we packed away our scopes and set off for the aiport.
Both of our flights left on time. The tour list ended on 136 species, it would have been much higher if six of the group had been able to turn up!!