LOCAL WALK TO THE RIO ARAGON SUBORDÁN - REFUGIO GABARDITO – ROAD TO ARRÉS - BRIDGE OVER THE RIO ARAGON
WEATHER: dull and overcast to start, brighter mid-morning then rain. Sunshine later. Temp 14 - 20C
We had a mixed bag of fortune today both with the weather and with the birding! It was a lovely start to the day, we met at 7am for a walk down to the local river to look for Dipper, it was overcast but much warmer than we had anticipated with no wind.
Before we left the hotel grounds, we had seen Firecrest, Red-backed Shrike and Crested Tit and we had heard Blackcap, Wren, Song Thrush and Bullfinch. Along the lane we added Coal Tit, European Robin, Dunnock and Blue Tit to our day list.
Bee Orchid found on the driveway to the hotel
At the river we quickly found Grey Wagtail, Dipper and Black Redstart, an Egyptian Vulture flew over and we had good views of a Pine Marten (seen twice). On the way back we found Jay, Mistle Thrush and more Crested Tits.
Immediately after breakfast we headed up the mountainside to the Refugio Gabardito some 10km from the hotel. The car park and the open alpine meadows surrounding the refugio are usually good for finding Citril Finch. We found Common Crossbill, Coal Tit, Red-backed Shrike, White Wagtail, Serin, but no Citril Finches.
The view from the Refugio Gabardito
We left Nigel with the vehicles as he cannot walk this type of terrain with his bad hip and set off into the forest of beech and pine trees. Our main aim was to walk to the now-famous 'Wallcreeper rock face' and wait for the appearance of a Wallcreeper. The journey was quite uneventful bird wise, we did hear Black Woodpecker, also Garden Warbler and we saw both Red-billed and Alpine Chough. As there were no butterflies on the wing we made an effort to find a few orchids and we came up with a Bee Orchid species as well as Burnt Tip Orchid and a White Helleborine.
White Helleborine above and Burnt-Tip Orchid below
At the Wallcreeper rock face we spent about an hour and a half searching the vertical fissure known as a 'chimney' where the Wallcreeper has bred for the last few years. We saw Crag Martin, both species of Chough, Common Kestrel, Griffon Vulture and Black Redstart but there was no sign of the Wallcreeper.
On the way back we watched Garden Warbler and photographed a few Burnt Tip Orchids before returning to the car park to eat our picnic lunch. In the meantime, Nigel, back at the car park, had photographed Citril Finch, watched Short-toed Treecreeper and seen a Chamois!!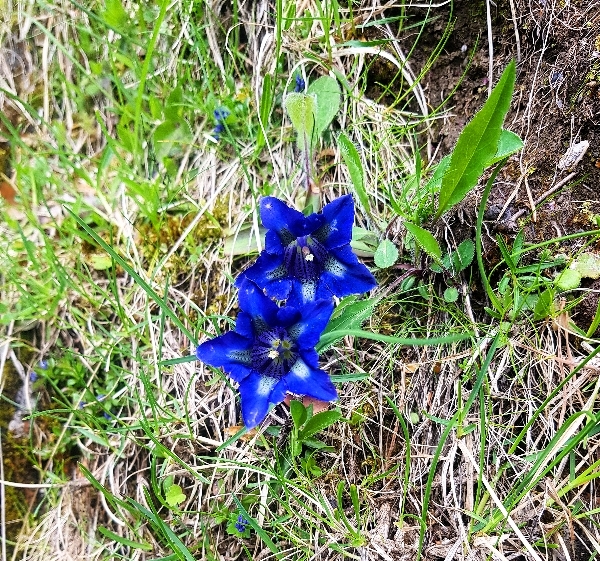 Just as we finished lunch it began to rain and as we drove down the mountain it steadily got heavier, we made a quick stop at the hotel before abandoning the Hecho Valley and headed down out of the mountains to the River Aragon some 28 kilometers away. It was the right decision because as we emerged from the mountains we drove into dry, clear weather.
Our first stop was on an old bridge over the Aragón Subordán River and from there we saw Rock Sparrow, Turtle Dove, Booted Eagle, Red Kite, Black Kite and a Short-toed Eagle.
a record shot of the Booted Eagle
Then a few kilometers further along the road we had a nice surprise when we found a European Roller, what a beauty and what a great find, I have never seen one in the Pyrenees before!
European Roller taken by Kevin Jones
We drove into warm sunny weather as we turned onto a side lane leading to the village of Arrés and over the period of a couple of hours we had a great time in the sunshine watching many butterflies and quite a few birds too.
Pyramidal Orchid
Gently sloping hills leading up to a ridge and covered in low scrub and young trees lay on our left whilst agricultural fields lay on our right. The grass verges were covered in wild flowers and butterflies covered the flowers. We saw our first Honey Buzzards, also Short-toed Eagles and both Kites and Griffon Vultures were ever-present.
above is a Twin-spot Fritillary - taken by Kevin Jones and below a Marbled Skipper
Butterfly sightings included: Twin-spot Fritillary, Marbled and Red-underwing Skippers, Chestnut Heath, Iolas Blue, Spanish Chalk-hill Blue, Wall, Southern White Admiral and many more. We also found more Bee Orchids and Pyramidal Orchids.
Greater Butterfly Orchid
Small passerine sightings included Corn and Cirl Buntings, Tawny Pipit, Common Stonechat, Subalpine & Melodious Warblers, Blackcap, Crested Larks and lots of common species. We ended up on a bridge over the river Aragón on the road towards Martés, where we watched Little Ringed Plover, White Wagtail, Grey Heron, Rock Sparrow and many House Martins. It was now 5pm so we decided to leave and set off back to the hotel. We made one stop to look at the Roller again as we made our way back up the Hecho Valley.