TRANSFER FROM THE PYRENEES TO THE PICOS DE EUROPA WITH STOPS AT; EMBALSE DE EBRO & SAINT VICENTE DE LA BARQUERA
WEATHER; sunny most of the day, cloudy at the coast, top temp 32C
It was a long, long journey today, we spent all day travelling but we broke it up with many stops and short breaks. We set off at 8:30am after saying goodbye to our hosts at the hotel. Our first stop was just 30 minutes down the road near the Puente de Reina at the Rio Aragón. We parked along the lane to Arrés and searched the area for Ortolan Bunting which was still missing from our list. We saw several species but not the bunting: Cirl & Corn Buntings, Stonechat, Serin, Black Kite, Griffon Vulture and Common Buzzard.
On the road again we drove for an hour and stopped on the far side of Pamplona for a coffee break. In the gardens of the café many flowers were in bloom and Tony was soon on the case of the butterflies there. On one Rosemary plant there were several different species of butterflies: Scarce and Common Swallowtails, Large and Small Whites, Black-veined White, Marbled White, Ilex Hairstreak, Painted Lady, Queen of Spain Fritillary and a couple of others.
We then drove for another 2 hours before stopping for our picnic lunch, we sat at picnic tables in lovely sunshine, during this part of the journey we spotted our only Montagu's Harrier of the trip! At lunch we noted Melodious Warbler, Common Nightingale, Serin, Greenfinch, Goldfinch and a Marsh Harrier.
After another drive we stopped for ice-creams and then we drove on to the large Embalse (reservoir) de Ebro. It was very windy at the reservoir and a little unpleasant to stand and bird watch, our stay was short-lived, we did see Great Crested Grebe, Mallard, Gadwall, Yellow-legged Gull and Eurasian Coot.
Our final birding stop was 45 minutes later at the coastal town of Saint Vicente de la Barquera where a large bay provides shelter for boats and for wildlife. We arrived just before high tide, not ideal but we saw some species of shore birds and a few waterfowl. Our biggest surprise was to see two pairs of Mute Swan and a couple of Eurasian Spoonbills! Other birds present were: Eurasian Curlew, Whimbrel, Redshank, Mallard, Black-headed Gull, Yellow-legged Gull and a single juvenile Great Black-backed Gull.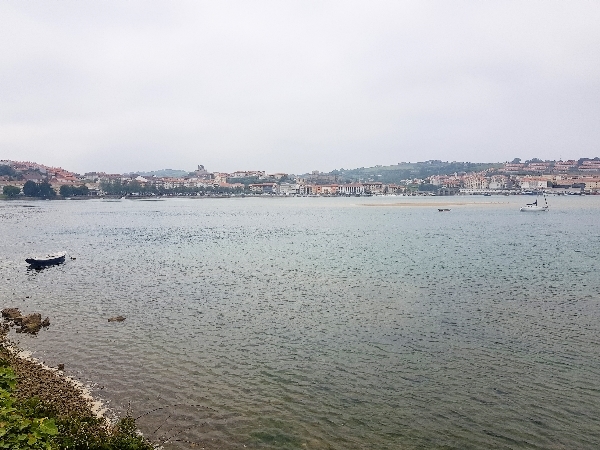 The Bay at Saint Vicente de la Barquera
The leg of the journey was another 50 minute drive, our route took us through the 15km long Desfiladero de la Hermida Gorge, a fantastic and picturesque drive following the course of the Rio Deva. We stopped in the beautiful town of Potes before arriving at our hotel in Cosgaya. The hotel is right beside the Rio Deva, we saw Grey Wagtail and Dipper before we checked into the hotel.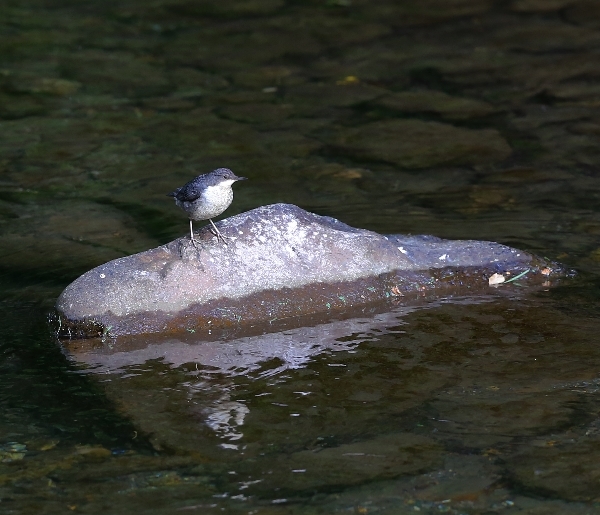 a juvenile Dipper seen outside the hotel at Cosgaya taken by Kevin Jones
It had been a long day, but we finished with a superb dinner, lovely wine and great rooms, aaaaaaaaah bed!!!