FUENTE DÉ (TELEFÉRICO – CABLE CAR) – PEMBES VILLAGE
WEATHER: dull overcast and quite cold this morning, sunny spells later. Temp range 2 – 20C
We had a fabulous last full-day, we saw some terrific birds in magnificent scenery and even the cold weather didn't blemish a great day in the field.
Things started well, we met at 7am, it was overcast but the air was very still and calm. We walked across the road from the hotel to watch Dipper and Grey Wagtails on the River Deva, a bonus was the sighting of a male Common Redstart which was singing from the top of the tallest tree. We also saw Spotted Flycatcher and many common species such as Robins and Great Tits etc.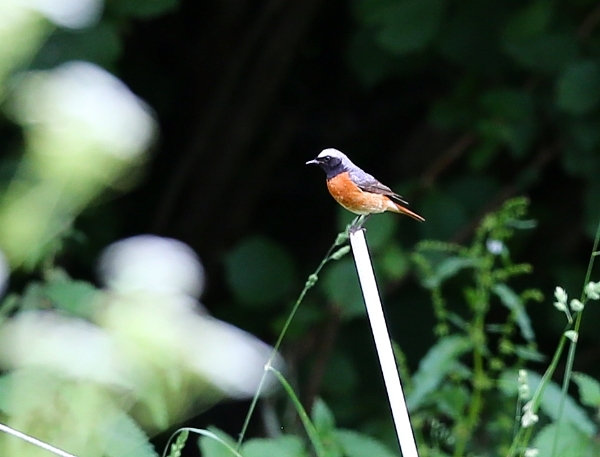 Common Redstart taken by Kevin Jones
After breakfast we drove a few kilometers to the terminus of the Teleférico (cable car) and parked up. It was 8:30 am and the first cable car was due to run up the mountain at 10am. So, we had time to kill and birds to look for in pine forest around the terminal buildings and in the woodland a short walk away.
The group birding along the road at the Teleferico
We found two excellent species in the deciduous woodland, first a pair of Marsh Tits showed very well and then we had great views of Middle Spotted Woodpecker, fantastic! We stood at the front of the queue for the cable car for 45 minutes and got in the first car up to the top. The cable car takes you up some 8oo meters in just under 4 minutes to a height of 1,823 meters, the view from the car is spectacular.
Marsh Tit above and Middle Spotted Woodpecker below; both taken by Kevin Jones
It was very chilly as we stepped out of the upper terminal building, but we were soon warmed up by the sighting of an Alpine Accentor which searched for food along the concrete path just a few meters out of the building, we had fabulous views of it.
Alpine Accentor
Next we found a Dunnock, the smaller cousin of the Alpine Accentor, which is also known as Hedge Accentor, they do look alike but the size difference and colouration is quite noticeable. A few meters further on we found a Northern Wheatear which was very pale and made us look twice just in case we had found a Snow Finch, which is exactly what turned up next.
The Snowfinch was below us on the large open grassy area, it flew towards us before making u-turn and headed away, it was colourful male in all its glory. We all saw it in flight showing off its white wing patches, what a great find. Of course, the group wanted better views so off we went to look for more.
chilly conditions in the Picos de Europa
The cold wind increased as we got further into our walk and it became uncomfortable to stand for too long in one place. We then found another pair of Alpine Accentors with a Black Redstart nearby and another couple of Northern Wheatears. Throughout our walk both Red-billed and Alpine Choughs could be seen and heard all the time,the occasional Griffon Vulture drifted by too.
close encounter with an Alpine Chough by Kevin Jones
At the main rock-face the wind was most cutting but there were places to be found where shelter was at hand. In one of these sheltered spots Alpine Choughs came down for crumbs giving unbelievably close views. We could also view more Snow Finches flying in and out of crevices, sometimes chasing one another around, some males were seen to perform display flights.
About an hour into the walk some of group had fallen a little behind and it was those few that had an incredible encounter with a WALLCREEPER, it flew up and perched right next to them and began to scour the nearby rocks for food. By the time the rest of us caught up with this mountain gem it was quite far away and was working its way up the main cliff-face. Well, what a magical experience for some of the group. We then saw a Chamois quite close, it was walking along the mountain scree not too far away.
spot the cable cars - a Kevin Jones photo
On the way back to the cable car we made another great find in the form of a Common Rock Thrush, this particular beauty was our fourth trip-sighting of this colourful mountain thrush and we enjoyed every minute of it. Our visit to the peaks of the Picos was over we had had a excellent and most productive visit.
Common Rock Thrush
It was a warm relief to get back down to the lower level, we all went straight to a café for a hot drink and to eat our lunch, it was warm enough to eat outside, so we did. After eating lunch we took a short wall across a nearby meadow to the base of the mountains where rocky scree was littered with flower plants and small shrubs, it was there that we searched for, and found, Rock Bunting. We had brief views of a female before we found a male that was singing from the top of a bush.
in search of the Rock Bunting by Kevin Jones
The rain that was forecast did not materialize, in fact it grew brighter as the afternoon wore on. For our final venue we visited the 'ancient' village of Pembes which was found about 15km back down the valley towards Potes. This lovely little 19th Century village is full of original buildings many of which look as though they are about to fall down and a lot more that have been gentrified. Nevertheless, it is still a wonderful place to visit. We parked on the edge of the village near the church and just stood for a while taking in the tranquil ambience of the place. Birds were flitting about everywhere especially the Common Redstart, also the Black Redstart, Serins, Chaffinches, Common Swifts, Goldfinches, White Wagtails, and as we walked through the village we had at least four sightings of Middle Spotted Woodpecker.
A Lizzard Orchid found by Christine
One or two raptors circled on the recently formed thermals, we saw Honey & Common Buzzards, Griffon and Egyptian Vultures and a Black Kite. However our best sightings were when we walked back down the lane from the village towards the valley bottom. A couple of magnificent Lizard Orchids stood proudly by the roadside and a quite a few butterflies were on the wing, mostly Spanish Marbled Whites but others too.
An Egypotian Vulture flew over us on the edge of Pembes Village
About 1km from the village the leading walkers in the group spotted a Black Woodpecker flying through the trees and one of the group saw it perched on the side of a tree trunk, wow! Our most wanted Woodpecker seen at Last. However, the bird disappeared and we never sw it again, we did find a 'fresh' Black Woodpecker hole but despite waiting for 30 minutes or so we saw no further activity.
It was now approaching 6pm so we called it a day and set off back down the hill to our hotel. Dinner was served at 7:30pm, it was humorous affair, most of the group ordered 'Spanish Stew' which was totally different from the English-type stew that they had expected, lots of beans were left on their plates!!
Tonight we have to pack for our journey home tomorrow, there will be plenty of time for birding along the way to the airport at Madrid.