YALA NATIONAL PARK ALL DAY
WEATHER: a lovely start to the day, clear sky and a nice breeze. It then rained around 9:30, heavy at times. Sunshine returned around noon but we had showers all afternoon.
It was extra early when we set off this morning, we met at 5am and after a quick cuppa we set off in our minibus to the Weharagala entrance to Yala National park. We transferred from our minibus to 2 jeeps and joined four other jeeps at the gate. Had we gone to the main entrance there would have been 2-3 hundred jeeps queuing to get in!
This small side entrance allows you to explore about 11,000 hectares of the park, it is mainly forest but there are pools, open grasslands and a reservoir. We began listing birds as soon as we got in, the first bird on the day list was trip tick in the shape of a RUFOUS WOODPECKER, this rare breeding species is quite difficult to locate.
The Rufous Woodpecker
A little further along the track we stopped to watch a FOREST WAGTAIL which was feeding on the grass verge at the side of the track, another goodie in the bag. We saw Grey Hornbill and a pair of Malabar Pied Hornbills, Sri Lanka Pigeon, White-bellied Fish Eagle, Little Swifts before we found our next exciting find, an INDIAN NIGHTJAR. This delightful creature was perched in short grass right next to the track, It remained unfazed as we drove up it and then passed it.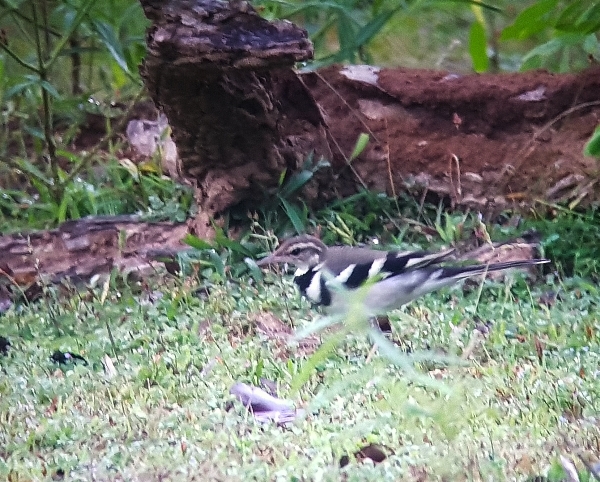 Forest Wagtail
Indian Nightjar
As we drove along there was a constant presence of Green and Blue-tailed Bee-eaters, there must have been thousands of them in the park, they dashed from low perches out in front of the vehicles and back again. Many other birds we seen repeatedly along the tracks too. We saw a distant Black-headed Cuckooshrike and the group in the leading vehicle also saw a Drongo Cuckoo and we all saw the GREATER RACKET-TAILED DRONGO.
record shot of the Greater Racket-tailed Drongo
Back in the forest we added a couple more exciting finds to the list, first an INDIAN PITTA was located and then we spent quite a bit of time tracking down an ORANGE-HEADED THRUSH. We then found a Changeable Hawk Eagle sitting on the floor of the forest!
two shots of the Indian Pitta
For me the next sighting was the bird of the day, it was a WHITE-RUMPED SHAMA, what stunner and it showed really well, singing its little heart out. A few minutes later we were watching Pied Kingfisher and then a host of birds in the river.
It was 8:30am when we broke for breakfast, we pulled over next to a river and dismounted from the back of the jeeps. Whilst we ate our picnic breakfast we found our first Green Sandpiper, also Common Sandpiper, Painted Stork, Spot-billed Pelican and several Egrets. For me the best found during breakfast was the Brown-capped Pygmy Woodpecker, I love these tiny creatures, at 13cm it is 2cm smaller than a Lesser-spotted Woodpecker!
the tiny Brown-capped Pygmy Woodpecker
We drove back to the reservoir and took the track at the base of the dam, in the grassy slopes we found PIN-TAILED SNIPE, another Forest Wagtail, Brown Shrike, Jungle Prinia and a couple of Little Ringed Plovers ran along the track. We found an Osprey in one of the hundreds of dead trees in the reservoir and we had good close views of an Indian Roller which was holding out its wings in the rain, we presumed it was having a bath.
Pin-tailed Snipe
A Great Thick-knee appeared on the ridge above us, what a bizarre bill that bird has, it looked more like a duck! The time had flown by and soon it was time to stop to eat our picnic lunch.
Greater Thick-knee
There is a designated time for lunch stops, vehicles must not be driven around in the park between 12 - 2pm. Unfortunately for us the lead vehicle got stuck in a deep muddy quagmire, not once but twice!! It took nearly half an hour to get us out, this made us late for the lunch stop.
Pied Kingfisher
We arrived at the side of a pool and stopped for lunch, this was an unofficial place to disembark from the vehicles so we couldn't wander off too far away. We found a new woodpecker species for our list in the shape of a Yellow-crowned Woodpecker.
our lead vehicle stuck in the mud!
The rest of the afternoon was a bit of a chore to tell you truth, we had already been in the back of the jeeps for the best part of 7 hours and we still had a few hours to go!! We concentrated our efforts on seeing a LEOPARD so we drove to areas around the entrance where they often occur.
Crimson Rose Butterfly
We found Striped-necked Mongoose, Barking Deer, Spotted Deer, Giant Squirrel, Indian Buffalo and Sri Lanka Elephant, a Rat Snake and many butterflies. Many of the birds seen this morning were seen again, we had superb views of the Malabar Pied Hornbill and the Indian Roller looked exquisite in the afternoon sunlight.
Malabar Pied Hornbill
A Leopard never showed up, we stayed until the last minute but failed to see one, most of the group were thankful that our bumpy-ride in the back of a jeep was over. We left the park at 6pm and got back to the hotel at 7pm. A nice cold beer went down well before a lovely mild vegetable curry was served in the restaurant. A thunderstorm and heavy rain persisted throughout dinner but clear by the time we had finished.