TRANSFER FROM TISSAMAHARAMA TO MARISSA ON THE SOUTH COAST WITH STOPS AT TISSA TANK, PALLEMALALA TANK & HAMBANTOTA SALT PANS
WEATHER: after torrential rain overnight we had a cool, cloudy day, it was still quite humid. We had light showers for most of the day, Temp 25C
We were all packed and ready to go at 9:30pm most of the group had walked the gardens taking pictures or watching our 'garden' birds. The Asian Koel was feeding on fruit we saw both sexes, the female showing the most striking plumage. Asian Paradise Flycatcher was found by Nigel, a good find that had to be added to the hotel's garden list.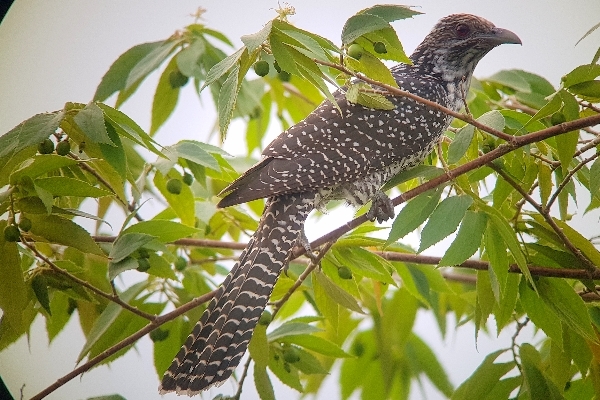 female Asian Koel seen in the hotel's garden
Pale-billed Flowerpecker, Purple Sunbird and about 10 other common species were noted before we went in for a lovely breakfast. It was 9:340am when we left our lovely hotel and grounds, we expected to be on the road for 3-4 hours with a few stops for birding. Marissa, on the south coast, was our destination for our final two nights.
this Praying Mantis was found on my shoulder at breakfast
We stopped just outside of Tissamaharama to look at a colony of Flying Foxes, over 10,000 of them roost in the mature trees along the banks of the Tissa Tank, it was an incredible sight, some Indian Cormorants were nesting in the same trees, I don't know how they tolerated the noise and the smell!
the Flying Fox roost - over 1,000 of them are roosting in this tree
a small section of the tree showing dozens of the Bats
a digi-scoped picture of the Flying Foxes
We scanned the floating rafts of water hyacinths for a Black Bittern without luck, but there were tons of other birds out there. The Pheasant-tailed Jacana was very common as was Purple Swamphen, White-breasted Waterhen and Indian Pond Heron. Purple Herons were dotted all over the marsh with Great egret, Grey Heron, Painted Storks and ck-headed Ibis. As we walked along a lane scanning the 'tank' every so often we found Jerdon's Leafbird, White-winged and Whiskered Terns and to our great delight a new species for the list, the Baya Weaver.
Pheasant-tailed Jacana - a common sight on the hyacinth beds found in most of the Tanks
After an hour or so we moved on driving along the south coast heading westward towards Galle, we made a second stop at a small 'tank' called Pallemalala. This was also full of birds, I couldn't believe the number of species on such a small body of water. We added three new species to the list, Common Moorhen, Little Grebe and Garganey. The rest of the species seen included: Yellow Bittern, Gull-billed Tern, Lesser Whistling Duck, Pheasant-tailed Jacana, Purple Heron, Purple Swamphen, Common Redshank, Marsh Sandpiper and Purple Heron.
After another 30 minutes on the road we made our last stop at a series of roadside Salt Pans called Hambantota, again there was a huge number of birds seen. It was raining lightly when we got out of the bus so we didn't stay long. Many waders fed in the disused pans, mostly birds we had listed yesterday but Great Thick-knee sat on a bank and three Greater Sand Plovers were also present. Over 100 Black-winged Stilts were counted as we scanned for Northern Pintail and any other ducks. We left empty handed, no new species were seen.
A Greater Coucal seen in the gardens of our new hotel - photo by Nigel Bleaken
It was 3pm by the time we checked into our rooms at the Paradise |Beach Hotel, our spacious rooms overlooked a beautiful beach and the sea. We spent the afternoon relaxing and went for dinner at 7pm. The bird-log revealed a count of 243 species so far. Tomorrow morning we are heading out on a small ship to look for Blue Whales and anything else that moves in or above the ocean.