TRANSFER FROM TISSA MAHARAMA TO UDAWALAWE
One sighting of note was made from the breakfast table, two small accipitor-like raptors circled over the hotel and those that had binoculars had good views of what was ID'd as two Besras.
Our depature at 8:30am was as scheduled and as we missed the Jungle Owlet last night we made an effort to see the bird this morning at a second site, but this was also on private land in someone's back yard. The Jungle Owlet was there in abundance and showing well. We saw two of then but five had been noted recently, job done we set off for Udawalawe and our next hotel.
The Jungle Owlet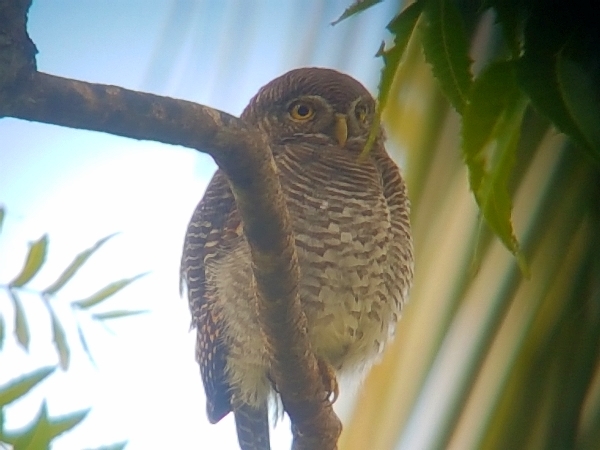 It was a relatively short drive but we made several short, roadside, stops to look at ponds or perched raptors and small birds. A Black-winged Kite was added to our list, we also saw Crested Hawk Eagle, Brahminy Kite and White-bellied Sea Eagle.
One stop produced great views of Coppersmith Barbet, there were four of them in one tree, an amazingly colourful little bird.
Coppersmith Barbet
We arrived at our hotel around 11:30 and arranged to meet for lunch at 1pm. What a place, a beautiful hotel, lovely rooms with views over verdant countryside and a superb swimming pool.
Most of us went for a walk before lunch to a roadside spot that overlooked the huge Uda Walawe Reservoir. We spent an hour enjoying some spectacular birds, the Indian Roller is a gem and always poses nicely for our cameras, so do the Green & Blue-tailed Bee-eaters. We saw larks, pipits, wagtails, herons, egrets, storks, munias, Prinias and parakeets. Our only new bird for the trip was a Wooley-necked Stork that circled high above us as did Booted Eagle, White-bellied Sea-Eagle and Crested Hawk Eagle.
Indian Roller
After lunch we embarked on another jeep safari, this time into Udawalawe National Park, we had a fantastic three hours there enjoying the relatively quiet tracks and a host of new species. As before the group spread themselves over two jeeps. Black-winged Kites were almost common as were Crested Hawk Eagles but we concentrated on a few species missing from our list.
Before long we found the enigmatic Sirkeer Malkoha, two or three sightings were made of this large bird, many Prinias, Zitting Cisticolas, Bush Larks and Richards Pipits lined the track sides and the Spotted-necked Dove was so ubiquitous that we renamed it the 'Corn Bunting' of Sri Lanka!
Sirkeer Malkoha - taken by Kevin Jones
Soon we found Jacobin Cuckoo, Brown Shrike, Coppersmith Barbet, Yellow-eyed Babbler, a fly over Grey-bellied Cuckoo and a distant Plum-headed Parakeet. Several Indian Rollers were seen and around the pools we watched egrets, storks, herons and a few common waders.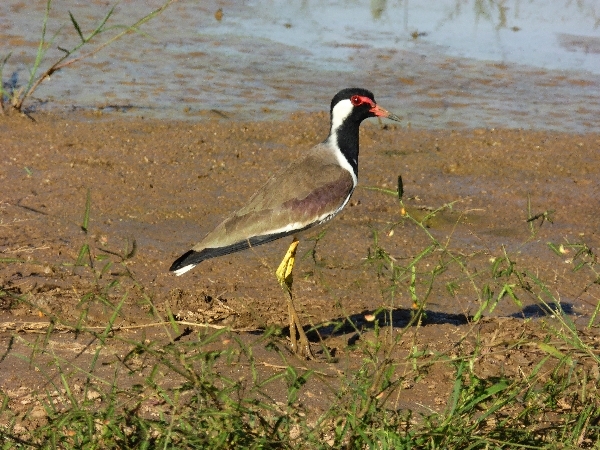 Red Wattled Lapwing
Alongside the huge reservoir ('tank') we were allowed to get off the jeep and stretch our legs, we scoped the islands where huge colonies of Indian Cormorants held a few Great Cormorants, Night Herons and egrets. Scanning the perimeter and the dead trees in the distance we found an Osprey, two Grey-headed Fish Eagles, White-bellied Sea Eagle, a colony of Spot-billed Pelicans and several terns including Whiskered and Little Terns.
The Grey Heron making its crucifix pose to keep cool
Our journey back out of the park was just as interesting and full of quick-stops as when we came in, we had much better views of Grey-bellied Cuckoo and another shot at Sirkeer Malkoha. A bit of excitement made us all pay full attention to the scrub when another jeep ahead of us and full of tourists, spotted a Jungle Cat, unfortunately it quickly disappeared. The evening sunset was a most colourful affair, dozens of small flocks of birds scored the sky, returning to their nighty roost, like squadrons of aircraft returning to base.
Grey-bellied Cuckoo - taken by Kevin Jones
Before returning to the hotel we stopped at a farm where Saman our guide knew of a place where we could see nightjars. As it got dark we walked along dirt tracks to sugar cane fields witg strings of small trees along the trackside. Within minutes we saw up to five Indian Nightjars, both perched on the ground and in flight. Jerdon's Nightjar failed to show despite further searching. The clear night sky was lit up by a million stars and dozens of Fire Flies flashed their way to perches on the trees, the lack of light-pollution gave us superb views of the celestial plain above us, how romantic.
A superb dinner was washed down with a cold beer, our bird-log was called, the running total for the trip is now 221, we have seen 27 endemics with 6 more to go.