TRANSFER FROM UDAWALAWE TO SINHARAJA RAIN FOREST
We had two pieces of excitement today, one at the beginning and one right at the end, there was not much 'action' in between. There was no planned birding trip before breakfast so the group had a lie-in until breakfast at 7:30am except for some who ventured onto the roof terrace around 6:30am.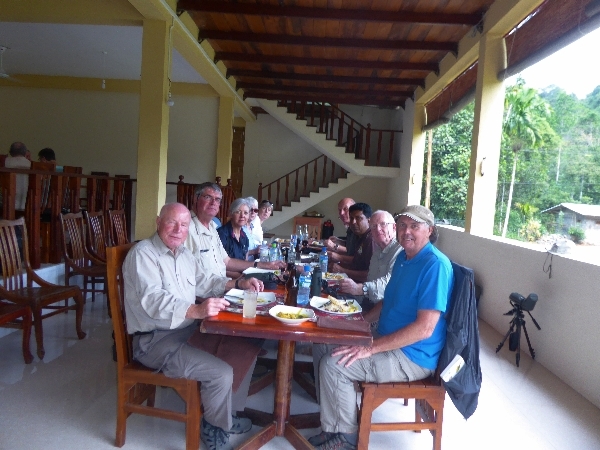 Most of the group at Magpie Lodge having lunch
The view from the terrace was considerable you could see the distant mountains beyond Lake Udawalawe to the west and forest, agricultural farmland and open fields all around us. The gardens below attracted lots of morning birds. We quickly notched up a couple of trip 'ticks' in the shape of White Wagtail and the beautiful Jerdon's Leafbird. Also around was Scarlet Minivet, Yellow-fronted Barbet, Purple-rumped Sunbird, Black Bulbul and several others. The excitement began when Dave and Vanda found an odd-looking bird, they called me over and we decided that it was a thrush, but which one? Even Saman could not decide, he thought initially that it was a juvenile Eye-browed Thrush but we were more inclined to see it as an immature Common Rock Thrush (although the head shape and bill length didn't look quite right), which if confirmed, is a major rarity and possible 1st for Sri Lanka.
The contentious Thrush
The discussion continued over a delicious breakfast and throughout our transfer journey, watch this space. We did make a stop at the marsh just 200 meters from the hotel where around 20 species were on show, however, our search for Citrine Wagtail went unrewarded. Six species were found in one tiny pool of water: Great, Little & Intermediate Egrets, Black-headed Ibis, Painted Stork and Eurasian Spoonbill.
Black Bulbul
Although the transfer was a short distance it took a long time because the long and winding road into the mountains was very narrow. We stopped to watch a few species along the way; White-rumped Munia, Indian Black Eagle, Black-winged Kite and both Crested Hawk Eagle and Crested Serpent Eagle were seen. Our arrival at the Magpie Lodge was around 1pm just in time for lunch, perfect timing.
Brown-headed Barbet
Our rooms were a far cry from luxurious but sufficient for our use, air conditioned, hot water and clean linen. All 8 rooms had access to a terrace that overlooked a feeding station, stacked with fruit it attracted; Black Bulbul, Red-vented Bulbul, Yellow-billed Babbler, Brown-headed & Yellow-fronted Barbets, Emerald Dove, lots of Palm Squirrels and a Land Monitor.
Yellow-fronted Barbet
Our afternoon birding excursion was along a nearby track, we took the bus to the beginning of the track and walked from there. It was very hot and humid, we found it very hard going. Not many birds showed up, a flock of Orange-billed Babblers, several Legg's Flowerpeckers, a couple of Velvet Nuthatches, Small Minivets, Oriental White-eye and we added another new species to our list, the Large-billed Leaf Warbler.
Purtple-faced Leaf Monkey
It was just before 6pm when the last bit of excitement happened, we were sitting outside of our rooms drinking a cold beer when Saman came rushing out shouting Cuckoo. He had heard a Banded Bay Cuckoo and sure as eggs is eggs the bird flew into a dead tree and called again, we had excellent scope views of the bird before it flew off.
Dinner was served at 7:30pm and the bird-log was called an hour later. We now have 27 endemics in the bag with 6 more to find. Sinharaja Rain Forest plays host to all the endemics, we shall be visiting the forest during the next couple of days.