TRANSFER FROM UDAWALAWE TO TISSIMAHARAMA – WITH VISITS TO THE TANKS AT TANAMALWILA, WARAWILA & DEBARAWEWA
WEATHER: hot and sunny all day temp 32C, windy all day.
Before we set off for Tissamaharama we made a short birding excursion to an open area of wetland which stretched out to the huge Udawalawe Reservoir. In the grounds of the hotel we listed a nice selection of species: Oriental White-eye, Coppersmith's Barbet, Black-hooded Oriole, Marshall's Iora and several other species.
The view of Udawalawe Reservoir this morning from the roadside.
The open grassland usually holds small pools and a swampy area but this year it was totally dry, nevertheless we saw a good number of species. We added Oriental Skylark, Blyth's Pipit, Ashy-crowned Sparrow Lark and a fly over Grey-headed Fish Eagle. Several species of waders was present on the shore of the lake, we saw Black-winged Stilt, Marsh Sandpiper, Grey Plover, Pacific Golden Plover, Redshank, Greenshank, Little Ringed Plover and Wood Sandpiper.
believe it or not the Peafowl is very common in Sri Lanka
We had great views of Purple Sunbird, Jerdon's Bushlark, Yellow Wagtail, Indian Swiftlet, Little Swift, Sri Lanka Swallow and in the distance we could see Black-headed Ibis, Painted Stork, Woolly-necked Stork and Openbill Stork they fed on the edge of the marsh with Grey Heron, Great Egret and a few Little Cormorants sat on logs. We also saw Spotted Deer, Indian Wild Pig and Indian Buffalo.
a beautiful male Spotted Deer
At 8am we returned to the hotel for breakfast and by 9am we were all packed onto the minbus and on our way to Tissamaharama. We made one stop during the two hour journey, we parked next to the huge Tank at Tanamalwila. Ten minutes of scanning produced about 15 species the best of which were: Cotton Pygmy Goose, Pheasant-tailed Jacana, Spot-billed Pelican and Whiskered Tern. We saw more Black-winged Stilts, Darter, Little Cormorant and White-throated Kingfisher.
Coppersmith's Barbet seen in the hotel grounds this morning
Before we checked into our hotel we were taken to a small residential area to look at a couple of owls. A group of lads have formed a conservation group and offer protection to several species of owls in the neighbourhood. They took us straight to a roosting Brown Fish Owl and then to a pair of Jungle Owlets, we had great views of both species.
we also saw this Stork-billed Kingfisher at the Fish Owl site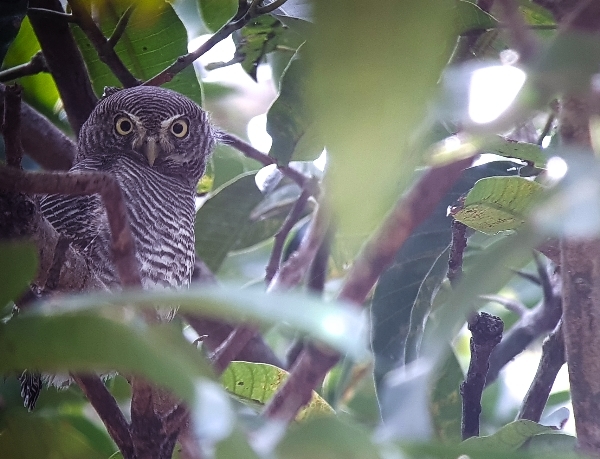 Jungle Owlet
We arrived at the hotel around noon and took a long lunch, meeting up again at 3:30pm. During our long break many of us went birding in the gardens or just watched from our terraces. Asian Koel was recorded for the first time by most of the group, also seen was Tailorbird, Marshall's Iora, White-throated Kingfisher, Brahminy Kite, Scaly-breasted Munia, Pale-billed Flowerpecker and a few butterflies.
For the rest of the afternoon we visited two places around the Tank at Debarawewa, it was very windy there and reduced our enjoyment a little. There were many species of birds out on the reservoir and in the clumps of weeds. We found a dozen or so new species ranging from Purple Heron to Yellow Bittern. Some of them showed very well such as Purple Swamphen, Whiskered and Gull-billed Terns, Caspian Tern and White-bellied Sea-Eagle.
Yellow Bittern was hard to find this year
A good number of waders was also present we picked out Wood and Marsh Sandpipers, Pacific Golden Plover, Greenshank, Redshank, Common Sandpiper, Little Stint and Black-winged Stilt. All three Cormorant species fished in the water, Indian, Little and Great Cormorants. We saw Booted Eagle and Brahminy Kite flying over and in the distance there were many Painted Storks, Spot-billed Pelicans and all manner of egrets.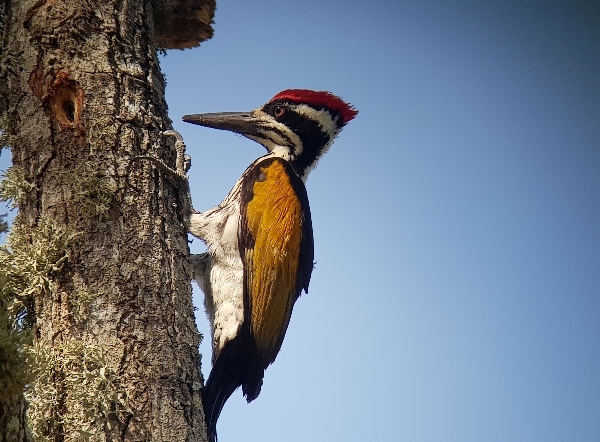 one of the most colourful birds of Sri lanka - the White-naped Woodpecker
As the light began to fade we were taken to a large dead tree that sat in the water just off-shore, it slowly filled up with egrets, Feral Pigeons and Cormorants. Our target species was yet another owl, the Barn Owl, a pair have been resident there for a few years. At 6:30pm just as it got dark the barn Owl emerged from its hole, it sat there looking at us for 15 minutes or so, we left the area just after.
the Barn Owl Tree
the eerie face of the Barn Owl perched at the entrance to it's hole
As we walked back to the bus a Night Heron flew over us and dozens and dozens of Flying Foxes (very large Fruit Bats) flew across a red sky as the sun was setting, it looked quite macabre.
We were late for dinner, so we ate at 8:30pm after calling the bird log, over 30 more species went onto the list and tomorrow we are heading into YALA NATIONAL PARK, it will be the3 highlight of the tour for me.