Our last morning at Kithulgala was a very good one, it was also a very early start! We met Jith our guide outside the hotel at 05:45 in the dark, he wanted us to be in the field before light to give us a much better chance of seeing the '0wlet'.
Kithulgala area – transfer to Kandy – Kandy Lake – Kandy Botanical Gardens
We got to the site within a few minutes and as soon as we got out of the minibus the owlet was heard calling. Over the next 15 minutes we heard three or four of them and eventually we nailed one, hooray! Another endemic species in the bag, a tremendous sighting and one we had worked hard for.
Chestnut-headed Bee-eater
Whilst there we had another look at the Brown-capped Babbler and spent some time searching for a Spot-winged Thrush that was calling but without success. So we drove to the hanging bridge and walked across the river to re-visit some forest trails and farm tracks.
Our first bird was another Spot-winged Thrush, but again despite the bird calling from close by we never saw it. Next came a perched raptor, once in the scope we identified it as a Crested Hawk Eagle, a nice find. There were a lot more birds around than was yesterday afternoon. We watched Black-headed Bubuls, Tailorbirds, Purple-rumped Sunbirds and many common species.
record shot - Spot-winged Thrush
Another perched raptor turned out to be a Shikra then we heard yet another Spot-winged Thrush, this one eventually came out into the open, we all got great views of it, at last!
We continued along the tracks passing some lovely habitat including some rice-fields, this where we had brief views of White-breasted Waterhen and several egrets and Pond Herons. Soon it was time for breakfast and for packing.
A Little Cormorant was noted on the river at breakfast and to our great surprise a Spot-winged Thrush turned up right outside our room next to the terrace!
Rose-ringed Parakeet
At 9:30am we set off for our next venue which was a 3 hour drive (with stops) up into the hills to Kandy. The best stop we had was to watch a small colony of Chestnut-headed Bee-eaters and whilst we watched them we noted Brahminy Kite, Shrikra and Oriental Honey Buzzard.
Kandy is the second largest city of Sri Lanka it has a population of around 3 million people and they all seemed to be out on the roads today. It was bedlam out there, I can't believe we made through the town to the other side. Our hotel was very close to the banks of Lake Kandy and after a quick settling in period and a lovely buffet lunch we went for a short walk along the shoreline.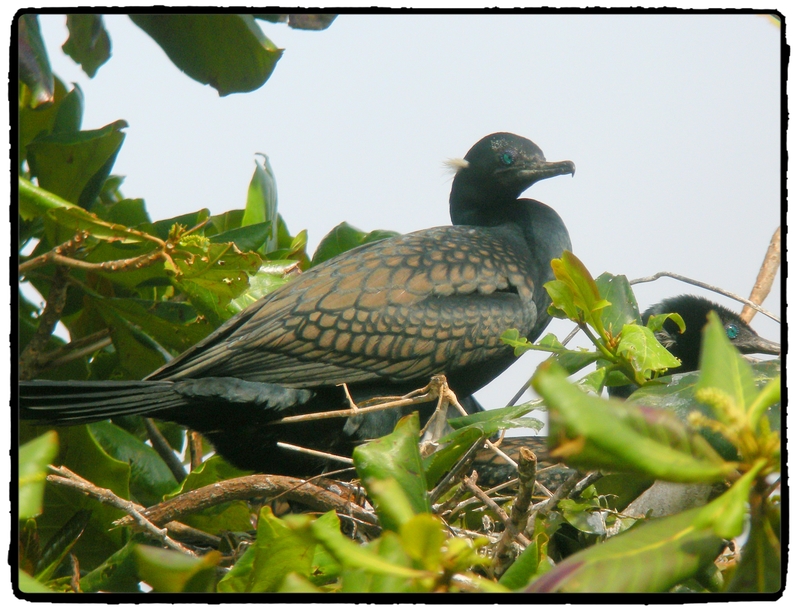 Indian Cormorants on the nest at Kandy Lake
A colony of cormorants were nesting very close to the hotel, we saw hundreds of Indian and Little Cormorants as well as several Great Cormorants. Night Herons were with them as was Pond Herons, Little & Cattle Egrets. A huge colony of Fruit Bats filled some of the trees hanging like rotting fruit in their thousands.
Jith collected us at 2:30pm and drove us to the botanical Gardens on the other side of town, it took about 45 minutes to drive 10 km! Nevertheless the gardens and parkland were magnificent, 147 acres of trees shrubs, flowers and people.
Night Heron - Kandy Lake
Jith led us to a quiet area and soon we were finding birds, the best of which included a Common Hawk Cuckoo, Lesser Hill Mynah. Sri Lankan Hanging Parrot, Loten's Sunbird, White-bellied Sea Eagle and great close views of both Alexandrine & Rose Ringed Parakeets.
Further along the walk we found Asian Paradise Flycatcher, thousands of more bats, Torq Monkeys and to our great delight an Indian Pitta which sat out in the open and let us approach quite close, what a stunning bird!
Indian Pitta - Kandy Botanical Gardens
Lastly we spent some time just watching a copse of trees which were attracting a number of species, we added a couple of endemics there. First a Legge's Flowerpecker and then a Crimson-fronted Barbet, lovely little birds.
We left the park at 5:30pm and took an adventurous way home, instead of the minibus we went by Tuk-Tuk, now that's an experience not to be missed!