Our earliest start yet! The day began as we all scrambled into the bus at 5am for the 90 minute journey to Horton's Plain national park.
Nuwara Eliya – Horton's Plains am – local birding pm
We needed to be there early in order to give us the best shot at seeing the Whistling Thrush. Along the way we tried for the Thrush just outside the park entrance, we heard the bird calling but failed to see it.
At the park entrance there is a toilet block where the Thrush had been seen by other birders in the past but today not a sniff of the bird. However whilst looking we managed to see three new species for the trip two of which were endemic, First we saw the beautiful Indian Blackbird, 3 of them were feeding down on the ground, then a Sri Lankan Bush Warbler was found, giving intermittent views but showing very well at times. Lastly a Yellow-eared Bulbul appeared a little higher up in the scrub, not a bad start, it was still only 6:30am.
Indian Blackbird - poor light = poor picture
We paid our entrance fee and drove along a single tarmaced lane, for the first few kilometers the park consisted of secondary forest with the occasional pool and small open areas, bush scrub encroached right up to the roadside in most places. Our first stop was near a pool where we tried for the Thrush again, this time the bird called but failed to show again, we spent nearly an hour trying. A n-ice consolation prize was Dull-blue Flycatcher, a lovely bird and also endemic.
Horton's Plains
A walk back along the lane produced a few birds, lots of Sri Lankan White-eyes, Yellow-eared Bulbuls and we heard several owl-like calls which turned out to be Sri Lankan Wood Pigeon, we tracked a couple down and got good views of them.
Driving further into the park we came to the main visitors centre which was packed with tourists, hundreds of minibuses, coaches, Tuk-Tuks and private cars had streamed by us earlier and now we know where they were headed. We stayed for a cuppa and a quick look at the centre before moving on.
Red-wattled Lapwing
Continuing along the lane we came to vast open grassland areas where a new set of species were to be found, we were very lucky with the weather having very little wind, few clouds and bright sunshine, we had started out being very cold now the layers were coming off.
Our first new birds was a pair of Red-wattled Lapwings. Then we started seeing Pied Bush-Chats on the tops of bushes, we made a stop for a raptor watch but only saw Common Kestrel but we did find several Paddyfield Pipits and a flock of Black-headed Munias feeding in the grass.
view of Adam's Mountain from Horton's Plain
At this point we turned around and set off back towards the exit, but we soon stopped to watch a Brown Shrike, another Kestrel and a single Brahminy Kite. Our search for the Whistling Thrush continued with several stops which only produced more of the same species with the exception of Green Warbler.
Finally we left the park Thrush-less, but it had been a good morning's birding with spectacular scenery, some excellent sightings and lovely weather. It was now 11:30am so we made our way back to the hotel and after stopping for the odd bird sighting, some Purple-faced Leaf Monkeys, Samba Deer, Giant Squirrel and a perched Oriental Buzzard and lunch we arrived about 1:30pm.
Pied Bush Chat
Our siesta lasted two hours we were back in bus at 3:30pm, we were off to a couple of local birding sites just a few minutes drive from the hotel. The first of which was a quiet wooded lane, one side dropped off steeply and lots of fly-tipping gave off some bad smells in places, but it was packed full of birds. We tried again for the infamous Whistling Thrush without success, seeing only Indian Blackbird and Red-vented Bulbuls. But further along the track we hit a purple patch and found Velvet-fronted Nuthatch, Dull-blue Flycatcher, Grey-headed Canary Flycatcher and Bar-winged Flycatcher Shrike. We went on to see several more nuthatches and a great prize the Kashmir Flycatcher, a male too, what a stunner.
Dull-blue Flycatcher
The light began to fade and Jith had one more place to show us, it was his 'best' place for the-now mythical Whistling Thrush. We drove a short distance and parked in a cutting where a path led steeply down to a fast flowing stream covered by thick undergrowth, we crouched down and waited, and waited!
Purple-faced Leaf Monkeys
We were losing light and it was dull down there but suddenly John called, "I've got something." But only Gill got onto it. So we waited some more, the bird reappeared and stayed longer, it was a female Whistling Thrush, the bird was real after all, fantastic. The bird called a few times after that but never reappeared.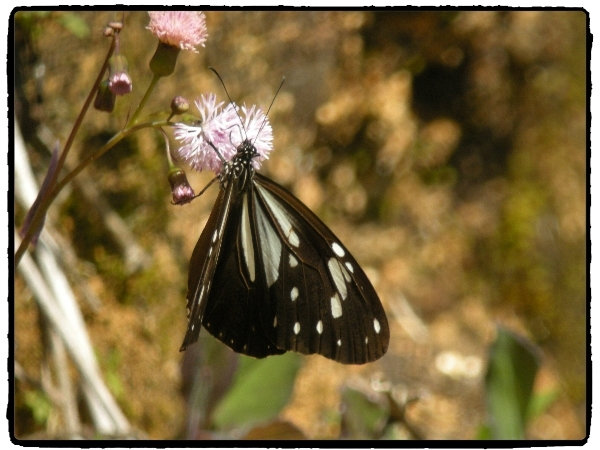 Brown Sailor
We drove back to hotel just as it got dark at 6pm, dinner was at 7pm, we had a superb vegetable curry washed down with a cold Sri Lankan "Lion" beer. It had been a long day, but we had added some good sightings to our list which was now standing at 110 species, including 21 of 33 endemics.