A fantastic day in the best national park I have ever visited – we saw over 100 species of birds, lots of mammals, reptiles and butterflies...........
Yala National Park.
This was a fantastic day in the best national park I have ever visited – we saw over 100 species of birds, lots of mammals, reptiles and butterflies.
Yala National Park is the largest of 22 NP's in Sri Lanka, it covers about 220,000 acres and makes Coto Donana in Spain look like toy-town. Only about 20% of the park is open to the public but that is enough, it is huge!
Water Buffalo
There are miles of bumpy dirt tracks from where you can view the wildlife in swamps, marshes, open scrub, dense forest and rivers and streams. You are not allowed to leave your vehicle so we sat high up in the back of a converted 4*4 land rover it was a tremendous experience.
Ruddy Mongoose
It was also a very long day, we left the hotel at 5am and entered the park at 6am with hordes of other tourists in similar vehicles, an Indian Nightjar was a nice sighting on the approach road. Once in the park we were treated to a birding spectacular the first lagoons were packed with hundreds of birds, so whilst most of the other tourists whizzed past us we gorged ourselves on new species.
The main highlight of the birding was simply the sheer numbers found there, every lagoon held hundreds of birds; herons, egrets, spoonbills, ibis, storks, pelicans, ducks and 21 species of waders. Out of the 102 species recorded only one was an endemic, the Sri Lankan Junglefowl.
Sri Lankan Junglefowl
We added about 40 new species to our list including: Barred Buttonquail, Woolly-necked Stork, Grey-bellied Cuckoo, Jacobin Cuckoo, Blue-faced Malkoha, Indian Roller, Orange-breasted Green Pigeon, Yellow-crowned Woodpecker, Jerdon's Bushlark, Ashy-crowned Sparrow Lark, the lovely White-browed Fantail, the ubiquitous Indian Robin, Brahminy Starling and many more.
I've never seen so many mammals in one day it was like a true safari, the animals were so used to the vehicles they allowed a close approach. Water Buffalo was the most common species but Spotted Deer were also abundant. Several monkey species included; Purple-faced Leaf Monkey, Toque Monkey and Ceylon Grey Langur. We saw Indian Golden Jackal, Wild Boar, Ruddy Mongoose, Grey Mongoose, Palm Squirrel, Mugger Crocodiles and two species of Monitor Lizard.
Spotted Deer
The best mammal sightings were of Sri Lankan Elephants, we were parked up in a narrow track which runs through dense forest when a small herd came crashing through the undergrowth, they became a little noisy and agitated and so did we especially when a massive bull Elephant suddenly appeared just behind the vehicle. The bull didn't look happy as we were now between him and his herd, so we quickly drove off to a safe distance.
Our next mammal excitement was when we came across two other vehicles that were parked and everyone was viewing a Sloth-Bear, this black-beauty was digging about in open scrub and seemed oblivious to our presence. A pair of Indian Jackals were nice to see but the best was saved to late in the afternoon.
We again 'bumped' into a couple of parked vehicles, the passengers seemed very excited and beckoned to us, they were watching a Leopard, how fantastic! Our views were limited to just the animal's head as it sat watching us from a gully in the scrub. After a short while this beautiful beast got up and walked away out of sight never to be seen again.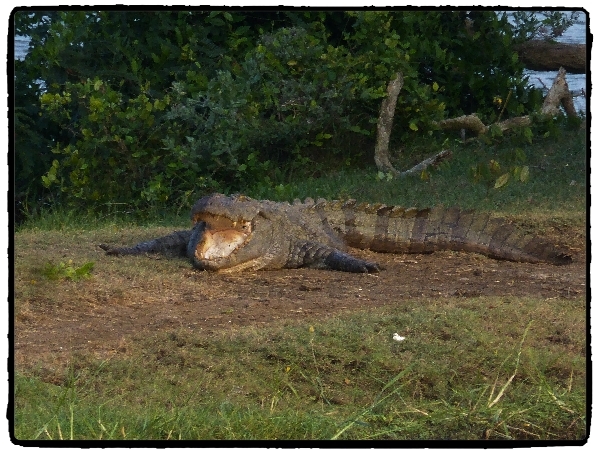 Mugger Crocodile - I wouldn't try to mug-a-crocodile!
I loved this trip, it was one of the best wildlife experiences I had ever taken part in, the national park itself is a real testament to how wildlife and man can live side by side. I can't wait to show people this wonderful place next year!
Here are a few of many pictures taken throughout our day.
Sloth-Bear
Orange-breasted Green Pigeon - beautiful
Indian Roller
Pin-tailed Snipe
Brown Fish Owl
Malabar Pied Hornbill
Indian Golden Jackal
Barred Bush Quail
Sri Lankan Swallow
Baya Weaver - nest building