STOFORD BLOG – NOVEMBER 3RD, 4TH & 5TH 2021
WEDNESDAY NOVEMBER 3RD - A WALK STOFORD TO BARWICK PARK
After a lot of desk work through the day I decided to go for a late afternoon walk across to Barwick House and Parkland. It was quite mild with lovely afternoon sunshine. Along Mill Lane I saw Great Spotted Woodpecker and as I past the farm a Green Woodpecker flew up from a small horse paddock.
The winter colours looked warm and bright in the afternoon light especially the reflection in the lake near Barwick House. A light breeze blurred the reflection but it still looked magical. I was quite surprised to see so many birds on and around the pool, I counted 23 Mallards, 2 dodgy looking Mallard/Muscovy hybrids, a pair of Mute Swans, 14 Common Moorhens and 9 Little Grebes.
There was an usually large number of Jackdaws and Wood Pigeons flying around, I also saw Rooks, Crows, Magpies and a couple of Jays. As I stood admiring the pool area a flock of Redwings flew over, I counted 54 in the flock. Goldfinches, Meadow Pipits dashed about the adjacent fields and a constant stream of Chaffinch fly-overs were my only other sightings.
THURSDAY NOVEMBER 4TH - A VISIT TO CHEW VALLEY LAKE
Another beautiful start to the day prompted Dawn and I to venture a littler further afield. Dawn wanted to go for a walk in the Somerset Levels but I persuaded her to visit Chew Valley Lake (I wanted to search for the LESSER SCAUP) it had been reported nearly everyday since I failed to see it with Nigel last week. I promised Dawn a nice lunch and that did the trick.
We arrived around 10am and stopped at Herriot's Bridge to start with, we scoped both sides of the road from there, quite a chilly breeze keep the temperature down. We listed many species of duck, including Mallard, Gadwall, Teal, Wigeon, Shoveler, Common Shelduck, Pintail and Tufted Duck. We also noted Marsh Harrier, Great Egret, Grey Heron, Water Rail (heard), Canada Goose, Cormorant, Little and Great Crested Grebe, but there was no sign of the Lesser Scaup.
A view from Herriot's Bridge
With my new Permit in my pocket we visited the Stratford Hide, legally, for the first time in my life!! We watched the feeders for a while before entering the hide. Birds visiting the feeders included: Blue, Great, Coal and Long-tailed Tits, Nuthatch, Chaffinch, Robin and a Great Spotted Woodpecker.
Common Buzzard
From the hide we added zilch to the list, but we did chat to a local birder who gave us directions to the viewing area at Sutton Wick, which I had been reliably informed was the best place to see the Lesser Scaup! So we drove back over Herriot's Bridge and turned down a track just before we entered the village of Sutton Wick. I was encouraged as I arrived at the view point because a large raft of Tufted Ducks fed just offshore.
there is a female Greater Scaup here, honest!!
I sifted through them and soon realised that the Lesser Scaup was not present. Scoping a little further afield I saw a much larger raft of ducks feeding just off the next viewing point. I picked out a single male Goldeneye near this flock. Driving round to the area called the Bittern Trail I was thwarted by the closure of the track due to fallen trees, no entry! I managed to partially view the lake from a gap in the reeds were I saw a Water Rail and lots of Coots, Tufted Ducks and my first Common Pochards of the month.
Back at Herriot's Bridge I scanned the lake once more alongside a couple of other birders, Dawn stayed in the car, she was getting fed up by now. After 15 minutes none of us could find the bird, so I gave up, lunch was calling. I had reserved a table in the Restaurant at Woodford – don't do this unless you are prepared to end up with a thin wallet!!
We had a lovely lunch, expensive but delicious, ouch! From the Lodge window I saw two Dark-bellied Brent Geese, a most unusual sighting for Chew Valley lake!
Dawn said this was one of the best desserts she as ever tasted!!! Wow, brownie points and an empty wallet
Before we finally left, I spent 10 minutes scoping even more Tufted Ducks from Herons Green causeway, I added Yellow-legged Gull and I saw a female Greater Scaup but I still did not see the Lesser Scaup.
FRIDAY NOVEMBER 5TH - A LOCAL PATCH WALK INTO YEO VALLEY
Yet another beautiful sunny morning, this not supposed to happen in November, is it? It tempted me out with my scope and off I went for a walk around my local patch in Stoford. It was lovely out there and despite the area being devasted by the removal of over 50 mature trees there was a surprisingly good amount of bird life.
Autumn in Yeo Valley
the derelict farm buildings with Rook's Hill behind.
Great Spotted Woodpecker
The blue sky was always alive with corvids, pigeons, gulls and a steady flow of finches dashing across the valley. In the trees I saw Blue and Great Tits, a small flock of Goldfinches, a couple of Great Spotted Woodpeckers and a Jay.
Many 'released' Pheasants and Partridges dashed up from the grass and a large flock over 50+ Redwings flew over me. Further down the valley I had good clear views of the fields on the other side of the stream because a lot of trees ad been removed. I saw a Mistle Thrush hopping along the ground with 9 Pied Wagtails, 5 Meadow Pipits and a very pale Common Buzzard. In the hawthorn hedge I found two Goldcrests that worked their way noisily through the shrubs.
Red Admiral, coaxed out by the lovely sunshine
Along the hawthorn hedges I saw more Redwings and quite a few 'continental' Blackbirds, I bumped into more Chaffinches, Great Spotted Woodpeckers and a small flock of five Ravens. From the side of Rook's Hill I had panoramic views across the valley and on a distant hedge I counted 33 FIELDFARES, my first for this autumn.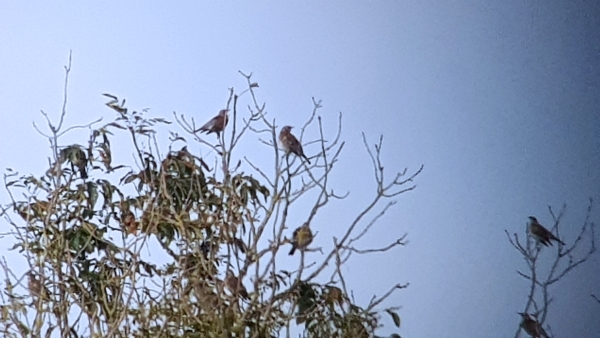 distant Fieldfares, a flock of 34 was my first sightings of this species this autumn
Several Red Admirals were on the wing and I saw lots of what I think are Tree Wasps, they have bright yellow legs, long 'feathered' antennae and the usual black and yellow striped body.
Redwing with berries
A Sparrowhawk nearly collided with me as I walked along the hawthorn hedge, it was chasing a Blackbird which got away because of my presence. As I walked back I saw Wrens and a larger flock of 85 Redwings.