MORNING WALK INTO YEO VALLEY AND AFTERNOON WALK TO MELBURY HOUSE AND DEER PARK
WEATHER: some cloud to start with but much reduced wind (the weather not me) long sunny spells in the afternoon and much warmer.
Despite the overcast and wind conditions I had a very enjoyable walk with plenty of obsevations and some frustration. I set off around 6am and watched a Pied Wagtail chasing flies on the road surface as I walked up the lane. The usual birds were singing and even the Goldcrest was calling in the Sycamores.
The Nuthatch chick, the last fledgling, was still hanging around the nest and when he saw me approaching he quickly ran back to the nest hole and disappeared. The blue Tit's nest I had been watching was all quiet, they must have fledged too. I haven't seen a single Grey Wagtail on the stream for a few days, where have they all gone? ,
Common Pheasant playing peak-a-boo in the grass
I didn't stop for long at the Kingfisher nest hole, I gave it 15 minutes but nothing happened, as usual when I was a 100 meters away a Kingfisher flashed by me! I had aclose encounter with a Jay, it was working itsd way along arow of bushes and got pretty close to me before my presence was noticed and off he went, it was impossible to get a picture of it. The Jay is one of the few species on the isolation list that I haven't photographed yet.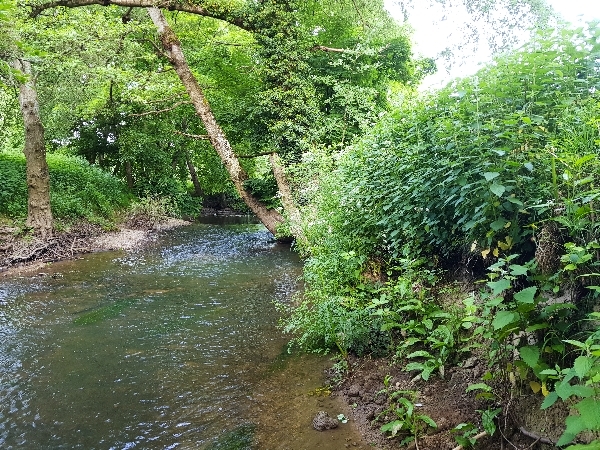 The Cuckoo gave me the run around today. he called from the trees very near to me when I watching the Mandarin Duck and her 6 chicks (there were 8 chicks two days ago). The Cuckoo was loud and really quite close but I could not see him through the thick foliage of the trees. I slowly and deliberately manouvered myself into a better position but he moved!
female Mandarin Duck and chicks
A few minutes later he called again from a few trees upriver, so once again I moved slowly into a better position and off he went again. This little hide and seek scenario went on for quite sometime and the only time I got a sight of the bird was in flight as he moved further away from me. I gave up after 30 minutes of trying.
this is Wren No. 15 along the route I take - that is 15 pairs in 1 1/2 miles of stream and river
The next 30 minutes was spent trying to photograph a Chiffchaff which was taking food to its nest in the grass not far from the path, the bird would land on three or four different perches before dropping down into the grass. The trick was to predict which perch the bird was going to use next and have the scope focused on the exact spot where it was going to land. It took a while but I got him in the end.
Common Chiffchaff with food for its chicks
A Red Kite circled over me whilst I was watching the Chiffchaff, seems like a regular ocurrance now after weeks of no sightings at all of this regal bird of prey.
one of the 14 species of Mayflies, this is called green Mayfly - apparently they only live for a day! Trout love them I have watched hundreds of Mayflies lose their lives to the Trout in thge last few days.
The sun came out around 9:30 and as I walked back towards home along the stream, I stopped to watch a host of Beautiful Dameselflies on the bramble bushes, there were dozens of them and a few mayflies thrown in.
MELBURY HOUSE
For our afternoon walk Dawn and I drove to Evershot (7 miles) where we parked the car and took a circular walk into the grounds and parkland of Melbury House. Over 15,000 acres and are owned and managed by the Ilchester Estate, most of it is a great expanses of manicured meadows, with short grass and huge ancient trees of oak, beech, copper beech and some hugely impressive foreign pines.
It was a wonderful walk, we saw a herd of Fallow Deer, also Mallard, Moorhen, Coot and Mute Swan on the three lakes. We watched a couple of adorable fox cubs stalking in the grass and we saw Mistle Thrush, Song Thrush and we heard Green Woodpecker.